The fearsome four of wheelchair rugby
A little known fact is that four women turned out for nations at August's IWRF World Championships in Denmark.
07 Sep 2014
Imagen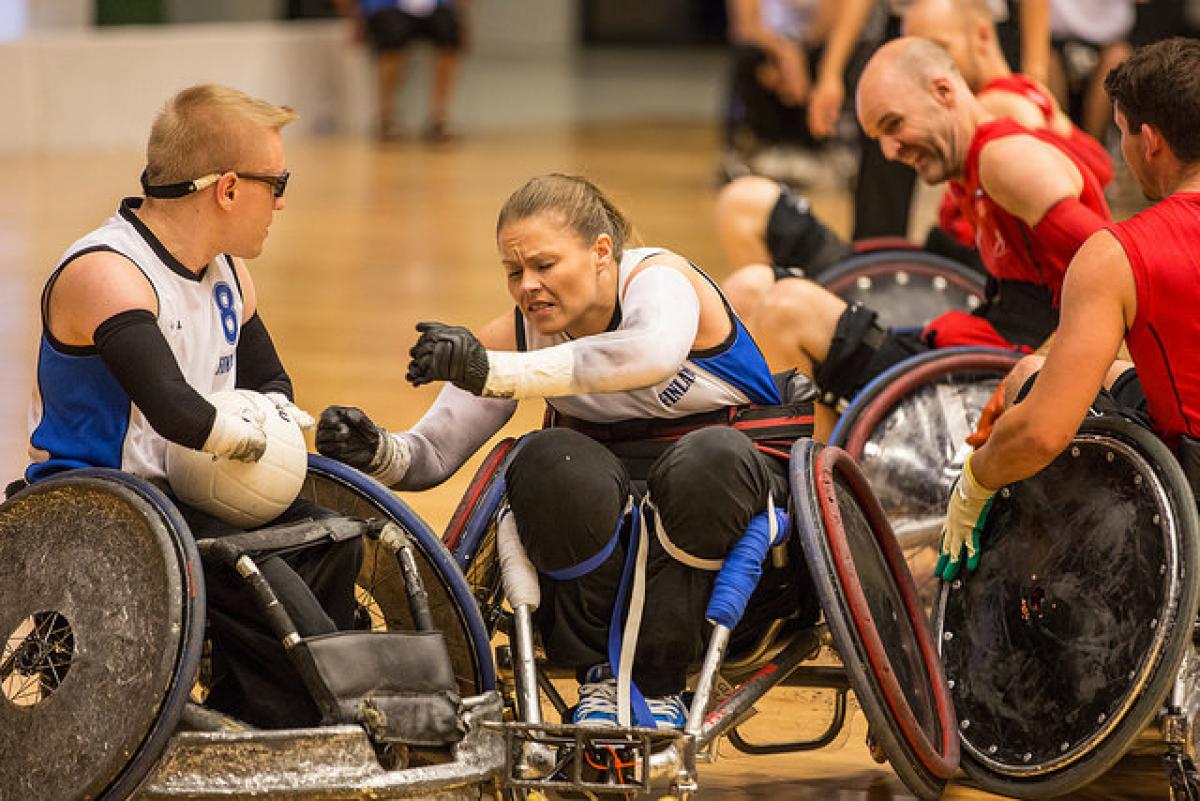 ⒸBrian Mouridsen
By Beau Greenway | For the IPC
August's International Wheelchair Rugby Federation (IWRF) World Championship in Odense, Denmark was certainly a memorable event for the sport of wheelchair rugby.
However, a fact that most people may not know was that four female players represented four different nations during the tournament.
Miranda Biletski (Canada), Coral Batey (Great Britain), Anna Pasanen (Finland), and Maia Amai (New Zealand) were not only selected as standout players for their countries but also played major roles in crucial matches in one of the toughest events the sport has to offer.
Wheelchair rugby is the only wheelchair sport that is full contact and allows men and women to compete against each other on the same court.
Biletski was a key member of the silver medal winning Canadian team which has now moved to number two in the world rankings.
At just 19 years of age, Batey has already made an impact in the Great Britain squad and was named the best 1.5 player at June's Canada Cup, a tournament that featured seven teams that competed at the World Championship.
Amai was a former wheelchair basketball player in New Zealand but was recruited by the rugby team and hasn't looked back since.
Meanwhile, Pasanen plays a very important role as a 0.5 classified player for Finland because she does not take up any of her team's point allocation.
The contact involved in the sport is a large draw card to many of the players involved, especially the female competitors.
"I love smashing people," said New Zealand's Amai.
Also having the chance to play and grow in a team environment is what makes so many players fall in love with the sport.
"Wheelchair rugby is great because it's a fun, fast paced sport, and there are a lot of amazing people to get along with," Batey said.
"I love the contact and roughness but it is also the team effort because we play together that suits me," Pasanen said.
By having male and female athletes competing in the same sport, national teams are widely regarded as fair and a lot of fun to be around.
"I think I have been here so long that I am one of the guys already," Pasanen said.
"I have an amazing group of guys as teammates. It's kind of like having 11 more brothers, it's such a unique dynamic, but I wouldn't change it for the world," Biletski said.
"It's no different, I'm just treated like one of the lads," Batey said.
While it will not happen overnight, the current players would like to see more female athletes in the sport.
"I would encourage anyone to try it, it can be a bit intimidating at first, but it'll change your life. I've yet to meet a rugby team that doesn't have fun, encourage anyone to play, and wants to show new people the ropes in life and in the sport," said Biletski.
Pasanen and Amai echoed those words.
"You have got to be patient because it feels like you are an alien on the court and you are something special so the guys won't hit you hard and they treat you carefully. But after they see you play a bit more they will take you seriously and have to make contact with you," she said.
"Just give it a go, it's cool and we need more females playing," Amai said.
The success of these athletes shows that there is room for more female athletes in the future of wheelchair rugby, if they are talented enough there is no reason why they will not be competitive and play an equally as important role as these four ladies have done this year.