#FilltheSeats campaign closes - 15,000 Brazilian youngsters to attend Rio 2016
Visa, Allianz, Samsung, Citi Bank, Mars, Sainsbury's, Cellhire and Prince Harry join thousands of members of the public to take Brazilian children to the Paralympics.
13 Sep 2016
Imagen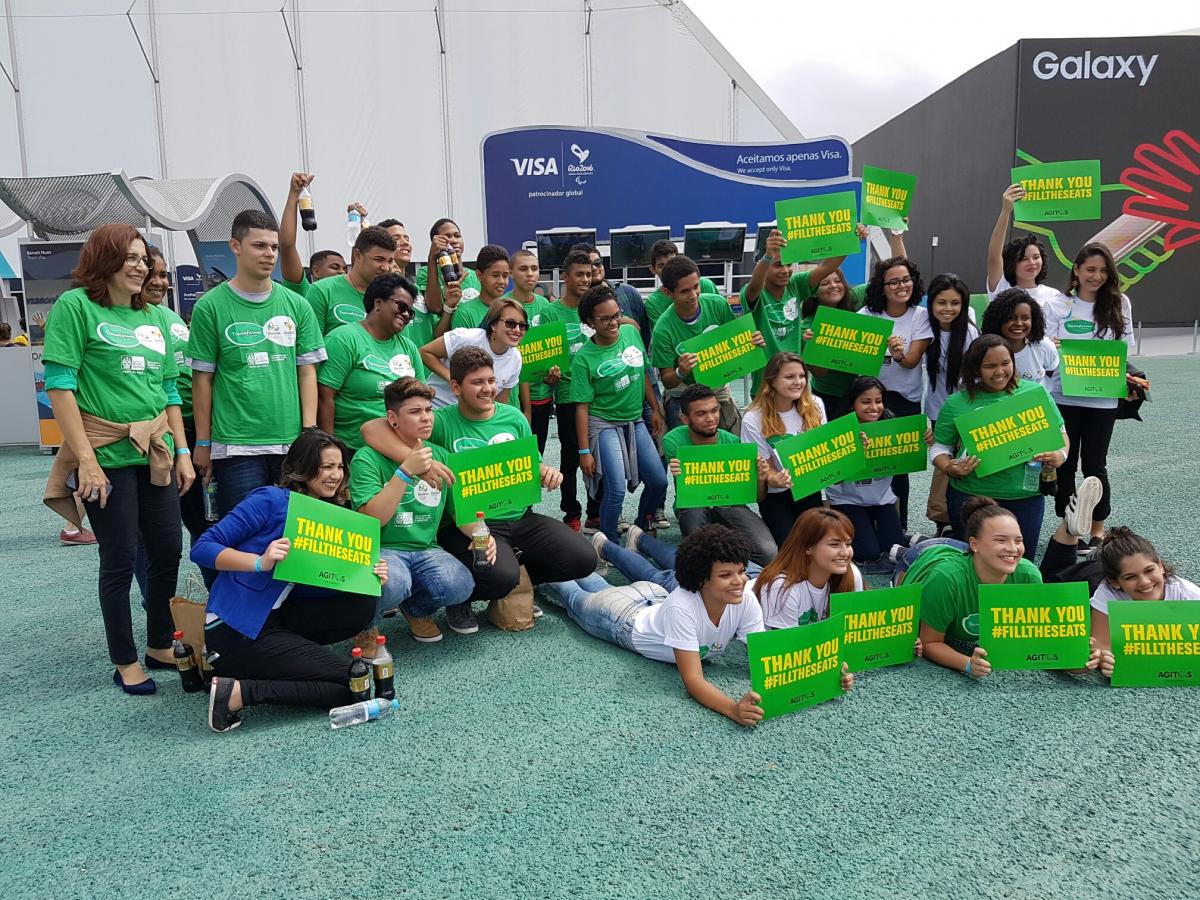 ⒸIPC
More than 15,000 Brazilian youngsters will attend the Rio 2016 Paralympic Games after the global crowdfunding #FilltheSeats campaign raised nearly USD 450,000 and even secured the support of British royal Prince Harry.
"Visa is proud to be working with the International Paralympic Committee to give these Brazilian children a once-in-a-lifetime opportunity to attend the Rio 2016 Paralympic Games and support these incredible athletes" said Fernando Teles, Visa Brazil Country Manager.
Sir Philip Craven, IPC President, said: "We are ecstatic to see the way so many people from all over the world have responded to this campaign so that the stands will be packed to see our Paralympians in Rio.
"Ensuring Brazilian children are able to enjoy the Games is hugely important to us and to the legacy of the Games. These children will see our amazing Paralympic athletes in action and be exposed to the Paralympic spirit which I have no doubt will transform the way they think about abilities.
"Thanks to this campaign, thousands of Brazilian children who may not have been able to see the Games, will be able to benefit from this once in a lifetime opportunity and will have new sporting heroes as a result.
"I'd like to thank Visa for their contribution to this campaign and to every single organisation and member of the public for their amazing support."
Launched on 23 August by Greg Nugent, the former London 2012 marketing director, and quickly supported with a donation by US Paralympians Tatyana and Hannah McFadden, the campaign originally aimed to raise USD 15,000 to send 500 youngsters to the Games.
After raising more than USD 20,000 in just one week, the IPC and Rio 2016 threw their support behind the campaign and raised the target to 10,000 tickets that could be purchased at a price of USD 30 to include transport, food and unforgettable sport.
This target was met within seven days with thousands of fans throwing their support behind the campaign and joining rock stars Coldplay. They were joined by corporate sponsors, Visa, Samsung, Allianz, Sainsburys, Mars, Citi Bank and Cellhire.
Greg Nugent, the brainchild behind the campaign and co-founder of Inc. London, said: "It is incredible how something so small can reach this height. Thank you to everybody, and now Visa, for believing in the spirit of the Paralympic Games and giving 15,000 kids the chance to be inspired. They will experience something at the Rio 2016 Paralympic Games I don't think they will ever forget."
Prince Harry even joined in with a personal donation of his own.
A Kensington Palace spokeswoman said: "It's a great idea to open up the events to the community while also helping to build a sense of excitement in the stadiums for these amazing competitors.
"Prince Harry is following closely the Invictus Games champions who are competing in Rio and this is one way he is lending support to their efforts."
Other supporters have included Olympic Broadcasting Services, British Paralympic broadcaster Channel 4, actor Ed Westwick and Chinese pianist LangLang.
All funds are being donated to the Paralympic Movement's global governing body and the Agitos Foundation, the IPC's development arm, who are working with Rio2016 to distribute the tickets to the Brazilian youth.
The money raised will pay for Brazilian children and people with an impairment to attend the Rio 2016 Paralympic Games. The programme is managed as part of Transforma Educacao, the Rio 2016 official education programme, and will target children from across the state of Rio de Janeiro. Their journeys will be co-ordinated and facilitated by a team of trained staff who have been working on the overall programme.
Any surplus or unspent funds will be donated to legacy projects in Brazil and South America focused on sport for people with an impairment.
More than 1.9 million tickets in total have now been sold for the Rio 2016 Paralympic Games which take place between 7-18 September. That is second most tickets ever sold for a Paralympic Games behind only the London 2012 Paralympic Games.