Five golds and five world records for China at Rio 2016
World records were set in 10 out of 16 events on day two at the Aquatics Stadium.
09 Sep 2016
Imagen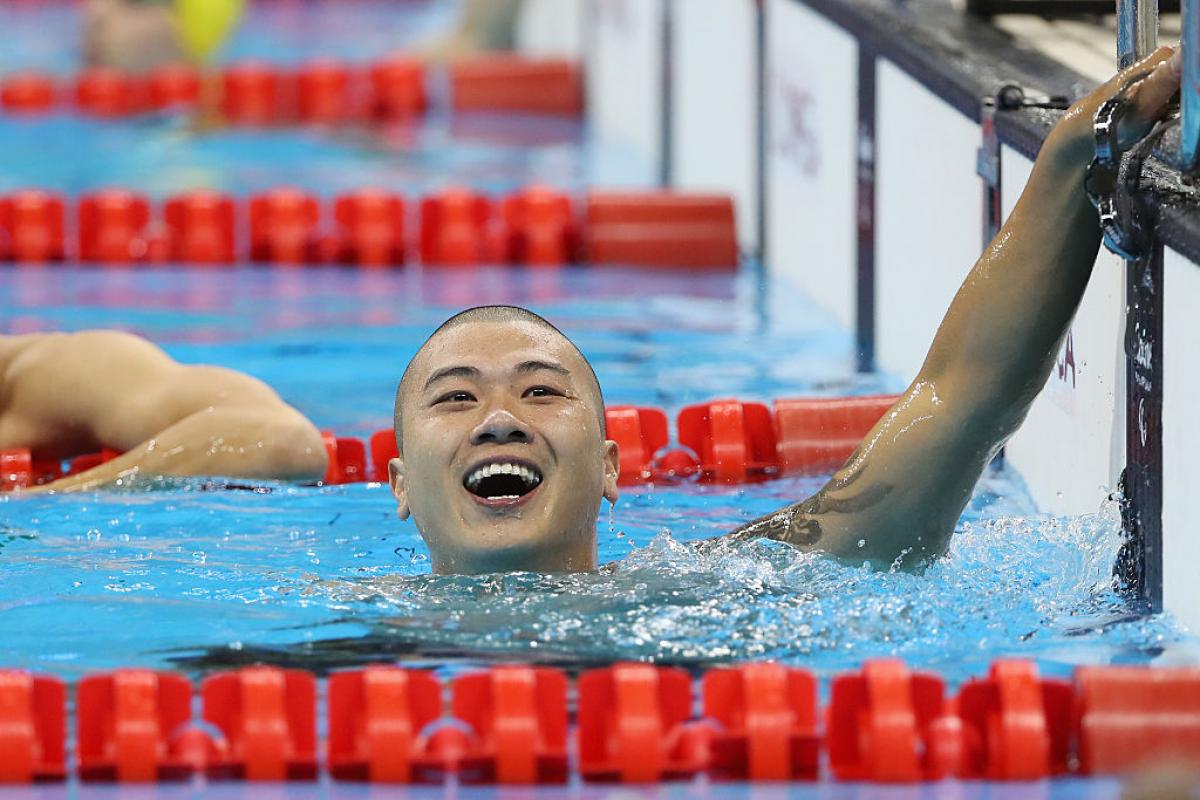 By IPC
China's swimmers lit up the pool at the Aquatics Centre at the Rio 2016 Paralympic Games on Friday (9 September) winning five gold medals, all in world record times.
China's Shiyun Pan (27.35) was delighted to improve on his London 2012 silver medal to take gold in the men's 50m freestyle S7, breaking the eight-year-old world record of Great Britain's David Roberts.
He went head-to-head with Ukraine's Ievgenii Bohodayko (27.64) with barely a hair's breadth separating the two. Bohodayko also dipped under the former world record of 27.67 from Beijing 2008.
Colombian 18-year-old Carlos Serrano (28.60) was third, showing his improving form.
Liankang Zou (1:45.25), who had broken the men's 100m backstroke S2 world record in his heat before teammate Benying Liu (1:48.29) lowered it minutes later, claimed the Paralympic title in another world best time. Ukrainian world champion Serhii Palamarchuk (1:49.76) took bronze and a new European record.
It was an all-Chinese podium in the men's 100m butterfly S8 as Maodang Song (59.19) broke the six-year-old world record. Haijiao Xu (1:00.08) was second, also finishing below the previous world record time of Australia's Peter Leek from the 2010 World Championships. Guanglong Yang (1:01.18) claimed the bronze.
Another Chinese podium featured in the men's 50m butterfly S6. Paralympic champion Qing Xu (29.89) improved on the world record by 0.01 seconds, just beating world champion Tao Zheng (29.93) to show he has still got it. Lichao Wang (30.95) was third.
"This is the best reply to my friends and family because for a long time they have been trying to convince me not to race, to retire, but this gold shows that I was right," Xu said.
China's final gold and world record came in the mixed 4x50m freestyle relay 20 points. It was a historic gold for Quiping Peng, Jiang Shengnan, Wenpan Huang and Qing Xu as the event made its Paralympic debut. The four swimmers swam a 2:18.03 to claim it.
Brazil secured their latest medal, taking silver in a new Americas record time of 2:25.45 to the delight of the crowds. Ukraine (2:30.66) were third.
Singapore's triple Paralympian Yip Pin Xiu went for broke in the women's 100m backstroke S2, lowering the world record to win Singapore's first medal of the Rio 2016 Paralympic Games. Her time of 2:07.09 bettered her own mark of 2:09.79 from May.
"I have been training for 12 years for this," Xiu said. "I have been able to constantly push my boundaries. I am extremely excited."
China's Yazhu Feng (2:18.65) edged Ukraine's Iryna Sotska (2:21.980) into third.
Right behind China in the swimming medal's table at the end of day two, Ukrainian swimmers won four titles of their own at the Aquatics Stadium.
Hennadii Boiko smashed the world record in the men's 100m backstroke S1.
His time of 2:08.01 wiped more than 15 seconds off his own previous mark from the 2016 IPC Swimming European Open Championships. Italy's Francesco Betella (2:27.06) collected Italy's first medal of the Paralympic Games with silver. Boiko's teammate Anton Kol (2:27.45) rounded off the top three.
Kateryna Istomina (1:09.04) set a Paralympic record on her way to gold in the women's 100m butterfly S8. Great Britain's Stephanie Slater (1:10.32) and the USA's defending champion Jessica Long (1:10.53) were second and third respectively.
In an incredibly tight men's 50m freestyle S10, Ukraine's Maksym Krypak had to come back against a charge from Brazil's eventual silver medallist Phelipe Rodrigues (23.56), setting a new European record of 23.33. His teammate Denis Dubrov (23.75) was third.
"It's just an amazing feeling," Rodrigues said. "I've got three medals already in the Paralympic Games but to be representing my country in these Games is just something very unique. If I could I would share my medal with every single Brazilian around here."
Another world record from Beijing 2008 tumbled in the men's 100m backstroke S11, courtesy of Ukraine's Paralympic title holder Dmytro Zalevskyi (1:06.66) shaving more than one second of the previous best.
"In 2012 I got my first gold. It was a gold, but without a record," Zalevskyi said. "Now the goal was not even to be first, but to swim on the record. I was working for this time. Even if I got second, sure I'd get upset, but the time was more important.
"I've improved my result. I set the record. I feel that all these four years I did not train in vain and was not coached in vain."
The battle for silver and bronze produced another incredible result – Poland's Wojciech Makowski and the USA's Bradley Snyder tied for second place in 1:08.28.
The women's 50m freestyle S10 was a thrilling affair, with Canadian Aurelie Rivard emerging the victor in a new world record time of 27.37.
"I am not sure I realise it yet. I don't know whether to laugh, jump or throw up," Rivard said. "It's my first event and I've broken the world record and won. I'm in heaven."
Multiple medallist Sophie Pascoe (27.72) was second for New Zealand after just managing to hang onto Rivard's shoulder. China's Yi Chen (28.21) nabbed bronze by only 0.05 seconds from the Netherlands' Chantalle Zijderveld.
New Zealand's Mary Fisher (1:17.96) collected the women's 100m backstroke world record and Paralympic gold, improving on her silver medal from London 2012.
"I just knew that I had to go out fast and just try to hang on in the last 50m," Fisher said. "When I had about 20 metres to go, I could just feel my body shutting down and I wasn't sure if I was even moving, but when I got my hands on the wall and eventually found out because of the crowd just going crazy, I didn't know what was happening.
"When I found out that I had broken the world record, it was the most exciting feeling ever and I really hope that all Kiwis can be proud of that achievement."
The world champion led throughout to execute a great performance over China's Liwen Cai (1:20.29). Sweden's Maija Reichard (1:21.46) collected Sweden's first medal of the Paralympics with bronze.
The USA's McKenzie Coan (32.42) can call herself the new Paralympic record holder in the women's 50m freestyle S7 after beating Germany's Denise Grahl (33.16) to the wall. Grahl can take some consolation from her new European record. Great Britain's Susannah Rodgers (33.26) secured bronze.
Great Britain's Ellie Robinson won the battle of the teenagers in the women's 50m butterfly S6.
The 15-year-old set a new Paralympic record of 35.58, lowering the mark of Ukraine's former record holder and world and Paralympic champion Oksana Khrul.
Khrul (36.45) took away silver whilst Tiffany Thomas Kane, 15, was third with a new Oceania record of 36.81.
"It's so weird, it's not sunk in yet. I feel like someone's going to be 'Ellie, wake up'. This whole experience doesn't feel like I'm actually doing it," Robinson said. "I came to this meet for experience, so to win the gold medal, oh my days. It's going to give me so much confidence going into Tokyo."
An exciting conclusion to the women's 400m freestyle S9 saw Spain's Nuria Marques Soto (4:42.56) overtake Australian 2012 bronze medallist Ellie Cole (4:42.58) in the final few metres.
Cole led for most of the race before Marques Soto made her move to touch in first on her Paralympic debut. China's Jialing Xu (4:43.66) was third.
Australia's Brenden Hall (4:12.73) retained his Paralympic title in the men's 400m freestyle S9. The world champion executed an expert race, leading from the front. Italy's Federico Morlacchi (4:17.91) was second, followed onto the podium by British 16-year-old Lewis White (4:21.38).
Live coverage and results of swimming is available at Paralympic.org. Live updates will also be posted to IPC Swimming's Facebook, Twitter and Instagram.