Powerlifters set new world records at Rio
Egyptian Sherif Osman amongst those re-writing history books as he secures another gold medal on day two of Paralympics competition.
09 Sep 2016
Imagen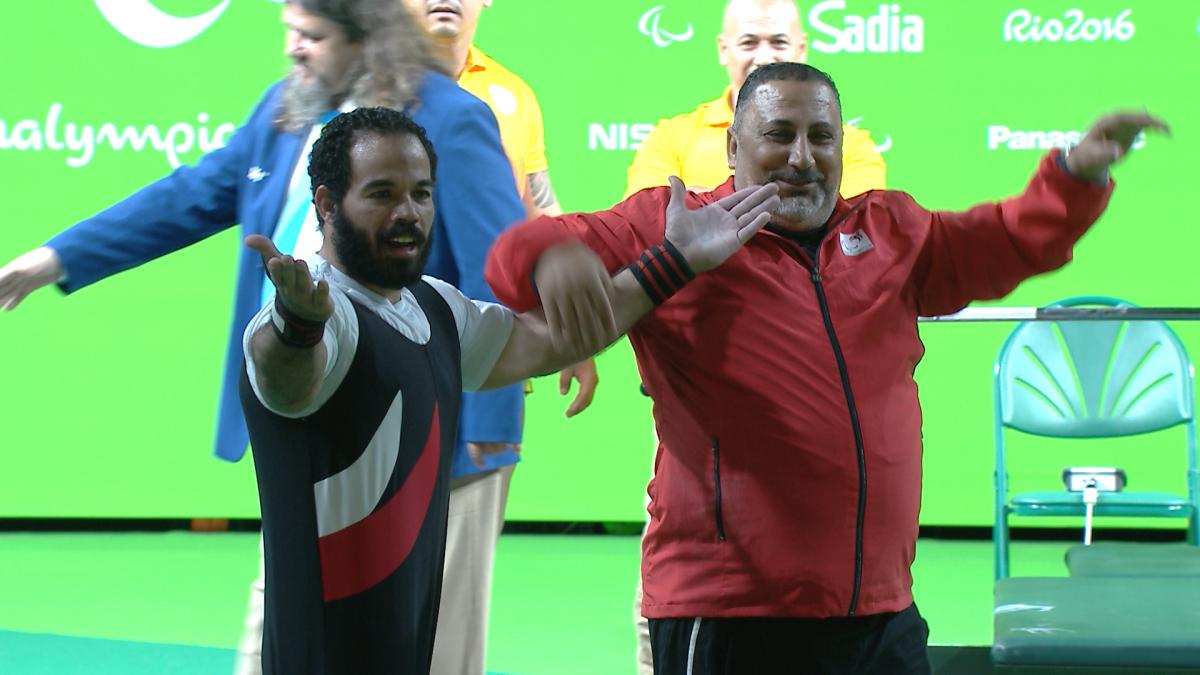 By IPC
The second day of the Rio 2016 powerlifting competition saw two more world records posted in another impressive schedule of events at the Riocentro Pavillion 2.
Friday (9 September) started with China's first powerlifting gold medal at the Games when Dandan Hu produced a lift of 107kg in the women's up to 50kg category, eclipsing her previous best of 106kg to edge out Nigeria's Latifat Tijani (106kg) and the vastly-improved Zoe Newson (102kg) from Great Britain.
Hu returned after securing the gold medal to add another kilogram onto her world and Paralympic record, which is now set at 108kg.
"I was very nervous last night and couldn't sleep at all, but when I came to the venue I felt much better and knew I could get the gold medal," Hu said after winning the competition.
A former wheelchair tennis player who competed at Beijing 2008, Hu capped off the perfect transition to powerlifting with her impressive performance at Rio 2016.
"In China, tennis is not at a high level so my coach thought I had the body to be a better fit for powerlifting and it has been better for me," she said.
"I really love Rio, it's my lucky place and my dream has come true here."
Newson was also delighted to come away with the bronze medal for the second time in her Paralympic career.
"I've improved a lot, I only lifted 88kg in London and today I did 102kg so it was a massive personal best," Newson said.
"To come away with a second medal is quite emotional so I'll enjoy this for a few months before I think about Tokyo.
"I'm happy just to be here, I've had ups and downs and all the hard work has paid off," she added.
Up next was the men's up to 54kg category and it was Roland Ezurike who delivered Nigeria's first powerlifting gold medal at Rio 2016, raising the bar an incredible 200kg to claim the Paralympic record, before narrowly missing out on a world record attempt of 205.5kg.
Ezurike was thrilled to take home the gold medal on his Paralympic Games debut and aspires to go even further with his career in the coming years.
"In the beginning, powerlifting was a hobby, but I liked it so much I went further with it," he said.
"Sherif Osman left my class and set a very good record, but I'm pushing for that record.
"Unfortunately he is too big to return to the 54kg class and I'm the lowest weight in this category so for now this class is my home.
"I want to give myself a week to have fun with my family and friends and then I'll return to training; I have to work hard if I want to keep getting better."
The silver medal went to China's Jian Wang with a lift of 170kg, while Dimitrios Bakochristos, from Greece, came away with an unexpected bronze medal after lifting 162kg with his first attempt to extinguish the medal hopes of Brazilian Bruno Carra.
In the men's up to 59kg Egyptian Sherif Osman reached new heights by winning the gold medal with his first attempt at 203kg, followed by a world-record lift of 211kg with his fourth effort.
Osman was joined on the podium by Great Britain's Ali Jawad who cleared 190kg to bounce back from his disappointing fourth place finish at London 2012 to claim the silver, while China's impressive campaign continued with another bronze medal thanks to a 176kg effort from Quanxi Yang.
"I feel unbelievable and I feel I'm in the middle of the road because I have a very big dream to win six gold medals in Paralympic Games," Osman said.
"It's an amazing feeling and I must thank all of Brazil for their support.
"I love Ali so much because he competed really well at London in 2012 and, even though I took his record, it's there for him to take it back himself if he can."
Jawad added that he was glad to right the wrongs of London 2012 and return to the podium at Rio 2016.
"I'm speechless. It's taken four years to drum myself up again to attempt this and I finally got the reward I think I deserve," Jawad said.
"I'll be 31 by Tokyo so I should be at my peak, but credit to Sherif, for me he is the best of all time and it's not bad getting beaten by him.
"For a long time I've thought he has been in a league of his own so I've got to go away now and think about how I'm going to try beat him in four years' time."