In-form Jarryd Wallace heads to Arizona Grand Prix
The former 100m and 200m T44 world record holder has posted his fastest ever season-opening times.
04 May 2017
Imagen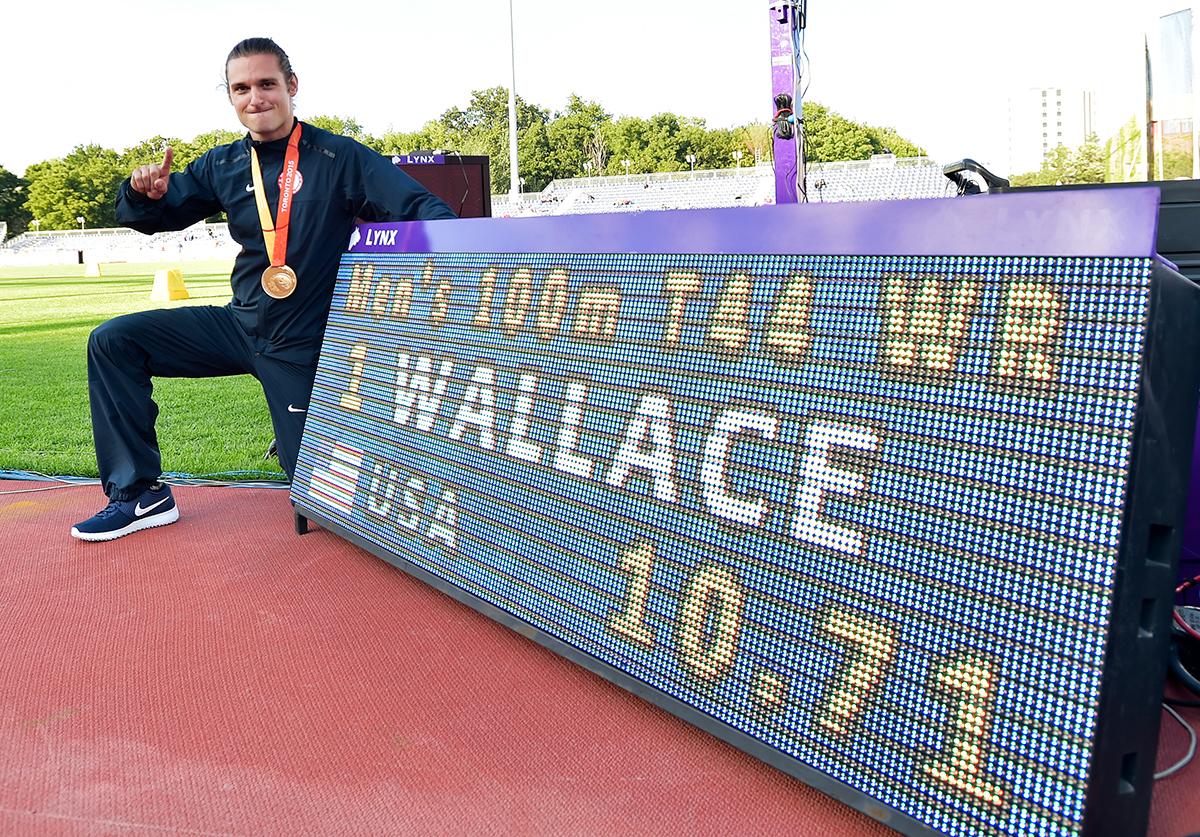 ⒸCourtesy Canadian Press
By By Ipc
"I would say right now arguably I'm in the best shape of my life."
US sprinter Jarryd Wallace believes he is in the form of his life as he prepares to race at next week's (12-13 May) World Para Athletics Grand Prix in Arizona, USA.
After a four month break from the track, the T44 Para athlete has already shown that he means business this year, kicking off the 2017 season with his fastest 100m and 200m season-openers ever.
"I think the rest did my body well, I've hit personal bests both in the weight room and on the track during practice," said the 26-year-old, who clocked 10.93 seconds in the 100m and 22.03 seconds over 200m in early April.
"I would say right now arguably I'm in the best shape of my life, which is exciting."
Eight months ago, Wallace returned from Rio 2016 without a medal, despite being a key contender for gold in the men's 100m T44.
Expectations had been high as the 2015 Parapan Am champion consistently dipped below the 11-second mark in the months leading up to the Games, leading the world rankings for much of the season.
But come Rio 2016 the American could only finish fifth, clocking 11.16 seconds as Great Britain's Jonnie Peacock retained his Paralympic crown, with Kiwi Liam Malone and Germany's Felix Streng claiming silver and bronze.
Reluctant to draw attention to the fact that he was unwell during the Games, Wallace is instead determined to move on and put any disappointment behind him.
He explained: "Rio was a big lesson for me and an opportunity to remember that athletes are humans too. A couple of situations happened outside of my control that warranted a poor performance.
"I don't talk about it a big deal, it's part of the Games. Everyone's got to deal with everything and you make it happen and other times you don't. It was an unfortunate situation, we did everything we could to get me rested but at the end of the day it just didn't happen.
"You weather all the storms you can when you travel the world and I've been fortunate enough in my career to weather most storms at the big races and stay healthy.
"But battling stuff down in Rio physically made it difficult to perform at the highest level. It is what it is, it happens and it makes the times when you are in good shape that much better.
"It's just one race, it's not a big deal. Some people might be like 'You're crazy, it's the biggest race of your career,' but it really is just one race. The stars didn't align for me that weekend and hats off to Jonnie, Liam and Felix for their ability to weather the storms."
Wallace is now focused on starting his season just as he did 12 month ago, clocking fast sub-11 second times as he gears up for July's London 2017 World Para Athletics Championships.
Winner over 100m at the Grand Prix in Arizona for the last two years, he will take on both the 100m and 200m this time.
"Now with the (T43 and T44) classes split I'm excited about that and us making the decision to start back doing the 200m, as it's a race that I love," explained Wallace, who won the 200m T44 world title in 2013. The American did not compete at the 2015 World Championships due to injury.
"That's going to be a good test, to get in the mix with some Paralympic athletes and see where I stand. I opened up with 22.03 and I really feel like I'm in shape to run mid- 21 seconds right now. It's a fast track, it's dry down there and it's always warm so I think there'll be some quick times."
Wallace knows all about quick times – he has held both the 100m and 200m T44 world records, and they are marks he believes he can claim back from the current holder, his US teammate Richard Browne.
"It's absolutely realistic. It seemed like for about five or six years there were not a lot of records and it was almost like everyone thought they'd reached their maximum capacity.
"Then Jonnie came in and ran 10.85 (in July 2012); then Richard was like 'I can do that,' and I was like 'Well I can do that.'
"I wouldn't be surprised if I broke it, and Richard broke it and Jonnie broke it and we just had a cycle again of guys breaking records. We are all fast and we all have the potential."