Fort Wayne 2019: Ukraine win historic gold medal
Delight for judo team at International Qualifier
07 Jul 2019
Imagen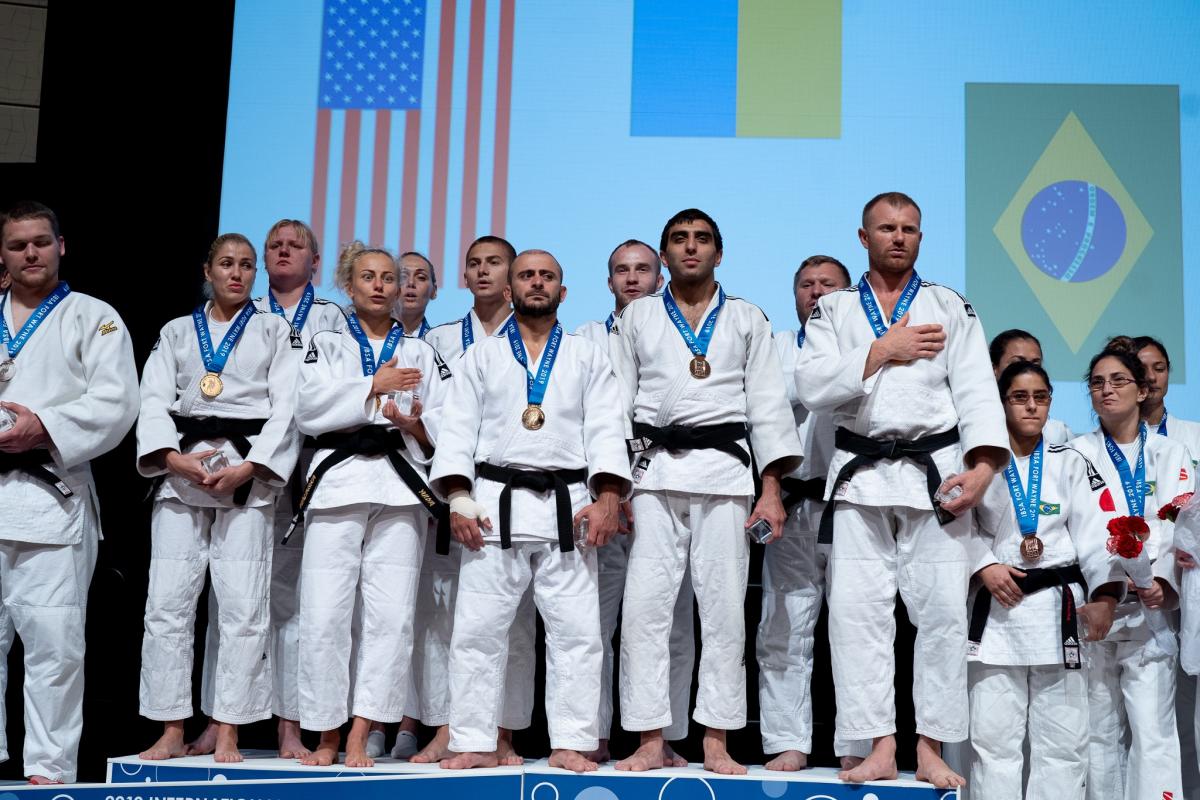 ⒸIBSA Judo/Fort Wayne 2019
By AMP Media
To win the first team gold medal is a great feeling, it's perfect.
Ukraine claimed the first ever mixed team gold at the 2019 International Blind Sports Federation (IBSA) Judo and Goalball International Qualifier in Fort Wayne, USA, on Friday (5 July) as the event made its debut at an IBSA Judo competition.
Teams from eight countries stacked with Paralympic, world and regional medallists competed in the historic event.
Ukraine advanced past China 4-2 and then Brazil 4-1 to reach the gold medal match against the USA.
Gold showdown
Paralympic bronze medallist Yuliya Halinska opened Ukraine's final contest with a win against Cynthia Page in the women's up to 52kg.
They then went up 2-0 after European title holder Davyd Khorava beat Ronald Alex Hawthorne in the men's up to 66kg.
World and Paralympic champion Inna Cherniak held down Liana Mutia in the women's up to 63kg.
Rufat Mahomedov then sealed the gold with his win over Adnan Gutic.
Halinska was happy to add a team gold to the bronze she had won in the up to 48kg on Wednesday.
"To win the first <team> gold medal is a great feeling, it's perfect," she said.
Hosts win medal
The USA were happy to take an historic silver medal at home.
"I think everybody feels good that we were able to get a medal as a team, show that we have some good judo, some good techniques, some strong competitors that are out there to fight," said US team member Benjamin Goodrich.
Brazil were the first team to claim bronze after they faced Thailand.
China then beat Spain 4-1 for the second bronze.
The mixed team event – which is not on the Paralympic programme – marked the end of three days of judo competition in Fort Wayne. Judoka fought for individual world ranking points towards qualification for the Tokyo 2020 Paralympic Games.
Eduardo Avila Sanchez shines again
One of the highlights in the individual competition came when Mexican Paralympic champion Eduardo Avila Sanchez returned to the top of podium Thursday (4 July).
In a tense affair, Sanchez defeated South Korean world title holder Jung Min Lee in the men's up to 81kg.
Sanchez was competing in only his second competition after sustaining a severe back injury which meant he missed the 2018 World Championships.
"I feel glad. I was in a very dangerous situation one year ago but now I can dream again and I am here winning," Sanchez said.
French Worlds bronze medallist Nathan Petit once again occupied the third podium spot. He was joined by Ukraine's Dmytro Solovey.
Georgian golden
Paralympic champion Zviad Gogotchuri, of Georgia, maintained his unbeaten run in the men's up to 100kg.
Great Britain's Christopher Skelley, the World No.1 heading into the competition, could do nothing against Gogotchuri's technique. As a nod towards their ongoing race to the top, both athletes paused on their knees at the end of the match, looking at each other for a few seconds.
Brazil's Beijing 2008 Paralympic champion Antonio Tenorio won bronze and stood alongside Cuba's Isao Cruz Alonso on the podium.
Shock in 100kg
Georgian newcomer Revaz Chikoidze delivered a shock in the men's over 100kg. He ground down the Paralympic title holder, Gwang Geun Choi, of South Korea.
Chikoidze made his debut just a few weeks ago at the IBSA Grand Prix in Baku, Azerbaijan, where he claimed bronze.
China's Song Wang and Great Britain's Jack Hodgson were the bronze medallists.
Ukraine star golden again
Ukraine's Oleksandr Nazarenko returned to the mat in the men's up to 90kg to claim his latest gold. He overcame France's Helios Latchoumanaya in the final.
Great Britain's Elliot Stewart, another bronze medallist from the World Championships, took third alongside Brazil's Arthur Silva Cavalcante.
Another gold for Mexico
Mexican Paralympic champion Lenia Ruvalcaba returned to the top of the podium in the women's up to 70kg, adding another chapter to the great rivalry between her and Brazilian world champion Alana Martins.
At the 2018 Worlds, it was Martins who topped the podium as Ruvalcaba settled for third.
In Fort Wayne on Thursday, a golden score point from the Mexican was enough to seal gold after a lengthy battle.
Ruvalcaba didn't have enough energy for her notorious celebrations at the end but was nonetheless pleased with her performance.
"I am very happy and emotional," she said.
China's Wang Ping and Turkey's Raziye Ulucam rounded off the podium.
Gold for China
China's Hongyu Wang grabbed gold again in the women's over 70kg, with a victory over Brazil's Rebeca Silva.
Silva's teammate Meg Emmerich finished with bronze, as did Italian Worlds silver medallist Carolina Costa.
In the women's up to 63kg, Ukraine's Paralympic and world champion silver medallist Iryna Husieva overcame China's Yue Wang for gold.
Japan's Hiroko Kudo and Sweden's Nicolina Pernheim were the bronze medallists.