Four world records fall at British swimming nationals
Jessica-Jane Applegate, Bethany Firth and Eleanor Simmonds are amongst those to set world, European and British records in Manchester.
14 Dec 2015
Imagen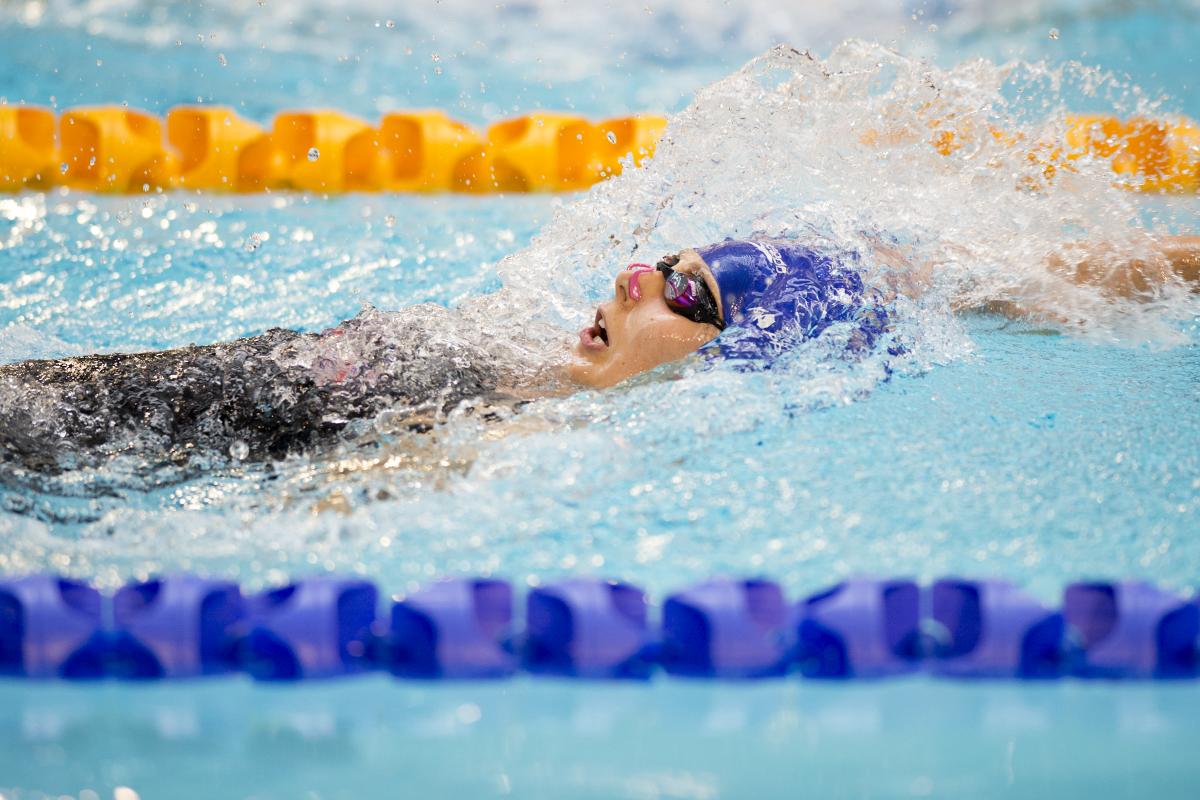 ⒸLuc Percival Photography. All rights reserved.
By English Federation for Disability Sport
"I'm really happy with my swims, which have gone really well. I'm in really heavy training at the moment, but this weekend I'm just going for it."
An impressive 25 records were broken at the British National Para-Swimming Championships in Manchester between 12-13 December, as 300 swimmers edged towards the Rio 2016 Paralympic Games.
Jessica-Jane Applegate claimed two of the four world records, alongside Eleanor Simmonds and Bethany Firth.
Applegate had a memorable weekend, breaking two world and two European records. One of Britain's top S14 swimmers, she is the current Paralympic champion in 200m freestyle and the 100m backstroke World champion. She clocked new world times in the 100m freestyle (59.04) and 100m butterfly (1.07.28).
Delighted with her performances, Applegate said:
"I'm really happy with my swims, which have gone really well. I'm in really heavy training at the moment, but this weekend I'm just going for it. I've broken records too, and I need to thank my coach Alex who has just been amazing.
"Next year I'll be getting my head down, targeting the trials in Glasgow in April for Rio. It's been good to end the season on a high."
Applegate's S14 rival, Bethany Firth, claimed a new world record in the 200m freestyle. In the exciting race, which saw Applegate and Firth go against each other, Firth touched over one second ahead in 2:05.88.
Paralympic champion Simmonds took just over a second off her own world time in the SM6 200m individual medley SM6, recorded at this summer's IPC Swimming World Championships. She narrowly missed dipping under the three minutes mark, clocking a new time of 3.00.01. Afterwards, Simmonds said:
"I wasn't expecting to go that fast at this time of the season. I can go home for Christmas knowing that I've helped the team. I'm shocked, but it's such a shame that I didn't get under 2:59! So there's still something to aim for – that's always the goal, and I know I'll have to do everything I can next year to get that Rio medal."
Ahead of Rio 2016, swimmers are preparing for the tough year ahead. The weekend showed new talent is thriving in para-swimming. Amongst the young stars, 15 year old Rebecca Redfern made her mark in the record books. Redfern set new European and British records in the 100m breaststroke SB13.
Competing in the classes for visually impaired para-swimmers, Redfern said:
"As I can't see the scoreboard, I didn't know the time when I finished. When I got out of the water, my coach said, 'do you know what you've done?!' I've got British records before but this is my first European and I'm so pleased."
Thomas Hamer was another young para-swimmer celebrating success. The 17-year-old touched in 55.09 in the S14 100m freestyle, for a new European and British record.
Suzanne Warren was amongst nine para-swimmers who broke British records over the weekend. Warren broke four national records in the 50m freestyle S4, butterfly and backstroke as well as the 200m freestyle.
Celebrating his 38th Birthday on Sunday, Sascha Kindred is one of the most decorated swimmers in the Paralympic Movement. He has won 12 medals from the past five Paralympic Games.
Kindred said:
"This weekend I've been targeting certain times ready for next year, and it's gone really well. This season has been up and down, though I had a really good World Championships, winning gold. But then I had a few injury problems, including my wrist. Now I get to spend a happy Christmas with my daughter!"
Speaking about his remarkable career in swimming, Kindred continued:
"I made my international swimming debut in 1994. If I qualify for Rio it'll be my sixth Paralympics. I'm not the old man of the team, but I've got the most experience and I'm still improving. I'm still enjoying it. I've not got much longer left in my career, so I'm making the most of it."
This event was organised by the English Federation of Disability Sport (EFDS) in partnership with British Swimming. The national charity is proud of the Disability Sport Events (DSE) programme, which delivered the Championships amongst the annual calendar of participation opportunities. EFDS exists to make active lives possible and ensure that millions of disabled people can lead active lifestyles.
Kindred is one of many established para-swimmers, who have begun their golden career at this type of event. He acknowledges the impact these meets have had on his life since taking up the sport, and said:
"I love this EFDS event. I've been coming to this for years, starting back in Darlington in the early nineties before moving to Sheffield and now here, in Manchester. It's such a great meeting and I'm a big supporter of what EFDS do. I'm trying to be a role model for the youngsters coming through. When I do retire I'd like to finish at an event like this."
British swimmers will also be in action at the 2016 IPC Swimming European Open Championships in Funchal, Portugal, between 30 April-7 May.
All records are subject to ratification by IPC Swimming and British Swimming.