Costa, Cardoso win Brazil's 2015 Paralympic Awards
Canoeist Cardoso and long-jumper Costa were voted by the public as Brazil's athletes of the year.
10 Dec 2015
Imagen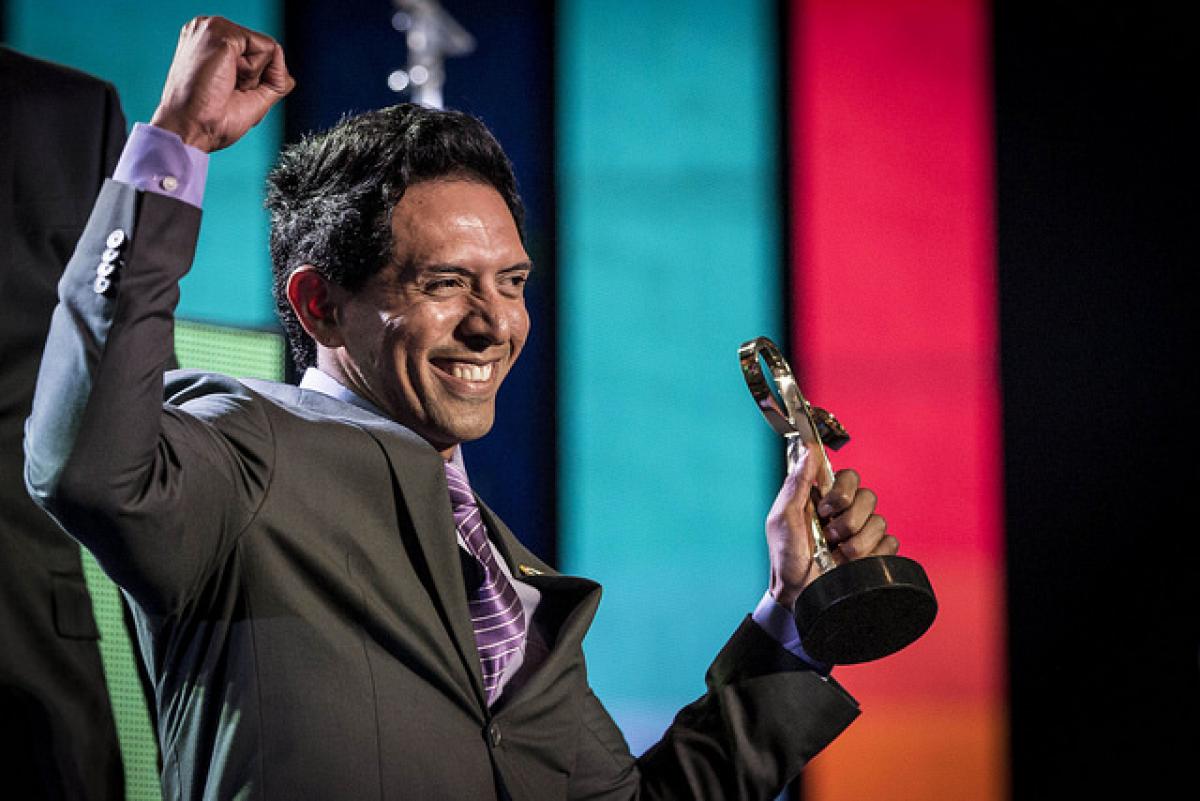 ⒸLeandra Benjamin/MPIX/CPB
By Brazilian Paralympic Committee
Canoeist Luis Carlos Cardoso and long-jumper Silvania Costa were honoured on Wednesday (9 December) as they won the main prizes at Brazil's 2015 Paralympic Awards.
Both were voted Athletes of the Year by the public.
In the men's contest, Cardoso overcame multi-medallist swimmer Daniel Dias and sprinter Felipe Gomes. Costa received the women's prize over Shirlene Coelho (athletics) and Joana Neves (swimming). The 2015 Paralympic Awards took place at Sofitel Hotel in Copacabana, Rio de Janeiro.
Cardoso received 48 per cent of the votes. He won two gold medals in the 2015 International Canoe Federation (ICF) Paracanoe World Championships in Milan, Italy.
"After everything I went through in 2015, it means a lot to me to be elected by the public," Cardoso said. "I made the transition from canoe to kayak so as to compete at Rio 2016. Winning a medal was great and I'm even happier to compete against athletes like Felipe Gomes and Daniel Dias. I'm the first canoeist to win the main award, so it is a real pleasure to be here [Wednesday night]."
Gomes – world champion in the 200m T11 in the IPC Athletics World Championships in Doha, Qatar – was second in the voting with 26 per cent of the votes. Paralympic star Dias, who won seven gold medals in the IPC Swimming World Championships in Glasgow, Great Britain, and eight gold medals in the 2015 Toronto Parapan Am Games, finished third with 25.43 per cent.
Women's winner Costa said she was not even expecting to be nominated. She was elected by 64 per cent of the public after a year when she won gold in the long jump T11 both at the IPC Athletics World Championships in Doha, Qatar, and the Parapan Am Games.
She had to beat two experienced athletes and 2015 world champions in class S5 swimmer Joana Neves (20 per cent) and F37 discus thrower Shirlene Coelho (16 per cent).
"I put a lot of work this year and this is the outcome," Costa said. "I also want to congratulate them (Joana and Shirlene), as they had a brilliant season and can be considered champions as well. I was a bit anxious and could not sleep the last couple of nights, but now the only feeling I have got is happiness."
Alongside Cardoso and Costa, the Brazilian Paralympic Committee (CPB) also elected the best athletes in each of the 22 sports of the Paralympic Games programme. Fabio Dias (athletics) was chosen the best individual coach and Dailton Freitas (goalball) won best team coach. Daniel Tavares, the Doha 2015 400m T20m world champion, was elected the best young athlete.
CPB president and IPC vice-president Andrew Parsons honoured State senator and former football star Romario and federal deputy Mara Gabrilli as they received the 2015 Paralympic Personality of the Year prize. They could not attend the ceremony in Rio and were awarded because of the work to approve the Inclusion of People with Disabilities Act, signed off by Brazilian president Dilma Rousseff in July.