Frank Rennhack gains confidence training with Marcel Hug
Germany's ice sledge hockey team looks to turn around their season prior to the World Championships A-Pool in Buffalo, New York.
12 Feb 2015
Imagen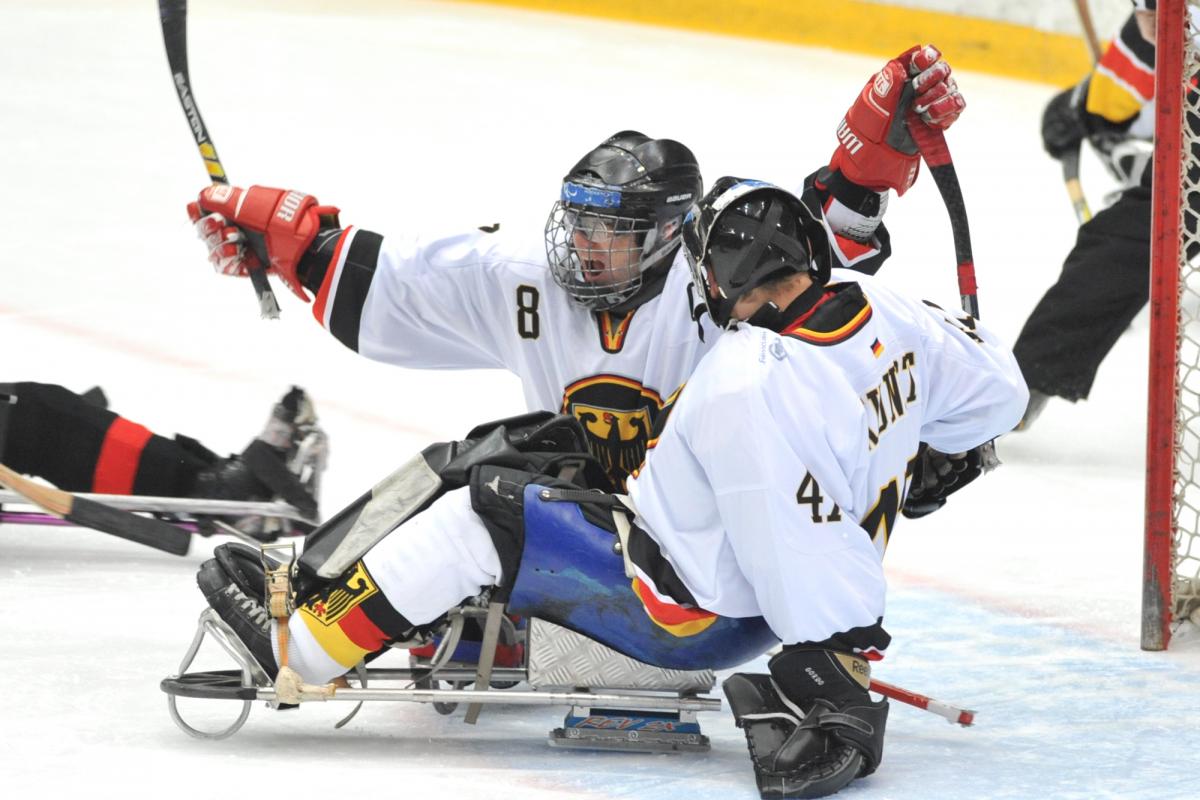 ⒸMoto Yoshimura
By Stuart Lieberman | For the IPC
"I was surprised that he gave me the chance to come, because I had written him on Facebook and asked if it's possible, and he answered very fast with "Yes, when do you want to come?"
Germany's ice sledge hockey team captain Frank Rennhack is hoping a training stint with wheelchair racer Marcel Hug may give him an extra edge over opponents at April's IPC Ice Sledge Hockey World Championships A-Pool in Buffalo, USA.
The German had the chance to train and collaborate with Swiss wheelchair racer Hug – a four-time Paralympic medallist and seven-time world champion – for three days last summer and both valued the experience greatly.
"Frank asked me if he could try wheelchair racing and come to a training weekend in Switzerland at the end of last summer," Hug said. "After that weekend, he invited me to also try sledge hockey in January.
"We are both dedicated, ambitious and determined athletes. And we are both one of the best in our sports.
"It was really cool having him come to Switzerland. He was very interested and motivated. He didn't want to stop. And as a sportsman, he obviously already had some natural talent for my sport. It was very interesting to have the exchange."
Rennhack, who received privated training sessions from Hug's coach said he was star struck in his first meeting with the Swiss "silver bullet".
"I was surprised that he gave me the chance to come, because I had written him on Facebook and asked if it's possible, and he answered very fast with "Yes, when do you want to come?"
Back to the ice
Rennhack has now shifted his focus back to the rink, as the world's top eight sledge hockey teams will compete at the World Championships in Buffalo, New York, from 24 April – 2 May.
The teams have been split into two groups, with the top two in each group progressing through to the semi-finals. Germany will be in Group B, along with Paralympic champions USA, Paralympic silver medallists Russia and reigning European champions Italy.
Rennhack predicted the Buffalo 2015 podium will be filled by the "big three" in the USA, Canada and Russia, and that after missing out on a Sochi 2014 Paralympic place, Germany's goal is simple.
"Our goal is to stay in the A-Pool," Rennhack said. "Maybe we can surprise some teams in the preliminary round, but I think a fourth, fifth or sixth-place finish is a realistic goal for us."
After missing out on the Sochi 2014 Paralympic Winter Games, defencemen Matthias Albanus and Andre Theligi, top scorer Udo Segreff and back-up goaltender Lars Uhlemann all retired.
Rennhack has been looked to lead a younger German squad this season, which includes up-and-coming forward Felix Schrader, who will turn 18 on 1 March.
In October, on their home ice in Langenhagen, the Germans won one of three games at the Four Nations Cup to finish in third place. Germany beat Sweden and lost to the Czech Republic and Italy – all of which were Sochi 2014 Paralympic participants.
Then in December, Germany finished fourth at the Four Nations Tournament hosted by the Czech Republic in Litomerice.
The Germans dropped all three of their contests against the Czech Republic, Italy and South Korea.
"We have seen that we have a lot of work to do before the World Championships," Rennhack said.
Extra motivation
Rennhack noted that the biggest lesson he took away from Hug in Switzerland was to teach his team to practice at 100 per cent all the time, no matter how bad of a day a player might be having.
"It was a great time for me – my first time in Switzerland," Rennhack said. "Wheelchair racing was great. It's a completely different sport. Marcel's coach told me I wasn't too bad for a beginner.
"It was great to spend some time with Marcel because he's a professional athlete, which is completely different from me and my team. We all have to go to work and then after work go to practice at the ice rink or workout in the gym. On the other hand, he's able to concentrate full-time on his sport."
The German ice sledge hockey captain noted that some days on the ice players are exhausted after having to put in a full day of work already, so they can be a bit sloppy. That may have been why the team just missed out on qualifying for both the Vancouver 2010 and Sochi 2014 Paralympic Winter Games.
But that cannot stop Germany if they want to stay in the A-Pool to begin the PyeongChang 2018 Paralympic cycle. Rennhack will be telling his teammates to all look at Hug as a role model, leaving everything they have on the ice each day, even if it's just a light practice.
As for Rennhack himself, could he ever become a dual-sport athlete?
"I thought about doing wheelchair racing, but a racing wheelchair is really expensive, so that'd be the big problem for me," Rennhack said.
"But, a sledge is around EUR 2,500, and I was able to get that, so …"
Related Images