French duo one step closer to Rowing Cup gold
France's Perle Boughe and Stephane Tardieu finished first on the opening day of the World Rowing Cup to advance to the mixed double sculls final.
22 Jun 2013
Imagen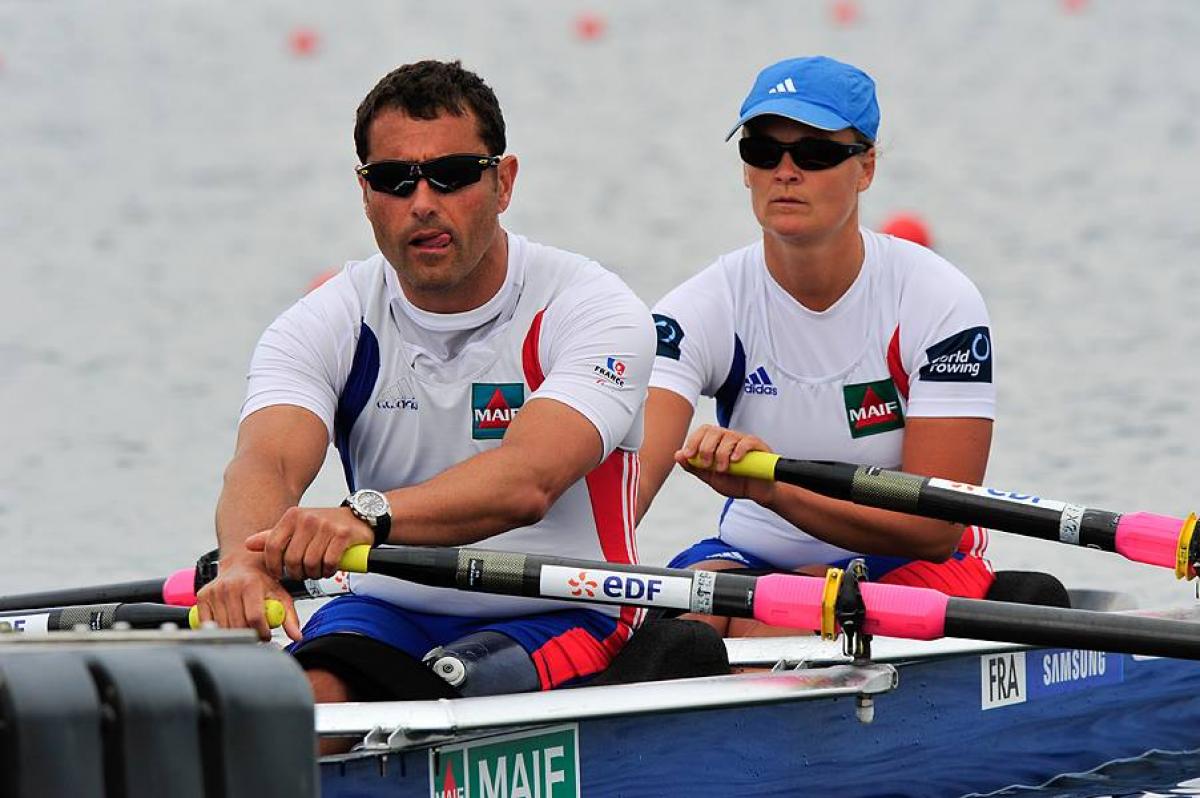 ⒸLuc Percival
By Justin A. Rice | For the IPC
The TAMix2x final will be at 9:32 on Saturday morning with Israel in the first lane, the Netherlands in the second lane and France in the third lane.
French rowers Perle Boughe and Stephane Tardieu are simultaneously thrilled and overwhelmed to be back in Great Britain a year after they won a silver medal in the mixed double sculls TAMix2x event at the London 2012 Paralympics.
"There's a lot of emotion," Boughe told Paralympic.org. "There was a lot of craze for the Paralympic Games."
But the French duo won't be satisfied with their trip back to Eton Dorney this week for the World Rowing Cup unless they take home the gold in their event on Saturday (22 June).
Boughe said winning silver at the Paralympics didn't necessarily give them an edge coming into this week's World Cup, though.
"We do not know, we always work to progress," she said. "This (silver) medal is not a goal, because it is not the gold medal. We should never underestimate our competitors."
Nevertheless, Boughe and Tardieu took a huge leap toward achieving their golden goal on Friday (21 June) when they finished first in their preliminary race with a time of 4:09.58 ahead of the boat from the USA (4:21.08) and the boat from the Netherlands (4:23.86).
Boughe said the key to victory will not only be to listen to their coach's instruction, but to start fast as well.
The TAMix2x final will be at 9:32 on Saturday morning with Israel in the first lane, the Netherlands in the second lane and France in the third lane. The USA will be in lane four, while Poland and Ireland will be in lanes five and six, respectively.
Besides winning silver in the Paralympics, Boughe and Tardieu also won silver at the World Championships in both 2010 and 2011. Tardieu, who started rowing in 1985 as an able-bodied rower, also won gold medals at the French Championships in 2010, 2011 and 2012.
But perhaps the most amazing part about all of Boughe and Tardieu's accomplishments together is that they have only been rowing together since 2010.
In fact, Boughe didn't start rowing long before that. She was a wheelchair basketball player for the French National team who turned her attention to rowing when she failed to earn a spot on the French Paralympic team.
"With basketball, I had the physical part down, and after I had to learn the technique of rowing and coordination with my partner, Stephane," said Boughe, who still plays basketball on the side with her club team.
She said missing the Paralympic basketball team motivated her to excel in another sport.
"I needed to prove I could win," she said. "I like competition. … Rowing is a difficult sport, and basketball is a game."
Boughe was paired up with Tardieu in 2010 after she beat his old partner at the French Championships. While Tardieu said he was impressed with Boughe's physical capabilities when they first started rowing together, Boughe said he was patient with her while she was still learning the sport.
"We get along well, we want the same thing," she said. "It's sometimes difficult, but we believe in our goal."