Giant Slalom Races Feature Rain and Great Finishes
16 Mar 2010
Imagen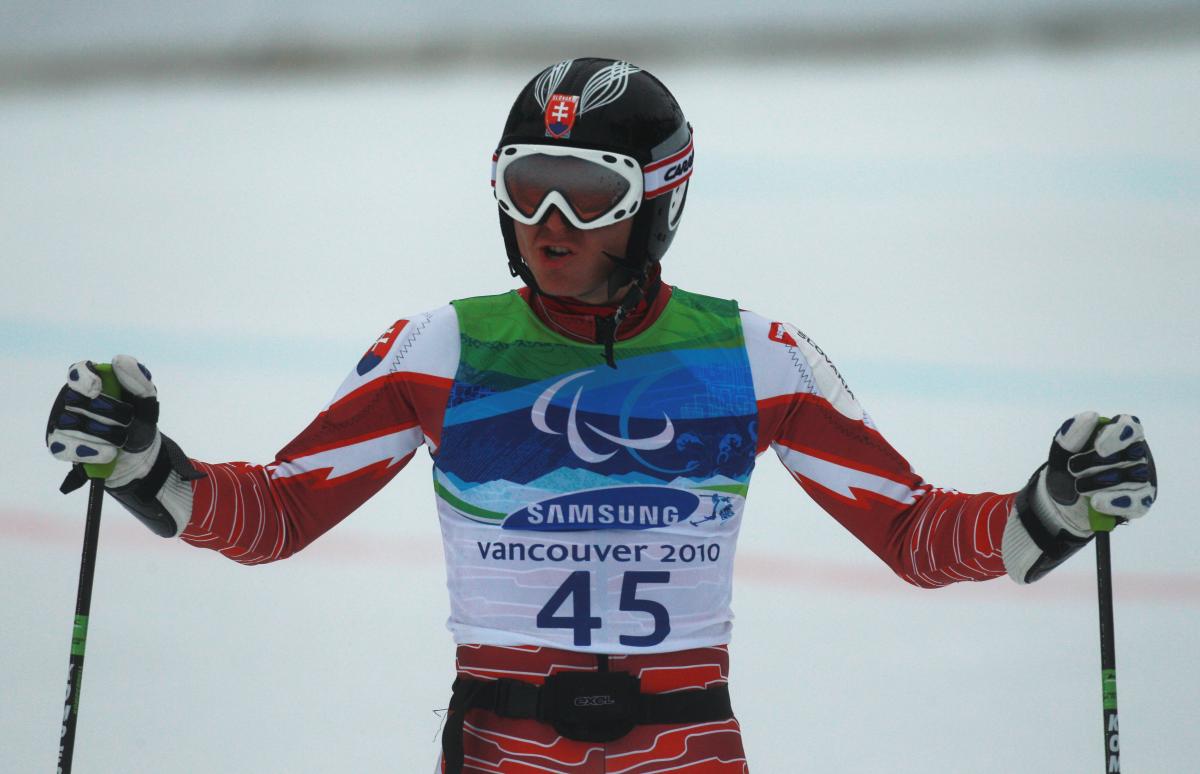 ⒸGetty Images
By IPC
A day after great conditions during the Standing Slalom event, the clouds and rain rolled in to cause problems for the Giant Slalom (Visually Impaired, Sitting) races.
"It's really hard with the rain to see anything at all. As soon as you hit the second gate you really can't see anything," Jessica Gallagher (AUS, B3) said of the wet conditions.
The constantly changing snow conditions have also challenged the skiers. Shannon Dallas (AUS, LW11) said "we've had 15 different types of snow since we have been here. It has been light snow, heavy snow, falling on ice, then falling on snow."
USA dominated the Women's Giant Slalom (Sitting) by finishing in four of the top six positions including a gold medal for Alana Nichols (LW11) with a time of 2:57.57 and the second silver of the Games for Stephani Victor (LW12-2), only 4.21 seconds behind her teammate. Kuniko Obinata (JPN, LW12-2) finished with the bronze medal, her second of the Games.
Slovakia also had a great day in the Giant Slalom. Jakub Krako (SVK, B2) and Henrieta Farkasova (SVK, B3) won gold in the Men and Women's Visually Impaired category. After winning their first medal of the Paralympics, Natalia Subrtova, guide for Farkasova (SVK, B3) exclaimed they felt, "Great. Awesome. Perfect. Happy. Excited."
There was more excitement in the Women's Giant Slalom (Visually Impaired) event as Viviane Forest (CAN, B2) won the bronze medal despite straining her groin early in the first run. Sabine Gasteiger (AUT, B3) won the silver medal, her second of these Paralympic Winter Games.
"I'm very wet, but I'm happy," noted Gasteiger (AUT) after her strong finish.
The top three skiers in the Men's Giant Slalom (Visually Impaired) finished in the same order as Sunday's Slalom race, with Krako winning gold in a combined time of 2:41.99, Jon Santacana Maiztegui (ESP, B2) only 0.21 seconds behind the leader winning silver and Gianmaria Dal Maistro (ITA, B3) and his guide winning the bronze medal.
The Men's Sitting category was delayed multiple times due to windy conditions but Martin Braxenthaler (GER, LW10-2) braved the conditions to win gold with a combined time of 2:37.40. This is Braxenthaler's tenth Paralympic medal and ninth gold, including gold in the Men's Slalom (Sitting) earlier this week. Behind Braxenthaler (GER) were Christoph Kunz (SUI, LW10-1) and Takeshi Suzuki (JPN, LW12-2), winning silver and bronze respectively.