Gloria Agblemagnon targets hat-trick of golds
French athletics Paralympian is preparing for her home INAS European Championships Games
04 Jul 2018
Imagen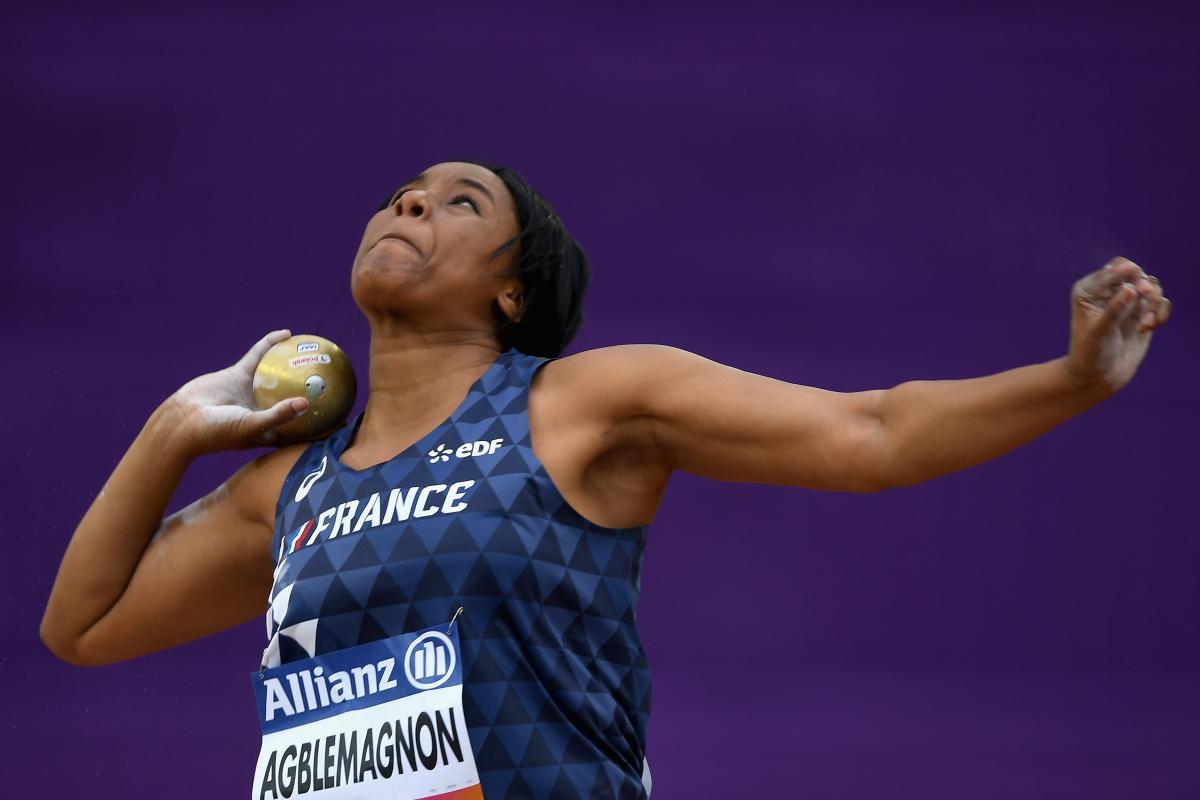 ⒸGetty Images
By Gaurav Mokhasi | For INAS
Two years since she made her Paralympic debut aged only 18 at Rio 2016, France's Gloria Agblemagnon is ready to go again.
Fresh out of a gruelling training session where she is preparing for the 2018 International Federation for Athletes with Intellectual Impairments (INAS) European Championships Games on home soil in Paris from 14-22 July, Agblemagnon spoke of her aspirations and the road ahead.
"I'm determined to do well in Paris next month", the 20-year-old said. "I'm going for three medals, hoping to throw over 45m each in the discus and hammer events and over 13m in the shot put."
Having already claimed gold in the hammer and discus at the 2017 INAS Athletics Championship and in shot put at the 2018 INAS World Indoor Athletics Championships, Agblemagnon's chances look good.
The Frenchwoman first discovered she had a talent for the three events when she was 13. "I was better at throwing than other athletics events", she recalled.
"I started with hammer and got into discus and shot put slightly later. By the time I was 15, I had realised this wasn't just a hobby for me. I wanted to pursue this seriously. I knew I could win medals internationally, but would have to train very hard."
And train hard she does. She follows a strict weight training regimen guided by her coach, Maxime Bauchet. However, Agblemagnon laughs when talking about her diet, saying it is not something she worries about. She puts her dedication on the training ground down to her experience at Rio 2016.
"I wasn't training enough before Rio. It was after that unique experience that I realised the value of training – how much harder I'd have to work to compete at that level."
Improving on Rio 2016
The Paralympics were a defining moment, not just from a sporting perspective but also a psychological one for Agblemagnon: "I didn't realise the scale of the event in the beginning – how big everything would be. But as the days went by, I started getting really stressed. It was difficult."
Having matured since then, Agblemagnon is determined to set the record straight at the Paralympics in Tokyo 2020 and Paris 2024. "I want to win a medal in shot put in Tokyo. But the biggest dream and motivator for me is to win the gold at home in Paris 2024."
It is not all fierce competition and training for Agblemagnon though. In fact, one of the main reasons she took up sports is because it helps her maintain balance in her personal life.
"Practising these sports gives me great pleasure. It helps me relax. My days become less stressful after I spend time out on the field. I love watching the discus as it flies away through the air.
"I like beating my personal records, sure. But I also like learning about the technical aspects of the sport, be it the throwing styles or how I can improve my rotation. Shot put has become my favourite event now because of how much time I've spent training for it and learning about it."
Agblemagnon will be in action at the 2018 INAS European Championships Games, organised by INAS Europe, in Paris from 14-22 July.
She will also compete at the 2019 INAS Global Games in Brisbane, Australia – the world's biggest high performance sports event for athletes with an intellectual impairment.