Golden delight for Oreste, Nanni at Lonato 2022
Italian stars claim individual and team titles to help hosts end on top with four gold medals at the first ever European Championships
02 Oct 2022
Imagen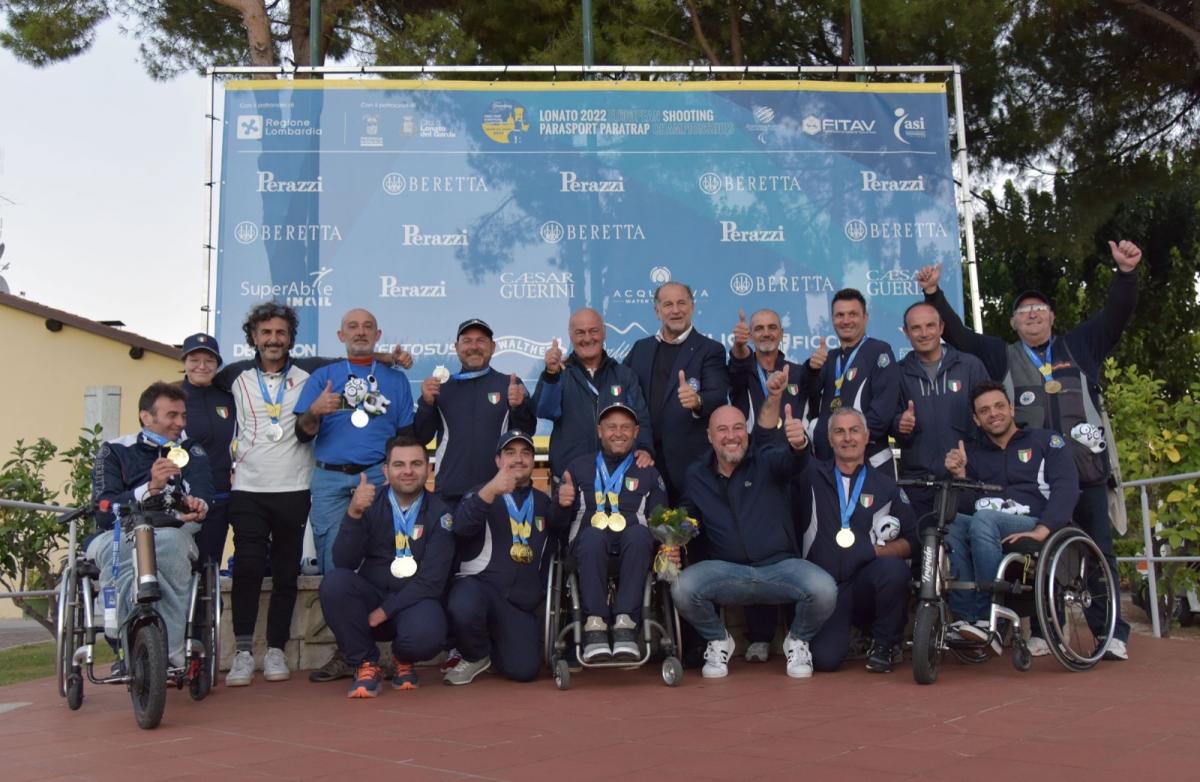 ⒸAlessia Tonizzo / Trap Concaverde
By World Shooting Para Sport

Local stars Lai Oreste and Gabriele Nanni delighted the home crowd with their gold medal winning shows as the first Para Trap European Championships came a close at Lonato del Garda on Saturday (1 October).
For both Oreste, the Sydney 2019 World champion, and Nanni, this was their first major titles at home after the scenic city of Lonato has hosted the two World Championships in 2018 and 2021.
Riding on his consistent rounds of shooting, Oreste shot 34 targets to finish four shots ahead of Finland's Juha Myllymaki (30) and take the gold medal in PT1 - Mixed Trap Seated SG-S. Great Britain's Keith White settled for the bronze clearing 25 targets.
'Heart belongs here'
It was a brilliant return to winning ways for Oreste after his second placed finish at the Lonato 2021 Worlds. He later said: "It (The win) means everything - My heart belongs here.
"Everything started right here, so winning in Lonato today brought everyone an unbelievable satisfaction. They deserve all of this. A warm hug to Lonato's staff."
Oreste later led Italy to Team title with an European record - 277 targets. The team also comprising Fabrizio Menia and Davide Fedrigucci beat their earlier record of 274 made in September 2021 in Lonato.
The PT3 - Mixed Trap Standing (Upper Limb) SG-U final was in fact the highlight of the Championships as Nanni, who had finished fourth in Lonato 2021 World Championships, shocked his compatriot and multiple-time world champion Francesco Nespeca by just one point 34-33.
Thrilling final
The final series was an edge of the seat encounter with both hitting eight targets out of 10, but Nanni took the gold owing to his one point lead in the previous series. Spain's Meliton Antonio Brinas Mora claimed the bronze.
Despite fighting it out for the individual title, Nespeca and Nanni combined to take the Team gold with an European record of 326 points. The team broke their own record of 312 points made in Lonato 2021. 
"It feels amazing," said Nanni after his double title.
"It's a very strong emotion; it was incredible. We all worked hard and the finally the results became touchable. After so much effort, winning a gold medal is marvellous. And now we celebrate and think about our future goals," he added looking ahead to the World Championships in Al Ain this November.
However, Slovakia's Filip Marinov halted the hosts Italy's winning streak with his brilliant shooting skills in the PT2 - Mixed Trap Standing (Lower Limb) SG-L finals.
Marinov hit 39 targets out of the 50, including 10 out of 10 in the third series, to take the crown ahead of Italians Fabrizio Cormons (37) and Giorgio Fazzari (27).
"It's a great moment for me. This is the best shooting range in the world. And winning the first European Championships for me here is amazing," said the Slovakian.
Para Trap Grand Prix
In a Para Trap Grand Prix, held simultaneously with the Euros at Lonato, Australia's Nigel Young took the gold with 29 hits in PT1 - Mixed Trap Seated SG-S while USA's Jose Martinez Pico (42) topped the podium in PT2 - Mixed Trap Standing (Lower Limb) SG-L. Italy's Calogero Sansone emerged the winner in PT3 - Mixed Trap Standing (Upper Limb) SG-U with 38 hits.
Para trap was officially adopted as a discipline by World Shooting Para Sport in May 2017 and Lonato, Italy, hosted the first World Cup in September last year.
In total, 45 athletes from 17 nations competed in the World Shooting Para Sport Para Trap Championships. Hosts Italy had the biggest team (10 shooters).
Full results are available on World Shooting Para Sport's website.