Guilhermina out to make amends in Sao Paulo
After losing her Paralympic titles in Rio, the visually impaired sprinter aims to bounce back in 2017.
17 Apr 2017
Imagen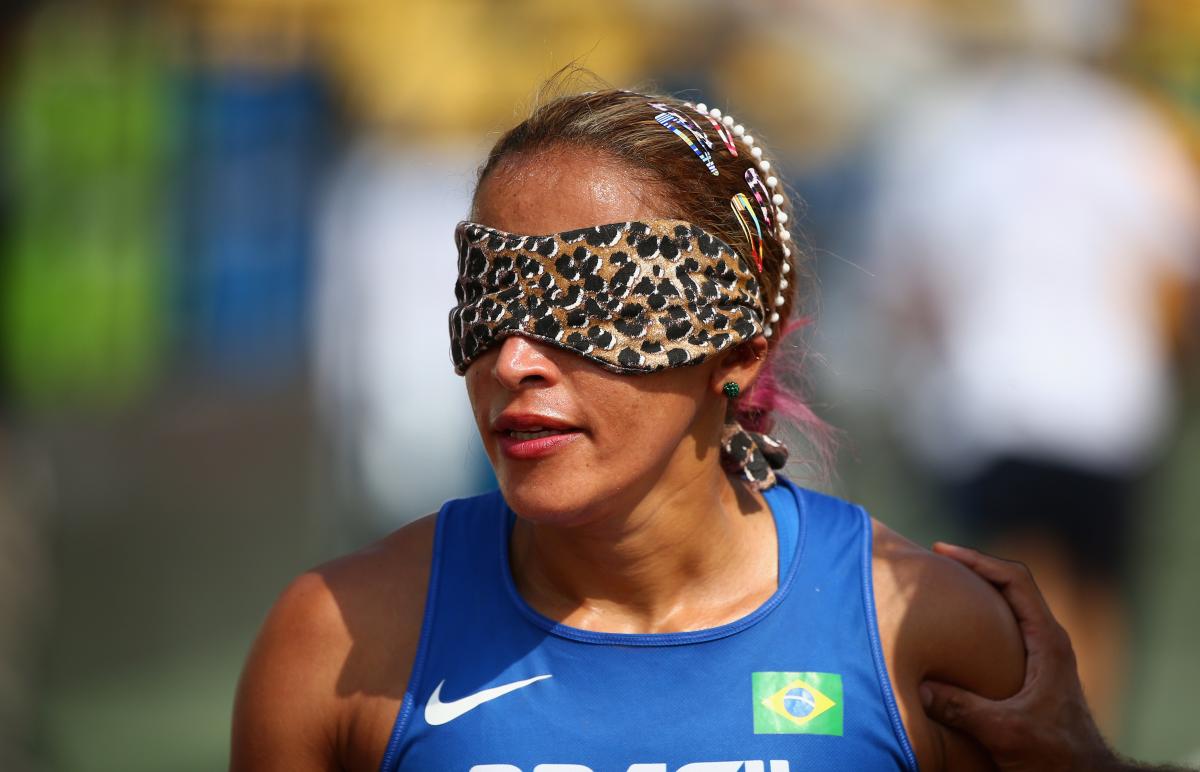 ⒸLOC Doha 2015 | Getty Images
"This year is extremely important because it means the start of a new period."
Brazil's former Paralympic champion Terezinha Guilhermina is out to make amends for her disappointment at last year's Paralympic Games, starting with the Sao Paulo Grand Prix, which takes place in Brazil from 21-23 April.
Guilhermina is the first to admit that the Rio 2016 Paralympic Games did not go to plan.
The visually impaired sprinter, well known for her flamboyant eye masks and lively personality, had entered the competition with the hopes of the nation spurring her on - but it was not to be.
The 38-year-old, who won double gold at the London 2012 Paralympic Games, was disqualified in the 100m and 200m T11 at Rio 2016, and won bronze in the 400m T11.
This season however Guilhermina has put her woes behind her and is instead focusing on a return to winning form.
"This year is extremely important because it means the start of a new period," she explained.
"I am sure I still have a lot of reasons to keep competing. I am aware I did not do what I could have done in last year's Paralympics and I know I can do my best now, because I have not achieved the times I wanted to.
"I just hope my times and marks will be better in Sao Paulo than they were in all 2016."
Many would have forgiven Guilhermina if she stepped away from the sport after Rio 2016 – competing at a home Games at 37-years-old may have seemed like the close of a chapter in her life.
But the support she received from the public helped encourage her to keep working hard.
She explained: "I felt sort of challenged after Rio 2016 to get even better and also to get properly ready in order to be more competitive in my next events.
"Thank God I found out after Rio, through my results, that I'm loved by the Brazilian people. I received a tremendous amount of support, respect from everyone over here, and that fuelled me to try harder and bring happiness to my country."
In a bid to kick-start her return to form, Guilhermina has changed coach – she now works with Daniel Biscola – and added the long jump to her repertoire, which she acknowledged was 'extremely motivating.'
"It is a new facility, a new team around me and a new motivation. This new event I'm entering in demands a physical and mental preparation that, as a sprinter, I was not used to. So this has been a pretty special learning process.
"The Sao Paulo Grand Prix will be an excellent opportunity for me to experience the long jump and execute everything I have worked on lately. I believe and hope that the outcome will be better than last year.
"It is a great opportunity to compete in the first months of the year, and something that I was not able to do in 2016.
"First, my guide (Rafael Lazarini) got injured and, right after that, I pulled a hamstring, so Rio 2016 was the first full event we had together. Now I feel we are ready to compete again in Brazil."
The Sao Paulo Grand Prix will be the first of a number of competitions Guilhermina aims to take on in the build up to July's London 2017 World Para Athletics Championships, where she will likely face the two women who beat her to the top of the podium in Rio, Great Britain's Libby Clegg and China's Cuiqing Liu.
Clegg was only reclassified to the T11 events last year, while Liu came to prominence at the World Championships in 2015. Prior to that, Guilhermina had been a regular at the top of the podium – she won a hat trick of titles at both the 2011 and 2013 World Championships.
But the Brazilian believes the presence of her new rivals will only serve to spur her on.
"It always good to have high-level competitors because it keeps us from a comfort zone," she admitted.
"For ten years I was not challenged and now I feel like I need to work hard day in and day out to get to their level. I am happy that I am aware of what I need to do to get better right now."