Hart aims for Rio 2016 podium with new horse
The US para-equestrian rider is confident more than ever she can medal in the upcoming Paralympics.
24 Jun 2015
Imagen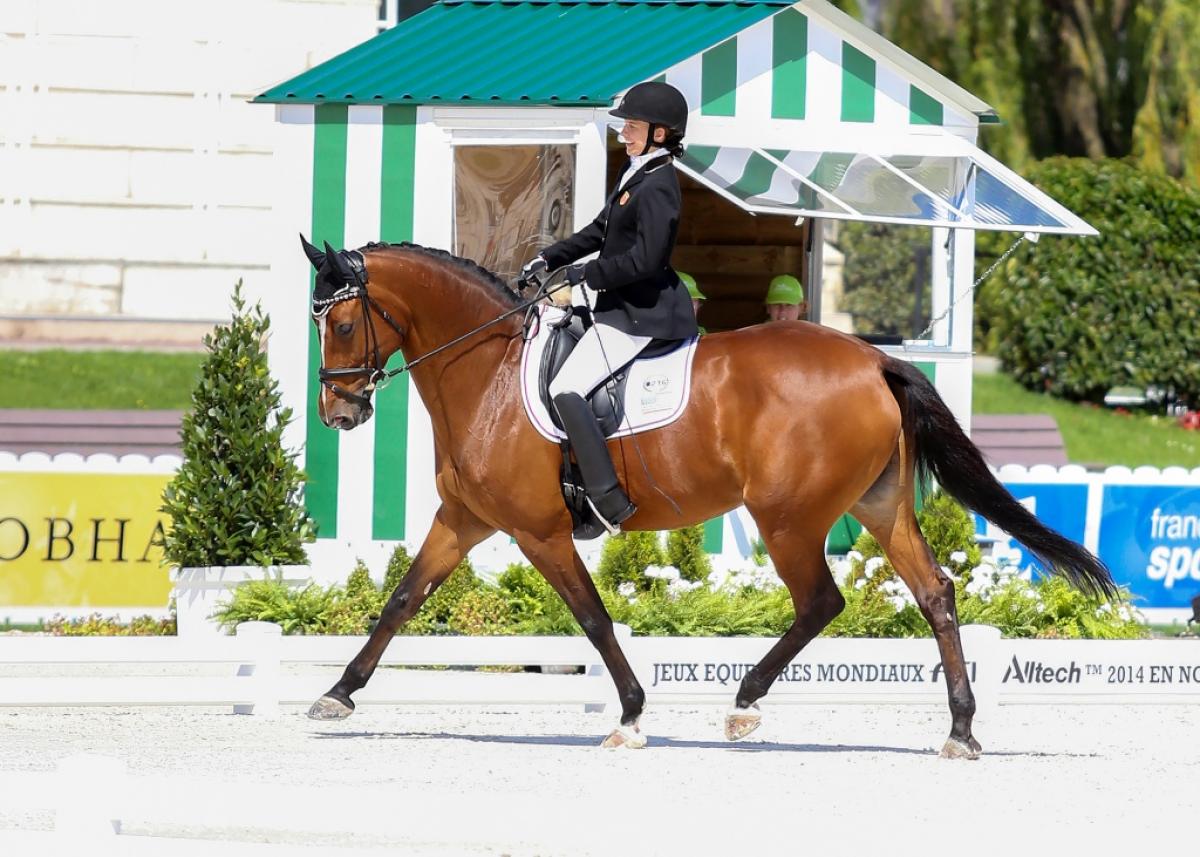 ⒸSusan J Stickle
By Robert Howell | For the IPC
"There is some unfinished business that I want to go in there and accomplish. I want hardware this time."
After back-to-back fourth-place finishes in equestrian at the last two Paralympic Games, the USA's grade II rider Rebecca Hart is even more determined to reach the podium at the Rio 2016 Paralympics.
She believes Rio 2016 will be different, and that newfound confidence stems from the growing improvement of her new horse, 12-year-old mare Romani.
"I was very excited last year to get Romani just before the Alltech (International Equestrian Federation) FEI World Equestrian Games in France," Hart said. "While we were there, we were still in the learning stage and that was reflected in our performance.
"But so far this year, we have a much more solid relationship, which I can see in her performance in horse shows and in all the qualifiers we have done leading up to Rio. She is getting stronger and stronger."
One of the key challenges Hart and Romani face, however, is that the horse once competed with able-bodied riders.
"It's quite a learning curve for her," Hart said. "And having me ride was a new experience. It takes a while to get that together."
At the moment, though, consistency is key. Hart, who divides her time between Pennsylvania and Florida in the USA – more than 1,700 km of travel – spoke with a sense of excitement when talking about Rio 2016.
"I knew she was a talented horse and had potential, and I knew our timeframe was too short to be what I wanted in France last year," Hart said. "But now that I have had a good year with her; it keeps getting better. All the judges we had down in Florida during the winter circuit gave us very positive comments, so I am really looking forward to showing the improvement and then moving forward."
Still, going into a third Paralympic Games on a horse she only had for two years might not seem like enough time.
Hart, however, spoke with confidence about Romani.
"It (a Paralympic medal) is definitely something I want another crack at," Hart said. "There is some unfinished business that I want to go in there and accomplish."
"Hong Kong (as part of Beijing 2008) was my first Paralympic Games, so I was nervous at the newness of it and then, at London 2012, I had a new horse just for a year so the timing was not ideal for us," she added. "But now that I have the experience of more international competitions, I do feel I know what I have to have going into the competition and the year building up to it."
The increasing competitiveness of the grade II competition will make Hart's Paralympic podium ambitions tougher. New riders from the Netherlands are shooting up the ranks, and Great Britain's Natasha Baker, who won double gold in London 2012, can never be underestimated.
But as mentioned earlier, Hart has unfinished business.
"I want hardware this time," she said.