"How I got into…" with Jonnie Peacock
In May's edition of 'How I got into…' we find out how Great Britain's Paralympic sprint champion Jonnie Peacock started out in Para athletics.
21 May 2016
Imagen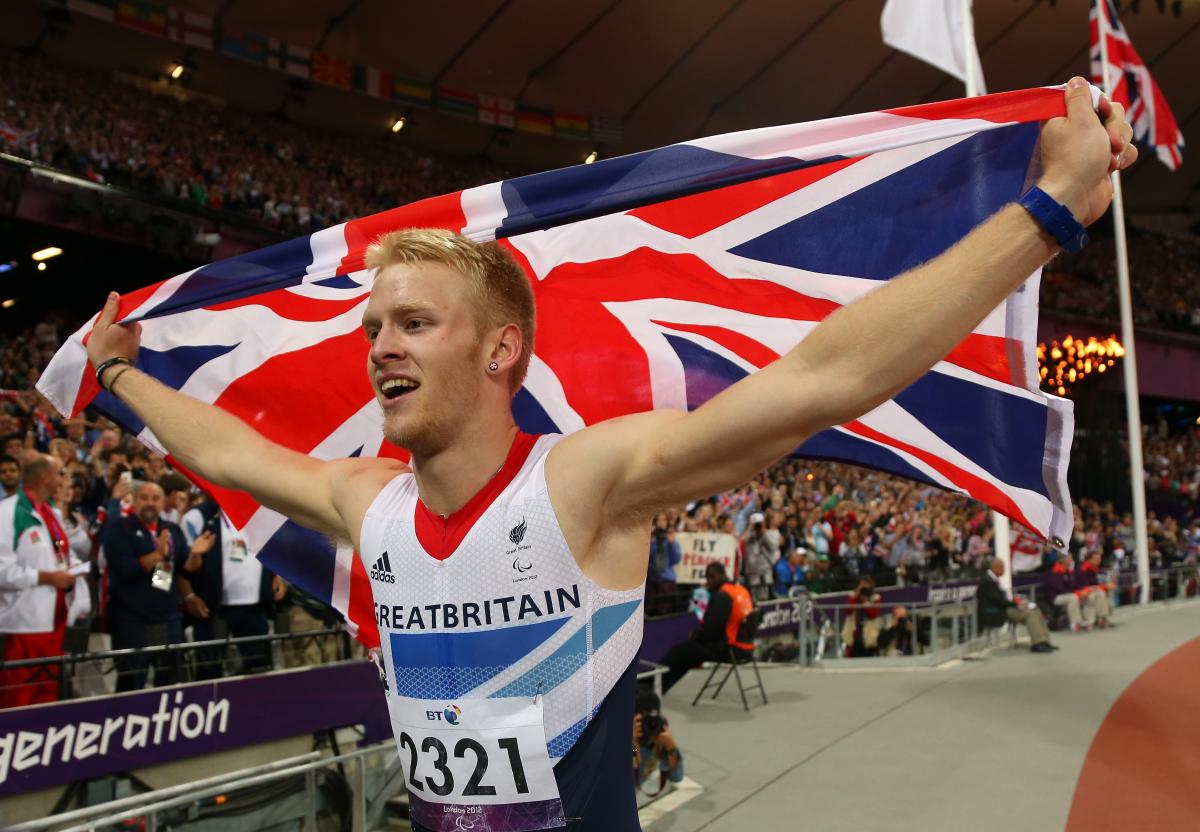 ⒸGetty Images
As a youngster Paralympic champion Jonnie Peacock always loved sport – he was particularly keen on football, and had even tried to find a local amputee football team to join – but all he came across was an amputee team that played on crutches.
"I loved running around the pitch kicking a ball, and I hated going on my crutches. So I could never have done that," explained Peacock, who had his right leg amputated below the knee when he was five-years-old after contracting meningitis.
The following week the teenager – Peacock was 15-years-old at the time – had an appointment at his local prosthetics centre.
Sitting in the surgery room, he noticed a poster on the wall. It was a moment that would change his life.
"There was a poster on the wall that said something along the lines of 'Are you aged 14 to 30? Are you interested in sport?'" recalled Peacock, who asked the staff what it was about.
By chance, the same morning Peacock's prosthetic's consultant had received an email about a talent identification day in London – a chance to try out various sports. She passed the details on to Peacock, who was immediately interested.
"I asked my Dad about going – it was on a school day so he wasn't too keen, but luckily Mum agreed, so they both took a day off work and I took a day off school and we went down to London to try out loads of Paralympic sports," said the Cambridge-born sprinter.
"That was really the first time that I met lots of other amputees too, it was a cool day for me just from a personal perspective.
"No matter what came of the sport, just seeing these other guys changed my outlook on life generally, making me feel that I wasn't so different."
Peacock tried out a number of sports, from wheelchair tennis to pistol shooting. Then he spotted the athletics zone.
"They had these timing gates out for a 50 metre sprint, so I gave that a go. I actually ended up doing it about three times, on my normal day leg," he said.
Peacock enjoyed the day, then thought nothing of it until a couple of days later when the e-mails started arriving.
"I actually got e-mails from all of them – the tennis and shooting guys as well," said Peacock.
"One of my best mates did athletics when I was younger, so I always liked it – I just never wanted to try it because I didn't think I would be very good at it. I thought I would be the slowest one there, so I just didn't want to go.
"But then when they asked me to do the sprinting, that was me; that was the one I wanted to do. I'm quite black and white. Sprinting is one of those events where it's first across the line; it's the time, it's very logical. There are no opinions, it's not scored."
That was just the beginning, however.
Peacock and a number of other youngsters were invited to attend further testing and coaching sessions, before finally whittling the numbers down to a handful of potential athletes, who met in Loughborough once a month.
"They taught me a lot on that course," admitted Peacock.
"How to be a professional sportsperson; how to take things to the next level. They set me up with British Athletics, who in turn set me up with a local coach, and things just went from there."
It wasn't until the end of 2010 that Peacock finally got his first running blade – prior to that he ran on his day leg. He remembers his first race clearly.
"I remember on the start line I was asking everyone what their personal best was – doing it on the start line! I had no clue, but I didn't want to be last. I ended up running 13.2.
"Not long after I raced at the UK School Games – I had such a bad start, but I managed to come through and win it."
From then on Peacock did not look back. At 19-years-old – just four years on from that timely prosthetics appointment - he stood on top of the podium at London 2012 having won gold in the blue riband men's 100m T44 in front of an 80,000 strong crowd.
"I feel so lucky, because of how I managed to get in to the sport. Here I am today as the Paralympic champion - I get to wake up and do sport for a living," said Peacock.
"It's crazy to think that's my life, but it is, and I'm so grateful for that."
__
Sport fans from around the world can now buy their Paralympic tickets for Rio 2016 from authorised ticket resellers (ATRs).
The IPC's Global ATR is Jet Set Sports, and Rio 2016 tickets and packages can be purchased on the CoSport website.
Residents of Brazil can buy 2016 Paralympics tickets directly from the Rio 2016 website.