How I got into Para athletics: Hannah Cockroft
Five-time Paralympic champion reveals journey into the sport
16 May 2018
Imagen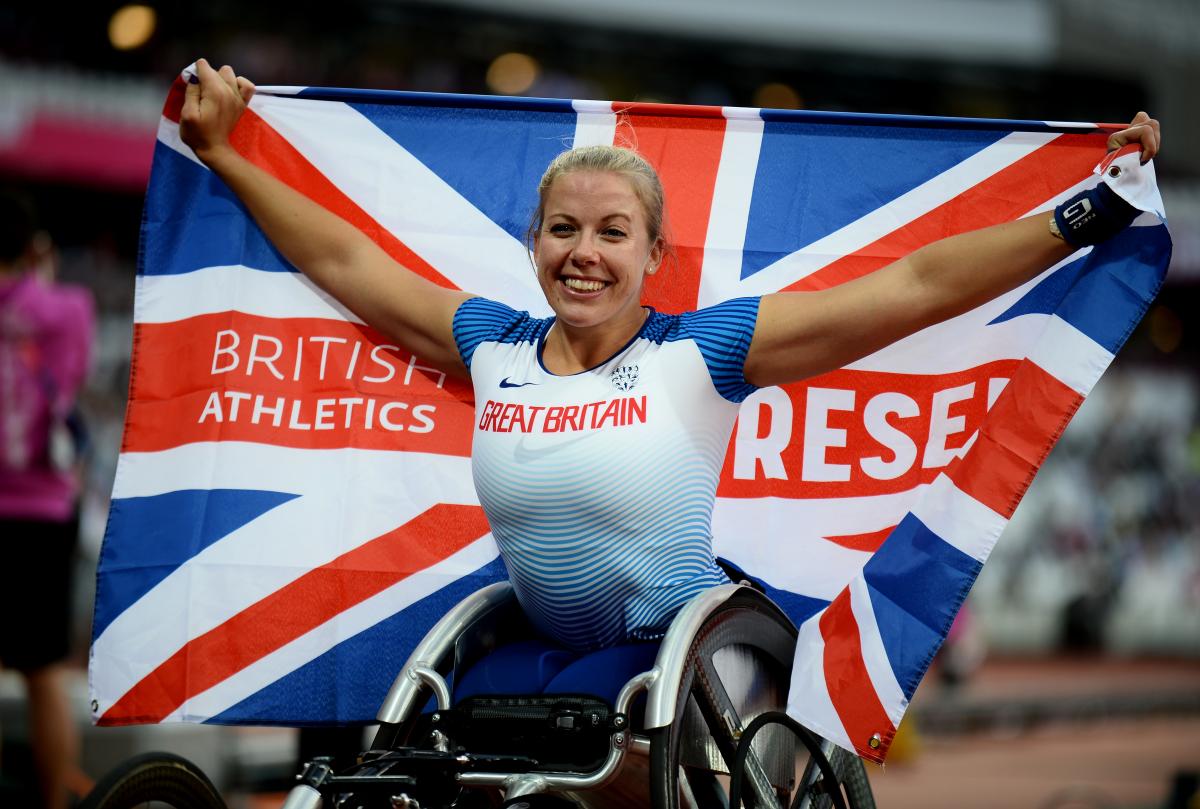 ⒸGetty Images
By IPC
If Para athletics has changed Hannah Cockroft's life, it was not the first sport to do so.
The 25-year-old began playing wheelchair basketball during her second year of high school after a chance encounter between her physical education teacher and Harry Brown, a member of Great Britain's wheelchair basketball team, who went to school nearby and played for Cockroft's local side, the Calderdale Cardinals.
Brown and his team were invited to Cockroft's school to give pupils an opportunity to learn about disability sport. It was not meant to provide Cockroft's first major step into the world of Para sport, but it served just that purpose.
"My PE teacher met Harry in passing and ended up talking to him and arranging for his team to come and do a demo at my school," explained Cockroft. "They came in and that was the first time I ever sat in a wheelchair."
Up until then, Cockroft would "just walk and hold on to somebody, or my Dad would carry me if I was out." Wheelchairs were to be avoided at all costs.
"I hated wheelchairs. To me, a wheelchair was the sign of disability; it was going to make me stand out, make me so much different from everybody else, and I just didn't like that.
"Sport was the thing that made me okay with a wheelchair and made me see that actually it was a symbol for freedom and independence more than a barrier and a disability. It was a big learning curve and a big change."
It transpired that the Cardinal's coach lived in the next street to Cockroft, so that same evening her father took her round to his house and they asked if she could start training. Cockroft would train two nights a week for the next four years.
Basketball, and a wheelchair, provided Cockroft with freedom and speed, which she loved.
"Not having to hold onto someone's hand to try and go fast, not having to be attached to an adult; I felt a bit more like everybody else," said Cockroft.
At primary school, the Halifax-born Para athlete had been prevented from taking part in sport. Now her teachers realised she could be involved in PE lessons.
"Seeing me play basketball, seeing how I communicated with people on the court, seeing how strong I was, made them realise that although they had no other disabled students or specialist equipment, there were easy ways to adapt lessons to let me be involved," said Cockroft.
At 13-years-old, Cockroft began Para athletics as a seated discus thrower in the school field. Through school she also attended the Disability Sport England championships in Blackpool, which she won.
Next came the UK School Games, where she represented Yorkshire and won a silver medal. Off the back of that achievement, Cockroft was invited to a talent identification day at Loughborough university, where she first saw wheelchair racing.
"I saw it, didn't want to try it, got made to try it, loved it," recalled Cockroft.
The seating position required for wheelchair racing caused Cockroft painful discomfort but she persisted – the same drive and determination that has helped her go on to win 17 major titles and break countless world records.
"It took a long time to get used to, but once I'd gotten into it and with a lot of encouragement from my Dad, I just instantly loved it.
"I loved the fact I could go even faster in a race than I could in a basketball chair, and I loved that I could do it on my own. I loved racing even more because there wasn't a wall at the end to stop you going fast.
"My first race was back at the School Games a year later in 2008 in Bath. I won it, and that was me - hooked."