How a special bond helped Vadovicova win Rio gold
Change of coach helps Slovakian make huge progress since London 2012 to claim top honour on opening day of Paralympics.
08 Sep 2016
Imagen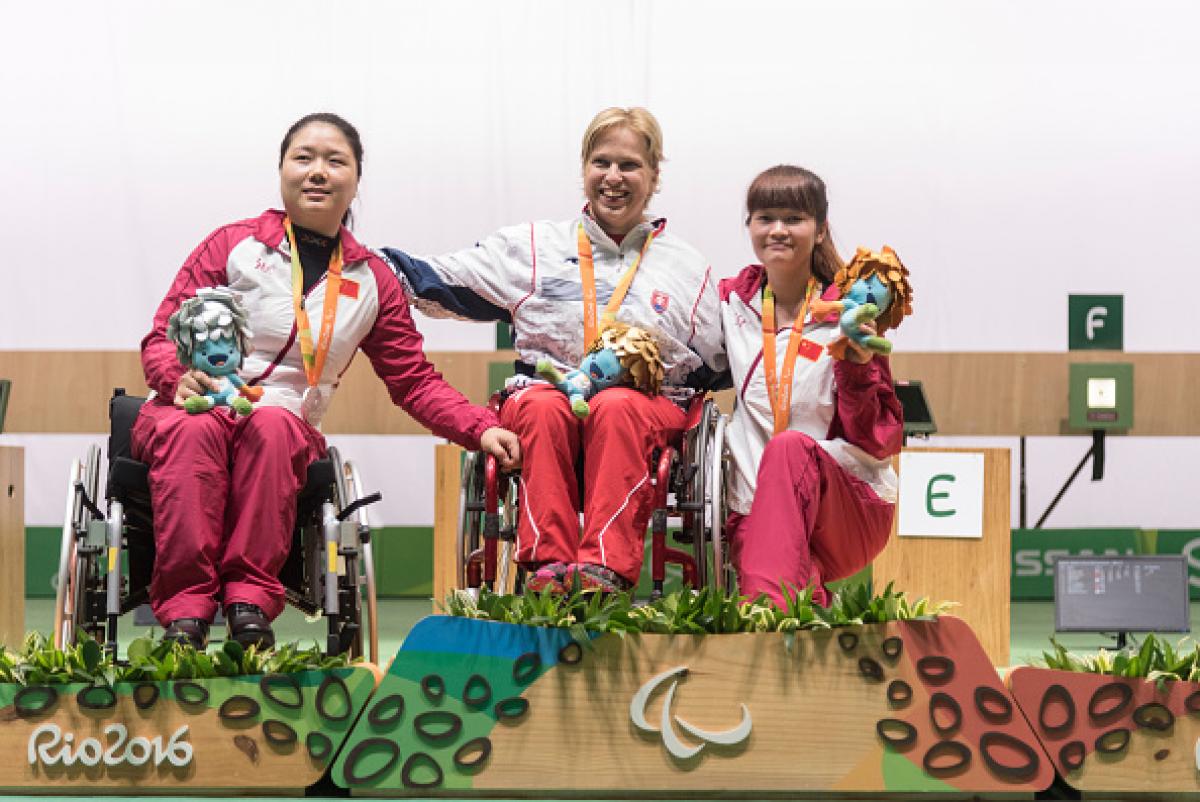 Ⓒ(Photo by Raphael Dias/Getty Images for the International Paralympic Committee)
By IPC
Some fans clapped while others tried to hush them. In the end, it all became one collective noise, putting extra pressure on the last two shooters battling for gold inside the Olympic Shooting Centre on Thursday (8 September).
For Veronika Vadovicova, the noise only seemed to aid her concentration. She shot four 10.8s in the final round of the R2 (women's 10m air rifle standing SH1), completing a dramatic comeback to win one of the first gold medals of the Rio 2016 Paralympic Games.
After her final 10.8 shot, a crew of Slovakian fans in the stands got up and cheered – one of them being her boyfriend and coach Milan Golena.
"I was very proud of her," Golena said. "I remembered the many, many hours we spent on the shooting range."
Vadovicova said changing coach after London 2012 was a key reason behind her progress from seventh place at the Paralympics four years ago to first in Rio.
"I was very upset in London because I wanted to win," she said. "After the Paralympics I swapped coach, started training more, changed my technique and the results are shown here today."
The couple did not meet on the shooting range – in fact, Golena knew little about the sport before he met his girlfriend.
"We met online and spoke on the telephone. I did not know she had a disability until we met in person," Golena said. "She came to pick me up with her car and I got inside, and still then I didn't know."
When they reached their destination, Vadovicova told Golena she needed to get her wheelchair from the backseat, and that was when he learned of his girlfriend's impairment.
He was similarly unaware that his new girlfriend was by then a three-time Paralympian.
But the bond between them was strong enough for him to train to become her coach.
Then a physical education teacher, Golena first researched and learned about the sport.
The next step was taking a coaching course. And, as quickly as he picked up the sport, Vadovicova began to make huge strides in her performance.
She won gold in the R2 at the 2013 European Championships, and then gold at the 2014 World Championships.
Now she has capped it all with her first Paralympic gold medal in the R2 event.
The key technique the couple described in preparation for Rio was paying attention to details.
And that showed on Thursday.
Vadovicova was quiet throughout the qualification round, finishing second behind defending Paralympic champion Cuiping Zhang of China. Zhang had led through the first five rounds of the finals stage.
But the Chinese shooter appeared to collapse under pressure when Vadovicova scored her first three 10.8s. Zhang then shot two under 10.0 in the final three rounds, opening more space for Vadovicova to catch up – and for the fans to get involved.
The details are what made the difference between Vadovicova's 207.8 and Zhang's 206.3 totals.
"I was a little bit afraid of the Chinese [silver medallist Yaping Yan and Xiaohng Bai] and Zhang is very strong," Vadovicova said.
"In the final round, I was just concentrating on myself."
But Vadovicova was not quick to celebrate, saying she has three more competitions to go – R3 (mixed 10m air rifle prone SH1), R6 (mixed 50m rifle prone SH1), and R8 (women's 50m rifle 3 positions SH1). So her Games could get even more golden.
• Read the full report from day one of the Paralympic shooting here