Hug and Guilhermina to headline first IPC Athletics Grand Prix of 2014
A number of World and Paralympic champions including Brazil's Terezinha Guilhermina and Switzerland's Marcel Hug will be amongst the 490 athletes taking part in the first IPC Athletics Grand Prix of the season which starts on Saturday (22 February) in Dubai, United Arab Emirates.
20 Feb 2014
Imagen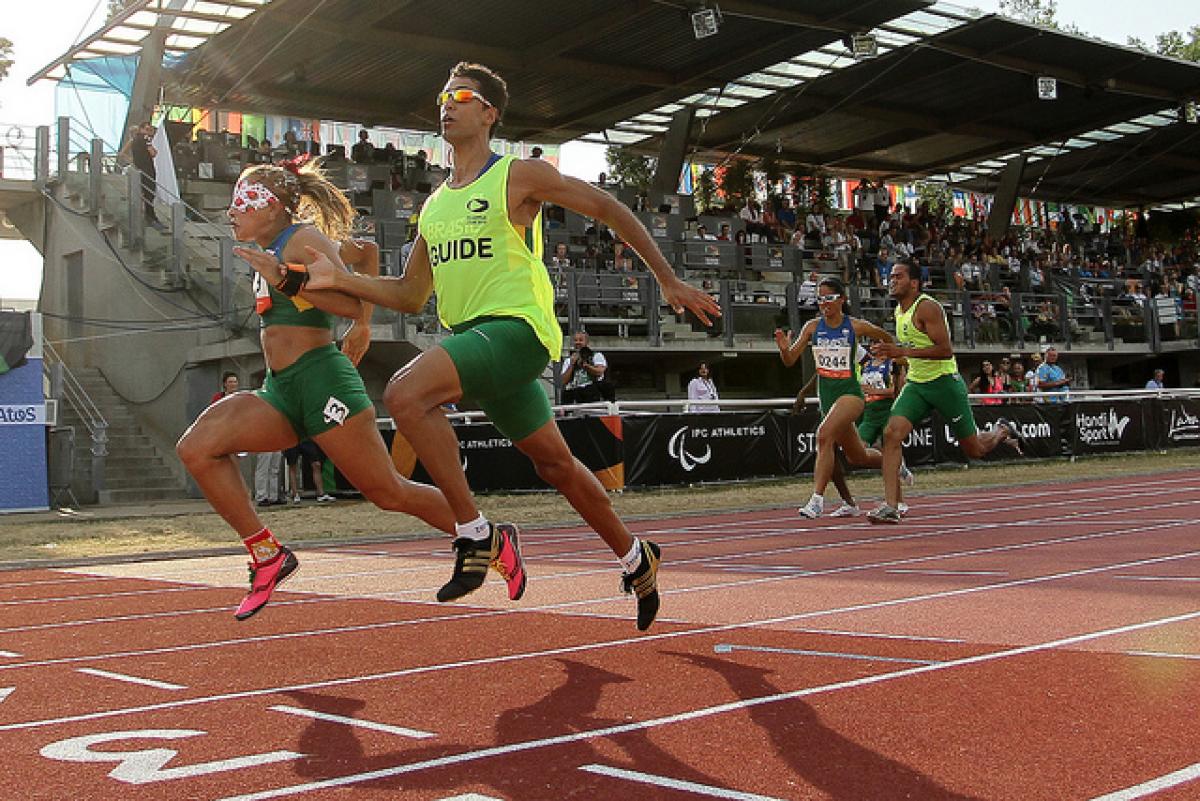 By IPC
In the field, all eyes will be on Germany's Markus Rehm in Tuesday's long jump T42/44 event.
The four-day long 6th Fazaa International Athletics Competition which runs through until Tuesday (26 February) will feature 86 different track and field events and has attracted a strong line-up of athletes from 39 countries.
One of the star names competing will be Brazilian T11 sprinter Terezinha Guilhermina, a winner of three Paralympic and eight world titles.
The world-record holder over 100m, 200m and 400m will not have it her own way, however, and will face stiff competition in Sunday's 100m and Tuesday's 200m races from teammates Jhulia Santos and Jerusa Santos. Jerusa took silver behind Guilhermina in both sprints at last year's World Championships, whilst Jhulia was a bronze medallist in the 100m.
The busiest athlete of the meeting is likely to be Switzerland's Hug who will contest six races in four days covering all distances from the 100m through to 5,000m.
The "Swiss Silver Bullet" is no stranger to demanding programmes having won the 400m, 1,500m, 5,000m, 10,000m and marathon world titles last year and will be looking to post strong time in Dubai ahead of his participation in April's Virgin Money London Marathon.
In the field, all eyes will be on Germany's Markus Rehm in Tuesday's long jump T42/44 event.
The 25-year-old leapt 7.95m last year to destroy the T44 world record and claim the world title and has not ruled out breaking the 8.00m barrier at some point this year. Rehm will also compete in the 100m T44 on Tuesday prior to competing in the long jump.
After throwing a world record 11.50m in the shot put F57 at this meeting last year, Mexico's Paralympic champion Maria de Los Angeles Ortiz Hernandez will be looking for another strong performance in Saturday's competition when she faces her two biggest rivals.
The Mexican threw 11.43m to claim her second successive shot put world title in 2013 and will face her fellow podium finishers from Lyon - Bulgaria's Stela Eneva and Algeria's Nassima Saifi - who won silver and bronze, respectively.
The first Grand Prix of the season will feature a strong contingent of European athletes including a number from Great Britain, Germany, Bulgaria, Denmark, Greece, Ireland, Netherlands, Switzerland, and Slovakia. All are likely to be competing for the first time season and using the event as preparation for August's IPC Athletics European Championships in Swansea, Great Britain.
This year's Grand Prix series will visit nine countries in four continents with the next event after Dubai taking place in Beijing, China in mid-April. Meetings will then be held in Sao Paulo, Brazil; Arizona, USA; Nottwil, Switzerland; Grosseto, Italy; Berlin, Germany; and Tunis, Tunisia. The series will climax in late August with the IPC Athletics Grand Prix Finals in Birmingham, Great Britain.
2014 IPC Athletics Grand Prix
22-25 February, Dubai, UAE, 6th Fazza International Athletics Competition - 2014 IPC Athletics Grand Prix
14-16 April, Beijing, China, the 2nd China Open Athletics Championships - 2014 IPC Athletics Grand Prix
24-26 April, Sao Paulo, Brazil, II Caixa Loterias Athletics Open Championships - 2014 IPC Athletics Grand Prix
9-11 May, Arizona, USA, Desert Challenge Games - 2014 IPC Athletics Grand Prix
16-18 May, Nottwil, Switzerland, ParAthletics - 2014 IPC Athletics Grand Prix
30 May-1 June, Grosseto, Italy, Italian Open Championships 2014 - 2014 IPC Athletics Grand Prix
16-18 June, Tunis, Tunisia, 8th Tunis International Meeting - 2014 IPC Athletics Grand Prix
20-22 June, Berlin, Germany, Berlin Open - 2014 IPC Athletics Grand Prix
25 August, Birmingham, Great Britain, IPC Athletics Grand Prix Final
Related Images