IAAF Diamond League: Gatlin upsets bolt
Murielle Ahoure also surprises at the Olympic stadium in Rome, whilst Paralympic Champion Martina Caironi finishes fourth behind team mate and Great Britain's Laura Sugar.
07 Jun 2013
Imagen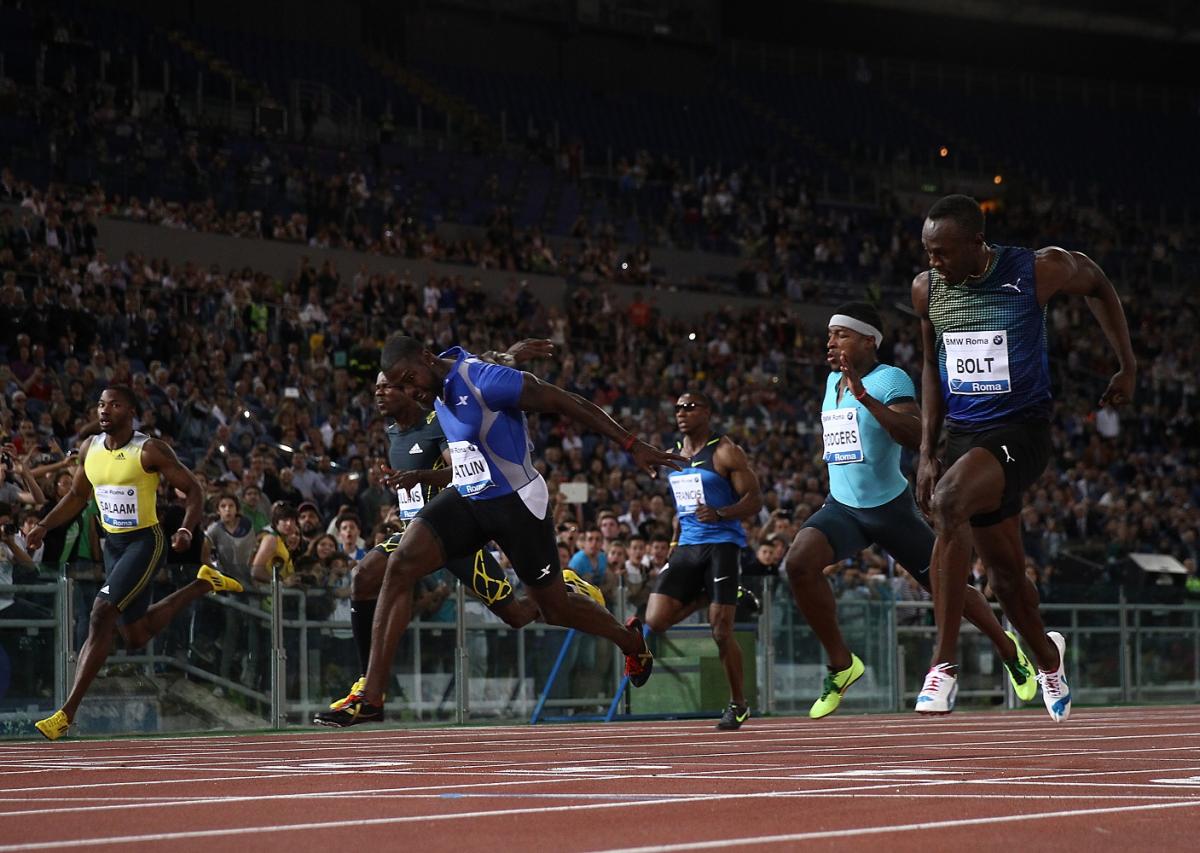 ⒸIAAF
By Phil Minshull | IAAF
"I had a nice start, that was ridiculous, a perfect start and then I just cropped off. I think it was the perfect start that threw my game off"
Justin Gatlin arrived in Rome saying that he wanted to make a statement at the Golden Gala, the first European stop in the 2013 IAAF Diamond League, by beating Usain Bolt but many people dismissed his comments as bluster, despite the fact that he was unbeaten over 100m going to his marks on Thursday (6 June).
However, the 2004 Olympic Games 100m champion proved as good as his word and just came home in front of the man who succeeded him and took gold medals in Beijing and London, stopping the clock in 9.94 seconds with Bolt one-hundredth in arrears.
Bolt had a good start by his own erratic standards, with the fastest reaction time in the field with 0.143 seconds. By contrast, Gatlin was out of his blocks in 0.163 seconds but had a slightly better pickup.
At the halfway point it was St Kitts' Kim Collins, the World champion over 100m a decade ago in 2003, who had a very narrow lead but then Gatlin, in the lane to Collins' left, started to go through the gears in the final 40 metres and Bolt couldn't respond.
As the delighted Gatlin took the plaudits from the slightly stunned 52,305 crowd in the Italian capital's famous Olympic Stadium, Bolt was left to shrug his shoulders with a bemused expression on his face and stretch out his long arms in front of an inquisitive TV camera, as if looking for an answer from above.
"I had a nice start, that was ridiculous, a perfect start and then I just cropped off. I think it was the perfect start that threw my game off," commented Bolt several minutes after the race, still seemingly perplexed about his failure to execute over the second half of the race.
"I have to do more strength work, I guess. I think it needs just some time to get it all back together. At the end, it was not just me.
"At least, I got under 10 seconds!" joked Bolt, trying to make light of the shock result.
"My legs did not feel the energy. At 50 metres, I had some problems but the rest of the race was not bad. For me, it is just going through the season, put things together for the World Championships. The season is still very early," added Bolt.
"I stumbled slightly on my fifth step. I came to the race not knowing where I was. I now need to go back and figure out what went wrong and how to make it better next time.
Bolt dismissed the notion that his poor run was a result of a residual hamstring problem. "I didn't feel it during the race; it was just a little sore afterwards."
He confirmed that there was no question that he was going to skip next Thursday's outing at the next IAAF Diamond League meeting in Oslo, where he will race over 200m.
Despite raising the temperature at the pre-meeting press conferences, Gatlin was suitably gracious after his notable victory.
"I don't know who many people have beaten Bolt but it's an honour to race and beat him: he's an inspiration to this sport and he's inspired me to be a better runner and a better entertainer."
"I felt good. I put my race together, it felt good to be out there and among the Italian crowd. Last year I was really good at starting and I've been working on conditioning and making the middle part of my race stronger," said Gatlin.
It has been worthwhile work because, in many respects, it was his effort between 40 and 70 metres that made the difference and won his the race.
"Any time you line up in a race with Kim Collins you know he's going to dominate the first 50 metres. You can't get flustered by it. You have to stay with your race pattern and put it together. Tonight, the end of the race was more of a blur, I was just concentrating on getting my strides down," he added.
It was Gatlin's second victory in Rome, coming eight years after his first in 2005.
However, as Yohan Blake and the rest of the world found out last year after beating Bolt at the Jamaican national championships, it would be unwise to suggest after one defeat that the end of Bolt's dominance is nigh.
It is obviously worth remembering how Bolt bounced back from that defeat to win three gold medals at the London 2012 Olympic Games.
Ahoure away
The other major upset of the night came in the women's 200m when Ivory Coast's US-based Murielle Ahoure set national record of 22.38 and left the USA's London 2012 Olympic Games champion Allyson Felix trailing in her wake to come home a distant second in 22.64
Ahoure, sixth behind Felix in London, got into her running very quickly and was a stride clear coming off the bend before accelerating again and even the long elegant stride of Felix, who was running on the lane inside the African sprinter, couldn't narrow the gap.
"To be honest, I was not thinking about it (the record) before the start. I just wanted to execute my race properly. I was not worried about having strong opponents next to me. It will be the same at the World Championships ," said Ahoure.
If Gatlin and Ahoure provided the great upset on a pleasantly warm night in Rome, many of the other events went to the pre-meeting favourites.
There were three world-leading times on the track.
Ethiopia's Mohammed Aman fulfilled his role as the man to watch in the 800m by pulling away from the rest of the field over the final 150 metres to win in 1:43.61. Behind him, the emerging French talent and former European junior champion Pierre-Ambroise Bosse, just 21, sprinted clear of the chasing pack 50 metres from the line to clock a personal best of 1:43.91.
US sprinter Natasha Hastings made all the running over the first 300m of the women's 400m and had a slight lead coming off the second bend but Botswana's 2011 World champion Amantle Montsho timed her race far better and came through to win in a world-leading 49.87.
Francena McCorory followed her home in a personal best of 50.05 as Hastings faded slightly down the home straight to finished third in 50.63.
IAAF World Cross Country Championships junior men's winner Hagos Gebrhiwet led at the bell in the 5000m and held pole position for the next 300m but his compatriot Yenew Alamirew came around the outside as the pair entered the home straight and left his younger rival trailing in his wake to win in a world-leading time of 12:54.95, the first man under 13 minutes this year.
Gebrhiwet, throwing in the towel 30 metres from home, finished second in 12:55.73 while Kenya's Isiah Koech was third in 12:58.85.
Croatia's Sandra Perkovic continues to dominate the Discus as the 2012 Olympic champion rattled off her third successive Diamond Race win in as many outings and her winning distance of 68.25m was almost four metres better than anyone else.
Germany's Christina Obergfoll was equally impressive, despite being tired after flying in from the west coast of the United States after winning in Eugene last Saturday, when winning the Javelin with her second round throw of 66.45m.
Next best was Russia's 2011 World champion Mariya Abakumova with 64.03m.
There was another German victory in the men's Pole Vault when 2012 Olympic and European bronze medallist Raphael Holzdeppe equalled his personal best of 5.91m before attempting unsuccessfully a national record of 6.02m.
France's Renaud Lavillenie and Germany's Malte Mohr bother went over 5.86m before failing at 5.91m and 5.96m but second place went to the 2012 Olympic and European champion by virtue of having cleared 5.86m with his second attempt, compared to Mohr's third.
In the women's High Jump, there was a rare dead heat for first place between the Russian pair of Anna Chicherova and Svetlana Shkolina.
They were both flawless up to and including 1.95m and then got over 1.98m with their second attempts; that height which saw the departure of their only remaining opponent, Croatia's two-time former World champion Blanka Vlasic, who cleared a season's best of 1.95m on her third attempt.
At 2.01m both Chicherova and Shkolina brought the bar down three times and a jump off ensured. They had further failures at 2.01m and 1.99m before then both cleared 1.97m and decided that they would split the prize money and Diamond Race points.
After some unhelpful pace making in the first 800m, Sweden's Abeba Aregawi went to the front of the women's 1500m field with 300m and won in 4:00.23 to maintain her unbeaten record in 2013. She also tops the Diamond Race standings 12 points after three successive wins.
Ethiopia's Genzebe Dibaba had to settle for second again, like 12 months ago in Rome, this time in 4:01.62 while the USA's 2011 World champion Jenny Simpson, the leader at 1200m, came home third in 4:02.30.
Dawn Harper-Nelson was ahead at the first hurdle in the women's 110m Hurdles and never relinquished her lead as she powered through to win in 12.65, just 0.05 away from her world-leading time, as fellow American Lolo Jones came through strongly over the final three flights to finish second in 12.70.
It was a double US victory in the hurdles events in Rome.
Dutch delight with Diamond League win
Johnny Dutch was in front by the third hurdle in the men's 400m Hurdles, leading down the back straight and around the second curve before Puerto Rico's London bronze medallist Javier Culson drew level with him off the eighth barrier.
However Dutch had enough strength to find another gear and edge away again over the remaining two hurdles to win in 48.31 with Culson second in 43.36.
Milcah Chemos won the all-Kenya battle in the women's 3000m Steeplechase, speeding away at the bell from her compatriot Lidya Chepkurui and, despite a ragged clearance at the final barrier, still had the speed to sprint away from her taller rival to win in 9:16.14, just a few seconds outside the meeting record and world lead for the event, with Chepkurui second in 9:18.10.
Brittney Reese and Janay DeLoach Soukup have had several engaging long jump duels already this season and the American pair had another battle, with Reese prevailing by two centimetres.
Reese, the current Olympic and World champion, took the lead with a jump of 6.94m into a 2.3mps headwind in the first round, a jump that would surely have been worth seven metres if she had a breeze on her back, which stood as the lead until round five when DeLoach went out to 6.97m.
However, Reese again showed her competitive mettle by immediately responding with 6.99m, again with a breeze into her face.
Shara Proctor finished third with her last round jump of 6.91m, just four centimetres away from her British record set last year.
Like Reese, triple jumper Christian Taylor paraded the States and Stripes around the Olympic Stadium last summer after winning a gold medal and although he hasn't hit his best form yet, a fourth round leap of 17.08m was enough to win.
Germany's 2011 World champion David Storl took his Diamond Race points with a Shot Put victory with 20.70m.
His first round effort of 20.63m would have sufficed for the win but he improved to 20.70m in the fourth round, his only two valid attempts of the competition.
At the other end of the spectrum, the poor start to the season for Poland's two-time Olympic champion Tomasz Majewski endured as he only managed 19.68m for 10th place, his worst performance since 2008.
Laura Sugar posts a PB ahead of home favourite Caironi
Despite showing great form at this seasons' International Paralympic Committee Grand Prix events in the lead up to Rome, Italy's Martina Caironi failed to convert these performances on the night.
In the end it was Laura Sugar of Great Britain who registered a PB to win the 100m mixed-classification race with a time of 14.12 seconds, ahead of Japan's Takakuwa in 14.13 seconds.
Fellow Italian Giuseppina Versace stole her team mates' thunder to finish third ahead of Caironi and Oxana Corsa, also with a personal best time of 14.72 seconds.
Edited by The IPC