Ibrahim Al Hussein spreads message of hope
Syrian refugee who lost his leg will compete as part of Independent Paralympic Athletes Team at Rio 2016.
26 Aug 2016
Imagen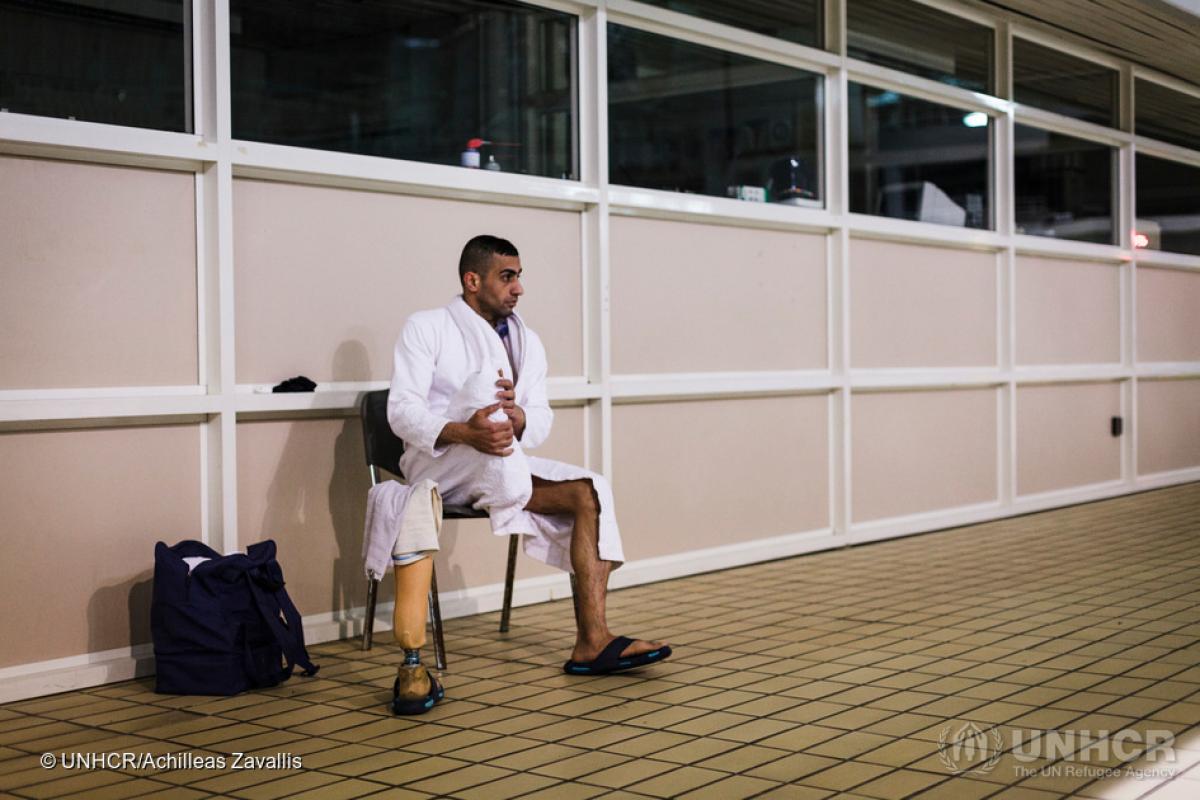 ⒸUNHCR/Achilieas Zavallis
By IPC
"The external pain makes me want to perform, it gives me energy. Sport is an outlet for that energy."
Ibrahim Al Hussein, a Syrian refugee who will compete as part of the Independent Paralympic Athletes (IPA) Team at Rio 2016, has shared his message of courage and determination.
Al Hussein grabbed the public's attention after he participated in the Rio 2016 Olympic Torch Relay in Athens, Greece, in April.
Just a few months later, he was named to the IPA Team alongside another athlete who will compete in Rio under the Paralympic flag. The IPA Team will represent those displaced during the current crisis, especially refugees with impairments.
Al Hussein, who lost his leg during a rocket strike, will swim in men's 50m and 100m freestyle S10 (provisional).
"I have been dreaming of this [competing at the Games] for 22 years," Al Hussein said. "I thought my dream had gone when I lost my leg but now it is back for real. I can't believe I am going to Rio."
Al Hussein, 27, has been active in sports from a very young age. When he was a child he competed in judo and swimming, inspired and encouraged to take up sport by his father who is a swimming coach.
One day in 2013, Al Hussein was sheltering at home when he heard his friend calling for help. His friend had been injured, and Al Hussein immediately went to his aid. What happened next would change Al Hussein's life forever.
A rocket had struck on the road near to where Al Hussein, and three of his friends, had gone to help. Al Hussein's leg was blown off and the rest of the group were injured too.
Al Hussein managed to crawl away from the scene, was rescued by some other friends and taken to a clinic. The facilities were basic, but doctors operated on his leg.
"I woke up twice during surgery and I saw everything," Al Hussein said.
He was sent home the same day.
The months that followed were incredibly difficult. With little medical aid able to get through to Syria, Al Hussein lived with excruciating pain and little to no medication.
He escaped the war to Turkey hoping to receive better care. After discovering that would not be the case, Al Hussein decided to make the perilous journey, by boat, to Greece. He got around using a wheelchair and crutches.
"After getting treatment in Greece is when things started to turn positive and I got back into sports," Al Hussein said. "I began training four hours a day swimming and playing wheelchair basketball."
A friend working for a Greek social platform for refugees encouraged him to continue sport: "Everything is thanks to her," he said.
Al Hussein continued: "The external pain makes me want to perform, it gives me energy. Sport is an outlet for that energy.
"I have no problem not eating or not having a home, but you can't take away my training."
As well as his preparations for Rio 2016 at the Olympic Training Centre in Athens, where he is being supported by the Hellenic Paralympic Committee and coach Eleni Kokkinou, Al Hussein works full-time in a café to pay his bills.
But his focus is still on training hard to win a medal. "I have one wish – gold! I want to send a message to all those who have been injured, that you can still reach your dreams.
"A German person came to me four months ago and told me he wanted to be like me," Al Hussein recalls. "I told him, train hard so that you get gold and I get silver. I said he could beat me, there is nothing called injury. It's mental injury when you restrict yourself. Look forward, not to the past. I don't want to remember the past, only look to the future."
Al Hussein will compete in the IPA Team alongsideShahrad Nasajpour, a discus thrower from Iran who has been granted asylum in the USA.
The Rio 2016 Paralympic Games take place between 7-18 September.
The IPA Team will march first at the Opening Ceremony on 7 September. They will stay in the Athletes' Village alongside more than 4,350 athletes from 165 countries. For official presentations, such as medal and village welcome ceremonies, the Paralympic Anthem will be played.