Ibrahim Al-Hussein wins prestigious USSA award
The Syrian refugee swimmer competed for the Independent Paralympic Athletes Team at Rio 2016.
07 Mar 2017
Imagen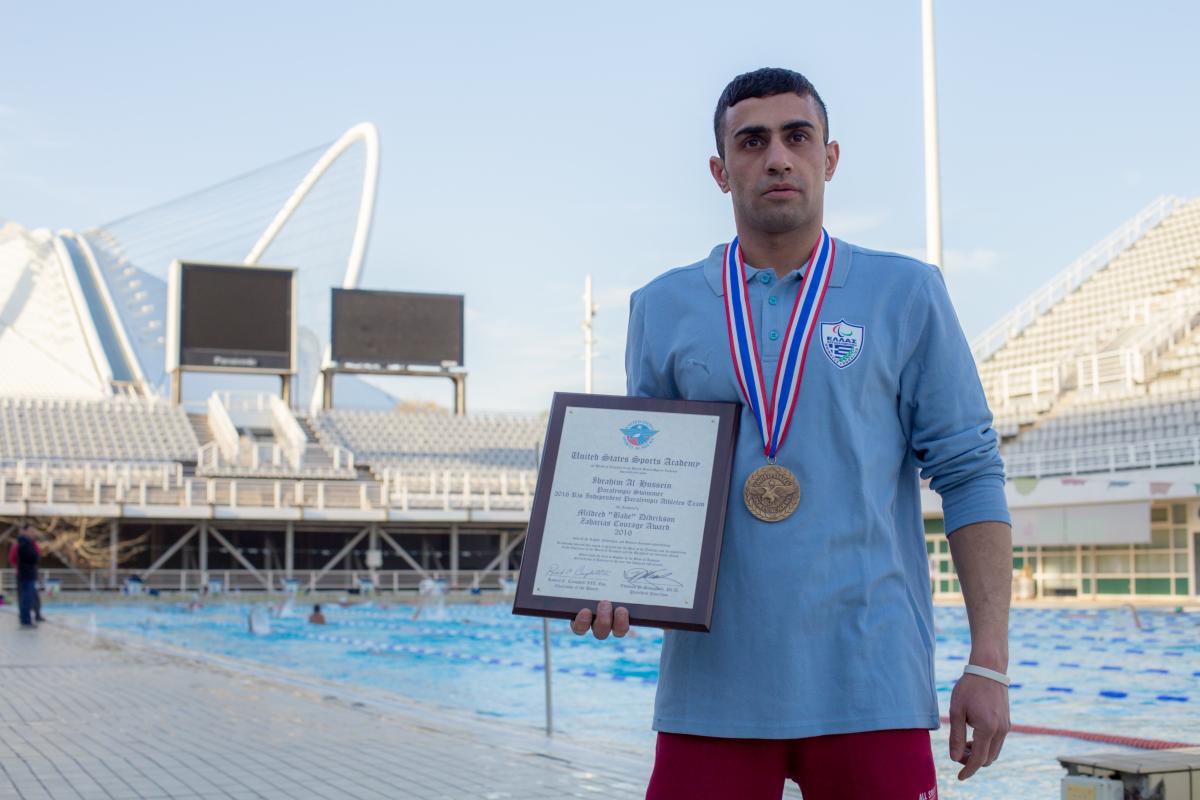 ⒸIPC
By IPC
Paralympic swimmer and Syrian refugee Ibrahim Al-Hussein has been named the recipient of the 2016 Mildred "Babe" Didrikson Zaharias Courage Award from the United States Sports Academy for showing courage and dedication to his sport in the face of incredible odds.
Al-Hussein recently was presented the award at the offices of the Hellenic Paralympic Committee in Athens, Greece, by Sakis Kostaris, managing director, and Paralympian Athanasios Tsivilis, committee member at large.
The Mildred "Babe" Didrikson Zaharias Courage Award is presented to an individual who demonstrates courageous action in overcoming adversity to excel in sport. This individual should exhibit the qualities of courage, perseverance, grace, and strength in sport achievement. Mildred "Babe" Didrikson Zaharias' spirit and zest for life, as well as her courage, strength, and achievement, are the qualities for which this award is named. The Babe's fight to overcome life-threatening cancer and return to the winner's circle has withstood the test of time.
Al-Hussein was one of two refugee athletes to be part of the Independent Paralympic Athletes (IPA) team. At the Rio 2016 Paralympic Games, Al-Hussein represented those displaced during the war in Syria. He set two personal bests in swimming in the 50m and 100m freestyle S9 events and was the IPA team's flag bearer at the Opening Ceremony.
In 2013, Al-Hussein was sheltering in his home during a rocket strike when he heard a friend calling for help. In his effort to come to his friend's aid, Al-Hussein was struck by a nearby bomb blast. The blast severely injured his right leg, which had to be amputated. Because of the ongoing humanitarian crisis in Syria, Al-Hussein received very little medical treatment after the amputation and experienced great pain with little to no medication.
He fled Syria to Turkey, where he expected to receive better medical care. When he could not, he fled by boat to Greece. He began to train in swimming and wheelchair basketball while in Greece, where he was encouraged by friends to participate in the Paralympic Games.
Al-Hussein has competed in sports from a young age and was inspired as a child to take up swimming by his father, a swimming coach in Syria.
"I am very thankful for this award and I feel it is a great honour to receive it," Al-Hussein said. "I feel that this award is giving me strength to continue and excel in sports and to act as a role model for all children with a disability and all refugees that are being displaced from their homes. I am very grateful to the United States Sports Academy, and also to all the people who supported me here in Greece, especially the Hellenic Paralympic Committee, as well as those who supported me internationally, especially the International Paralympic Committee."
Al-Hussein was also the recipient of the 2016 Whang Youn Dai Achievement Award – given to one male and one female athlete who best exemplify the spirt of the Paralympic values – from the International Paralympic Committee.
The Mildred "Babe" Didrikson Zaharias Courage Award is part of the United States Sports Academy's Awards of Sport, which each year serve as "A Tribute to the Artist and the Athlete." The Academy presents the awards to pay tribute to those who have made significant contributions to sport, in categories as diverse as the artist and the athlete in several different arenas of sport. The awards honour exemplary achievement in coaching, all-around athletic performance, courage, humanitarian activity, fitness, and media, among others.
The Academy's American Sport Art Museum and Archives (ASAMA) annually recognises these men and women through its Sport Artist of the Year, Honorary Doctorates, Distinguished Service Awards, Medallion Series, Outstanding Athletes, and Alumni of the Year awards.