#IDSDP: Swimmers' friendship transcends borders
Paralympians Brad Snyder, Keichi Kimura and Matheus Sousa are fierce rivals in the pool, but have a friendship based on an understanding of life with a visual impairment.
06 Apr 2016
Imagen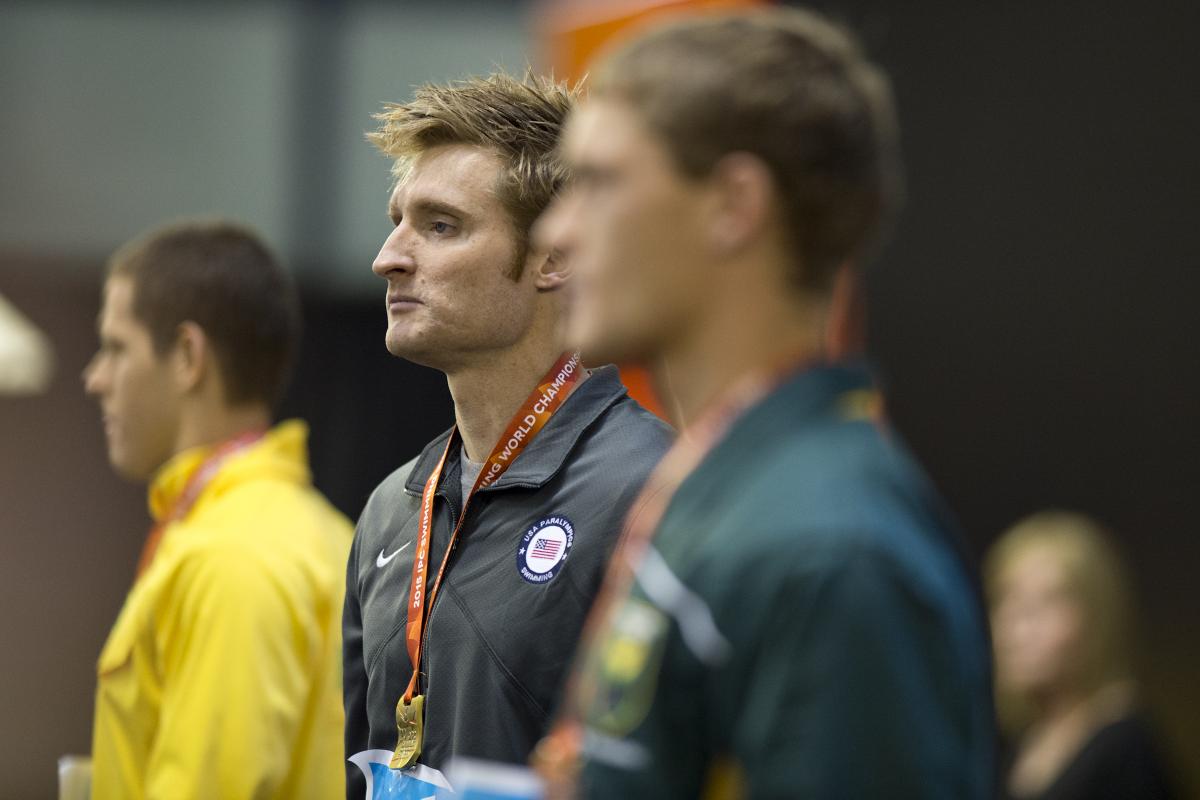 ⒸLuc Percival Photography
By IPC
"What is neat about [para-swimming], is that when the race is over, all of us go back to just being blind guys, all working our way through a visual world without vision,"
Sometimes all it takes is one gesture. A signal of mutual respect borne out of a shared experience that can be powerful enough to bring people together.
US Paralympic champion Brad Snyder, Japan's Keichi Kimura and Brazil's Matheus Sousa have developed a friendship over the past few years, after competing against each other in men's visually impaired swimming. They realised they have much more in common that just wanting to win.
The athletes have a friendship based partly on their experiences of having a visual impairment.
"I met Brad in 2012, at the London Paralympic Games, but we talked more just some time later," Sousa said. "Actually, in 2015, at the World Championships in Scotland, was where we talked about training and personal life. And about Kimura, I also talked to him at that World Championship, but not a lot. I felt his humility and respect for other athletes when we talked."
That initial meeting blossomed at the 2015 IPC Swimming World Championships in Glasgow, Great Britain.
Since being propelled to fame at the London 2012 Paralympic Games when he won gold in the 400m freestyle S11 exactly one year after losing his sight whilst serving in the US Navy in Afghanistan, Snyder designed a special watch that could be used by people with visual impairments.
A World Championships silver medallist from the 400m freestyle behind Snyder, Sousa was intrigued and asked the American about his watch collection.
"He said I should swim very well on the next day, and if I reached the finals, he would show me his watches, so I could buy it in the future," Sousa said. "But it happened, two days later, he asked the Brazilian press to call me. I went to a place where all US athletes were together and where he showed me how the watch works. Like this, he took it off from the wrist and gave it to me. I was speechless. I use it every day."
That simple gesture shows something very unique about para-sport – All athletes share an understanding of the difficulties in overcoming every day challenges.
"What is neat about [para-swimming], is that when the race is over, all of us go back to just being blind guys, all working our way through a visual world without vision," Snyder said. "We all bump into things, and face the same challenges. It's just such a neat experience to dive in eight abreast, and for a moment, we don't look like blind guys, we look like fish."
Despite this, the desire to win is still strong. Snyder, Kimura and Sousa are all very closely matched and they will meet again at the Rio 2016 Paralympic Games from 7-18 September.
"The recent world ranking are on our minds," Paralympic bronze medallist Kimura said. "They are good rivals for me."
Sousa agreed: "When I dive in the pool, the contest begins. In this moment I only think about my contest. In each detail I trained with the attitude and determination do my best."
Snyder is looking forward to the biggest festival of para-sport on the planet, where around 4,350 athletes from more than 160 countries will converge on Rio de Janeiro for 526 medal events across 22 sports.
"I am very excited about the Games in Rio for multiple reasons," he said. "For one, I am preparing with the aim of winning races and setting new world records. I know that is the same aim of Keichi, Matt and the rest of the S11 category.
"I am excited to see how fast we can all go, and I am excited to link up with the Keichi, Matt, and the rest of the boys on the pool deck! I think it's going to be a lot of fun!"
Due to its vast reach, unparalleled popularity and foundation of positive values, sport is ideally positioned to contribute towards the United Nations' objectives for development and peace. To raise awareness of this potential, 6 April was declared as the International Day of Sport for Development and Peace (IDSDP) by the UN General Assembly. The adoption of this Day signifies the increasing recognition by the United Nations of the positive influence that sport can have on the advancement of human rights, and social and economic development.
In 2016, the UN Millennium Development Goals made way for a new set of objectives that constitute the 2030 Agenda for Sustainable Development, the Sustainable Development Goals (SDGs). The IDSDP presents an opportunity to build awareness about the newly adopted UN 2030 Agenda for Sustainable Development and its SDGs, focusing on how sport can contribute to their advancement. It is also an occasion to collect information from Sport for Development and Peace (SDP) practitioners worldwide on their contribution to the 2030 Agenda for Sustainable Development.