'Invisible' on the track, best friends off it… the life of a blind athlete's running guide
Terezinha Guilhermina and Guilherme Soares de Santana talk about the special bond that has won them a hatful of medals.
25 Oct 2015
Imagen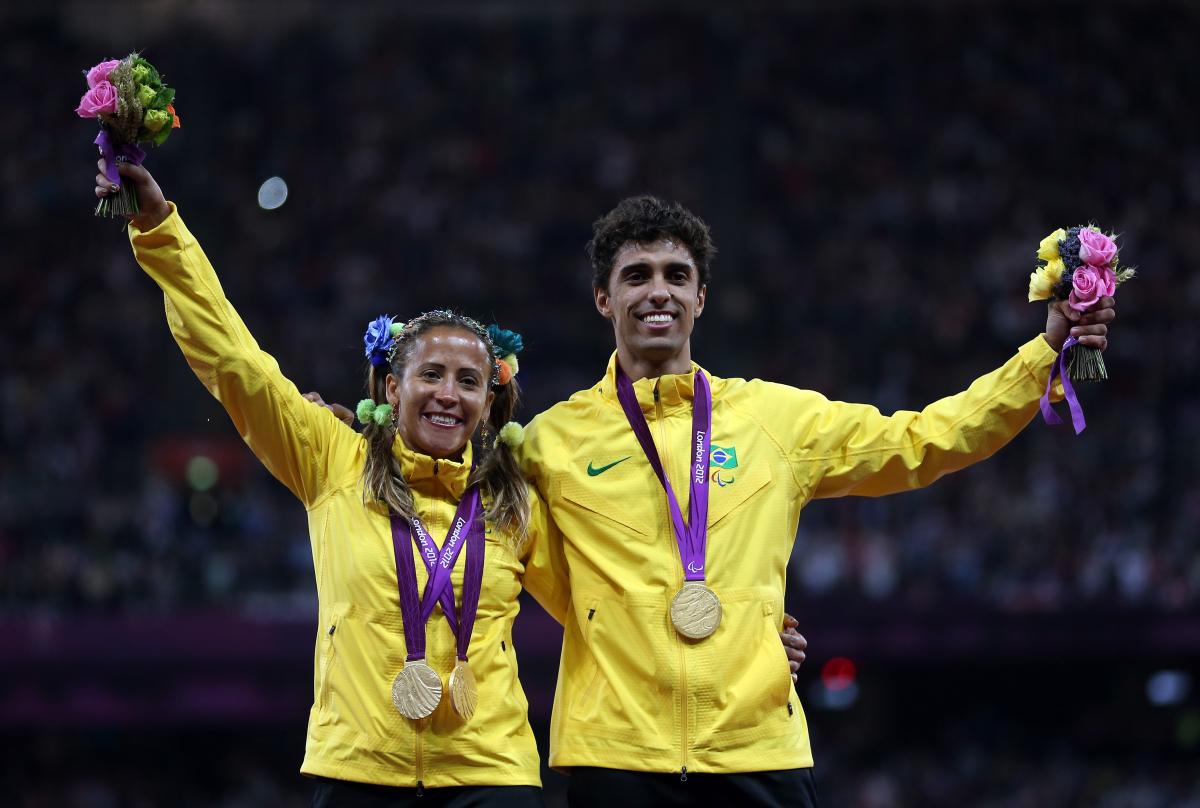 ⒸGetty Images
Terezinha Guilhermina and Guilherme Soares de Santana talk about the special bond that has won them a hatful of medals.
The look on his face said it all. When Terezinha Guilhermina crossed the finish line to win 100m T11 gold at the London 2012 Paralympic Games, the reaction of her guide, Guilherme Soares de Santana, became one of the most iconic images of the Games. His ecstatic expression spoke not only of the thrill of victory, but of the relationship between visually impaired athletes and their guides.
"It is not really an individual event, it's collective," said Guilhermina, a three-time Paralympic and eight-time world champion, who competes in the T11 class. "Guilherme and me are a team and he has become a great friend to me."
The duo – who are in Doha for the IPC Athletics World Championships, – train together for between three and six hours each day. On the track they run with their wrists linked by a Velcro strap. As is so often the case, their relationship has transcended work.
"We are always together, we have become friends, accomplices," said Santana. "Of course we argue sometimes, but we almost always have fun."
Santanta, 32, has been Guilhermina's guide for five years, since a chance encounter at a track in the city of Maringá in southern Brazil, when he was asked to stand in. "She needed someone to help and I decided to try it," he said. "We trained together and soon after we were travelling to São Paulo for a 400m race."
While 37-year-old Guilhermina, who has won six Paralympic Games medals in all, credits Santana with 50 per cent of her success, he claims the true figure is closer to 10 per cent. She says he is the perfect guide because during their races he is virtually "invisible" allowing her to run "on auto-pilot".
Guides must synchronise their running, the movement of their arms and legs – with the athlete they are supporting. "The guide has to stay a little behind during the race," said Santana. "We have to adapt to the athlete, to their rhythm." Usually a fun-loving extrovert, he says that on the track less is more, his instructions consisting mostly of three words: "bend!", "straight!" and, at the finish line, "dip!".
Another Brazilian runner/guide duo who are at the World Championships in Doha, Qatar, are Carlos Antônio dos Santos (the guide, better known as 'Bira') and Odair Ferreira dos Santos, who will compete in the 1,500m and 5,000m. "Beyond our work, we are great friends, our families are great friends," said Bira, who said that in their spare time the duo play guitar and sing together.
This year in Toronto, Bira became the first Brazilian to compete in the same edition of the Pan-American Games and Parapan-American Games, when he helped Odair to gold in the 1500m in August having competed on his own over the same distance the previous month.
He explains that becoming a guide has made him a better athlete. "I have improved my own times since becoming a guide, because we want to be the best we can in order to give confidence to the athlete we run with."