IPC Swimming Euros close
A total of 24 world and 42 European records are broken across seven days of thrilling action, with five added in the final session.
10 Aug 2014
Imagen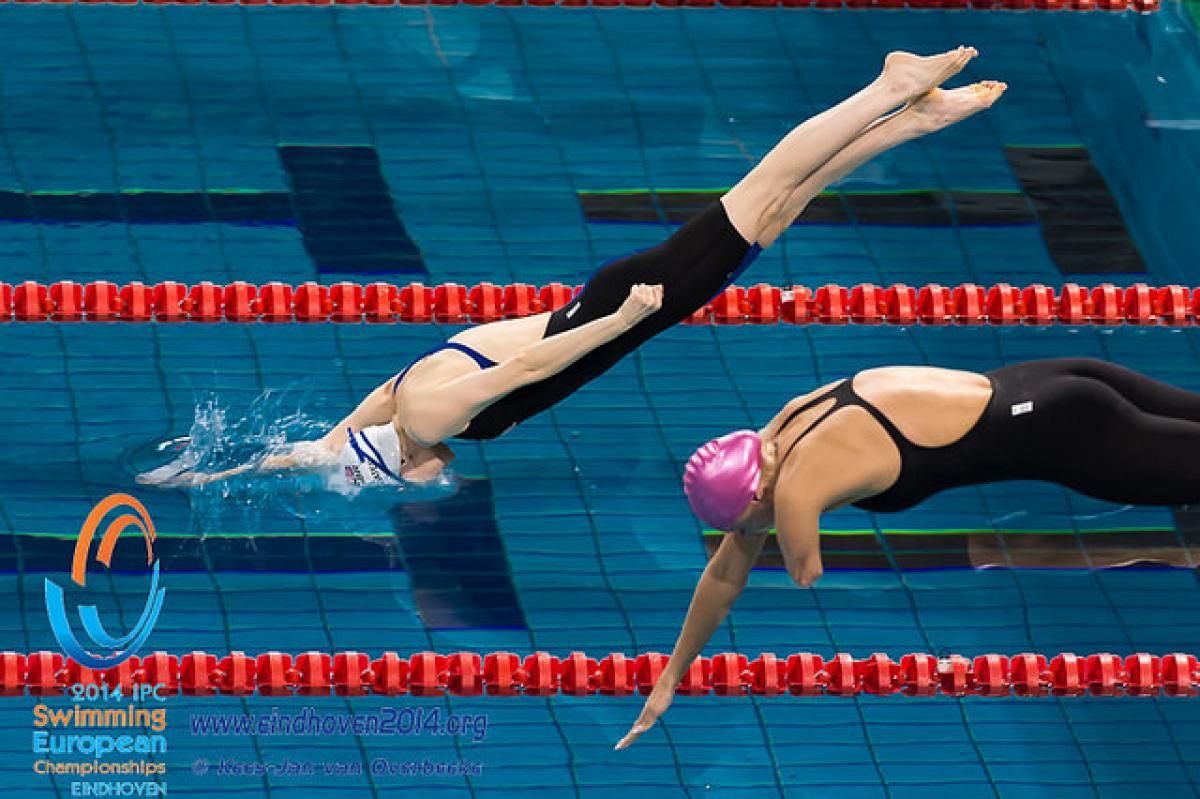 ⒸKees-Jan van Overbeeke
By IPC
The 2014 IPC Swimming European Championships in Eindhoven, the Netherlands, closed on Sunday (10 August) with a total of 24 world and 42 European records set across 161 medal events.
Incredibly five world and European records were added during the last session alone with home favourite Marc 'the shark' Evers leading the way. The 23-year-old (2:11.87) world champion gave a master class in the men's 200m individual medley SM14 to win his third gold of the Championships.
Evers extended his lead with every turn and led home the British pair of Jack Thomas (2:17.99) and Craig Harris (2:18.71) who won silver and bronze respectively.
Soon after, Russia's Valeriia Shablina (2:24.18) set a new world record, her third of the week, in the women's equivalent. After bringing down the mark in the morning's heats, Shabalina shaved a further 1.92 seconds off the hours old record.
Evers' teammate Marlou van der Kulk (2:28.94) took silver and Great Britain's Jessica-Jane Applegate (2:30.43) the bronze.
Shablina's teammate Denis Tarasov (25.31) set a second world record in as many days in the men's 50m freestyle S8 to win his third gold medal. His teammate Konstantin Lisenkov (27.07) followed him onto the podium and ahead of Ukraine's Bohdan Hrynenko (27.50).
Tarasov was also part of the gold-medal winning men's 4x100m medley relay 34 points that beat Great Britain (4:20.70) and Spain (4:32.23) in 4:09.99.
Despite the home crowd willing her to the wall in full voice, Summer Mortimer (1:01.18) could not hold off a charge from France's Paralympic champion Elodie Lorandi (1:01.05) in the women's 100m freestyle S10.
"I'm very happy. It was a tough race and I am looking forward to hearing the French national anthem again," said Lorandi.
Poland's 17-year-old rising star Oliwia Jablonska (1:03.63) has had a great meet, and rounded off her medal haul with bronze to add to her first European title from earlier in the week.
The disappointment for the Dutch did not last long as reigning Paralympic and world champion Lisette Teunissen (51.90) retained her women's 50m backstroke S4 title.
Two Ukrainians, Maryana Verbova (55.47) and Mariia Lafina (1:00.37) completed the podium.
An enthralling men's 100m butterfly S9 saw Italy's Federico Morlacchi (59.60) win his fifth gold medal of the week by a whisker. Russia's Alexander Skaliukh (1:00.09) challenged him from lane one in the opening 50m and Morlacchi only just came back in the last few metres.
"Five races, five golds," said Morlacchi. "I think it is every athlete's dream. I knew I was tired because of the races I did the days before. It's sport, I know I can lose but not this time."
Croatia's Kristjian Vincetic (1:00.70) was a close third.
There was a thrilling three-way battle in the women's 400m S12 up until the last 25m, when Russia's now five-time 2014 champion Darya Stukalova (4:43.78) pulled away from Great Britain's Stephanie Slater (4:45.72). Germany's Naomi Maike Schnittger (4:48.84) finished in third.
Collecting a third Eindhoven 2014 gold medal was Russian Dmitry Grigorev (54.31) in the men's 100m freestyle S10 with teammate Dmitry Bartasinskiy (54.52) in second. Spain's David Levecq (55.16) finished his competition with a second bronze to add to his silver.
Ukraine's Yevheniy Bohodayko (1:22.22) took Germany's Torben Schmidtke (1:22.97) in the last 50m of the men's 100m breaststroke SB6, to claim his fifth and final gold medal of the competition, after Torben came off the blocks strong.
Torben's teammate Christoph Burkard (1:28.92) won bronze.
There was another Ukrainian gold in the men's 400m freestyle S12 as Danylo Chufarov (4:10.19) touched in for the win. The Russia duo of Sergey Punko (4:14.73) and Stepan Smagin (4:26.18) won silver and bronze respectively.
The hosts of the 2015 IPC Swimming World Championships in Glasgow, Great Britain, rounded off a great meet with three wins to take their gold medal total to 30. They finish in third place overall with 73 podium finishes.
Stephanie Slater (30.44) won the women's 50m freestyle S8 gold with a new European record time. Taking retired teammate Heather Frederiksen's previous mark down by over 0.30 seconds, Slater won her fifth individual gold of the week.
Ukraine's Kateryna Istomina (31.59) and Olesya Vladykina (31.90) picked up silver and bronze respectively.
That victory was immediately followed by a fourth gold and European record for 17-year-old Andrew Mullen (37.56) in the men's 50m backstroke S5. Hungary's Zsolt Vereckzi (40.17) and Russian Roman Zhadanov (41.27) collected silver and bronze.
"It's amazing. I wasn't expecting to go that fast!" said Mullen.
Great Britain (4:46.89), the current world record holders and reigning world champions in the women's 4x100m medley relay 34 points, took the final gold of the Championships.
Relay team member Amy Marren said: "I'm really happy with that swim. We went in there with confidence knowing that we could all swim well."
Stephanie Slater, added: "I'm pretty speechless to be honest. I've had an amazing time here and what a way to finish."
Russia (5:07.05) were second and Spain (5:08.89) third.
On her return from illness, Spain's multiple world and European champion Teresa Perales (43.87) took the final blood in her ongoing rivalry with Norway's Sarah Louise Rung (46.50) in the women's 50m backstroke S5.
"I'm very happy, This is my best time and now I can say that it is a Spanish record so I am very happy. I was 42 [seconds] in Beijing and now I am 43," said Perales who finished with three titles to Rung's four.
France's Anita Fatis (49.84) completed the podium.
Perales' compatriot Miguel Luque (50.54) carried his form from qualifying into the men's 50m breaststroke SB3 final. The Netherlands' Michael Schoenmaker (51.98) and Greek Vasilis Tsagkaris (52.71) win silver and bronze.
During the Closing Ceremony, IPC Governing Board Member Rita van Driel reflected on the number of youngsters who emerged at Eindhoven 2014 and the coverage received.
"I've been really impressed at the number of swimmers under the age of 18 who have won medals. Over 70 have been won by those athletes," van Driel said.
"Not only that but TV pictures have been beamed across Europe, to audiences demanding to see the action.
"The future is bright and by the time Rio 2016 comes around para-swimmers will have matured even more, going on to represent their countries on the greatest stage possible."
Ukraine topped the medals table with 94 medals, including an incredible 37 gold, closely followed by Russia with 95 (34 gold). Twenty eight of the 37 competing nations won at least won medal.
The 2014 IPC Swimming European Championships ran from 4-10 August and featured around 380 of the world's best swimmers.
More information, including all the results, can be found at Eindhoven2014.com.