Italy's visually impaired throwers Legnante and Tapia launch Grosseto 2016
The IPC Athletics European Championships will take place in the Carlo Zecchini Olympic Stadium from 10-16 June.
08 Feb 2016
Imagen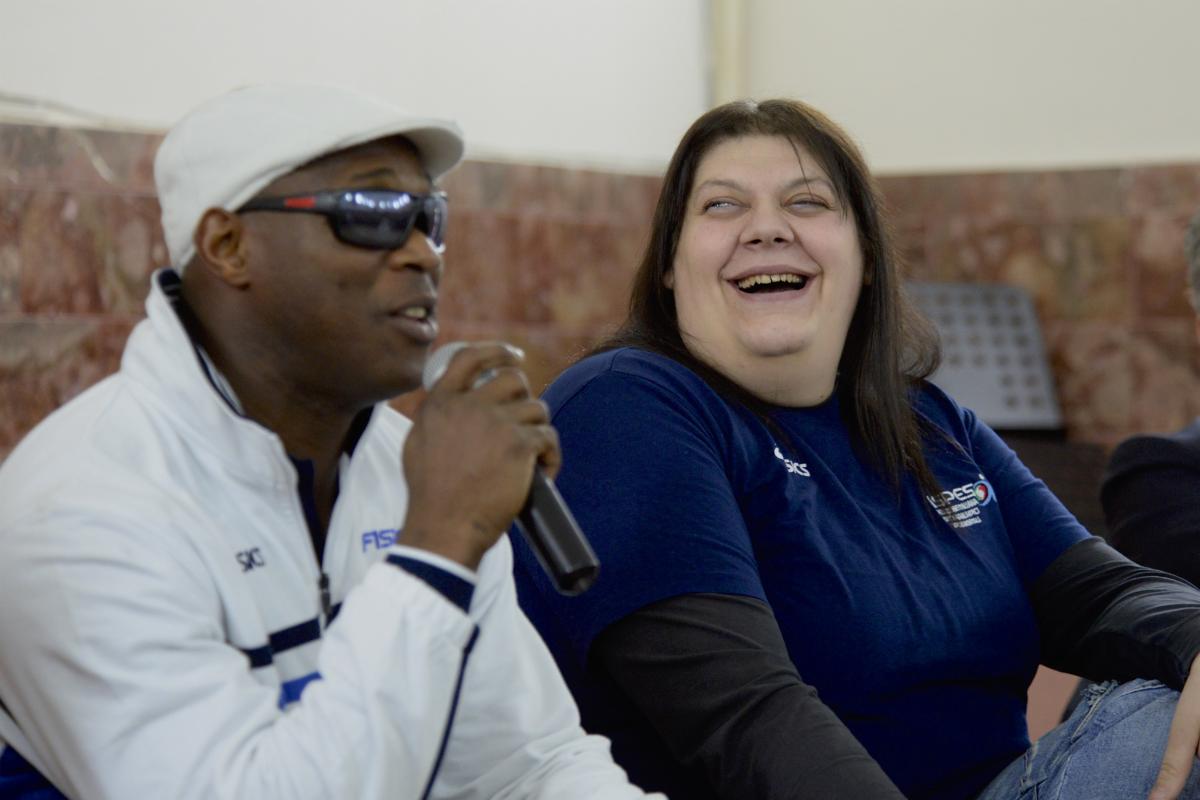 ⒸLuca Cassai Grosseto 2016/FISPES
By Grosseto 2016/FISPES
Italy's visually impaired throwers Assunta Legnante and Oney Tapia met over 100 local students from Grosseto to officially launch the countdown to the 2016 IPC Athletics European Championships which will take place in the Carlo Zecchini Olympic Stadium from 10-16 June.
On 8-10 April the Tuscan city will also play host of the Italian leg of the IPC Athletics Grand Prix which will serve as a test event for the Championships.
Legnante and Tapia, who are considered the present and future stars of the national team in the shot put and discus throw, kicked off the first event of "A World of Athletics" promotional campaign designed by the Grosseto 2016 Organising Committee to support the European Championships and endorse para-athletics at all levels.
The campaign, which will include other events and involve other ambassadors in the lead-up to the Championship Opening Ceremony, represents the power of inclusivity of athletics: there is no difference between athletics and para-athletics, there is one athletics, one world of athletics open to able-bodied and people with an impairment, one athletics spirit that can reach all without any distinctions or discriminations.
Paralympic, world and European shot put F11 champion Assunta Legnante said: "Athletics is for all. Even if you are on your own on a lane or a throwing circle, in reality it's a team sport. I can tell you – talking to the students – that you have to hold each other's hand. Life is yours, but you will always need the others as well as they will always need you."
Oney Tapia, Italian record holder in the discus F11, told students how he took up para-athletics: "I consider it a blessing because it changed my entire life. In 2013 my goalball club asked me to take part in a national throwing event. In my life I had never seen a discus or a shot put before and without knowing the technique I surprisingly set a national record of 30.99m bettering it after 14 years. I couldn't believe it. Nothing happens by chance. Even if you think your life is at its end as it happened to me after I became blind because of a work accident, you should carry on and never give up.
"I played rugby when I was an able-bodied athlete and my teammates started calling me 'The Warrior' for my strength and grit. This strength has helped me survive but each of us has got this strength inside. You just need to bring it out."
The Doha 2015 IPC Athletics World Championships experience ended differently for them. The world record holder (17.32m) Legnante, who suffered from a back problem for the entire season, easily managed to retain her title by throwing her shot put even without making the entire technical movement: "I always feel the responsibility of winning at all costs. In Qatar I was lucky and stubborn enough. My event was on the last day of the Championships and given my bad physical conditions I had decided for one attempt only. But then it all went well."
In Doha pressure was high for Tapia who made his debut in the national team for a major event: "I still hope to make it up for my results (he came 13th in the shot put and failed his three attempts in the discus). Any loss will help you growing. Life is a sacrifice and you need to fight for it. For me Assunta is a role model for her gigantic fighting spirit and she is an amazing athlete and person too."
Legnante is sure her teammate will achieve more in his future career: "Experience will help him out. He needs to stay calm and start enjoying the competition. When I am in a throwing circle, I am really focused but I want to have fun."
And looking ahead to the European Championships in Grosseto the 37-year-old athlete from Naples said: "Competing at home is a huge responsibility and we will feel the respect, all expectations and support of Italian spectators watching us from the tribunes. But at the end of the day competitions are always the same everywhere."
Francesco Carboni, Grosseto 2016 event director, said: "We aim at building up a strong and motivated team to deliver a successful European Championships. We are here to ask Grosseto citizens to be part of it as spectators or volunteers. We are crazily in love with athletics and we want to share this passion with everyone."
At the end of the meeting Cuban-born Tapia invited a student to dance salsa with him, while Legnante asked students for inspiration to change the Diabolik-design of her mask. She promised that she will wear it at the Rio 2016 Paralympic Games.
If you want to join "A World of Athletics" recruitment campaign as a volunteer, please write an email to volontari@grosseto2016.it.