Italy shut out Great Britain on home ice in Torino
Italy, South Korea and Sweden picked up big wins to open the IPC Ice Sledge Hockey Qualification Tournament.
22 Oct 2013
Imagen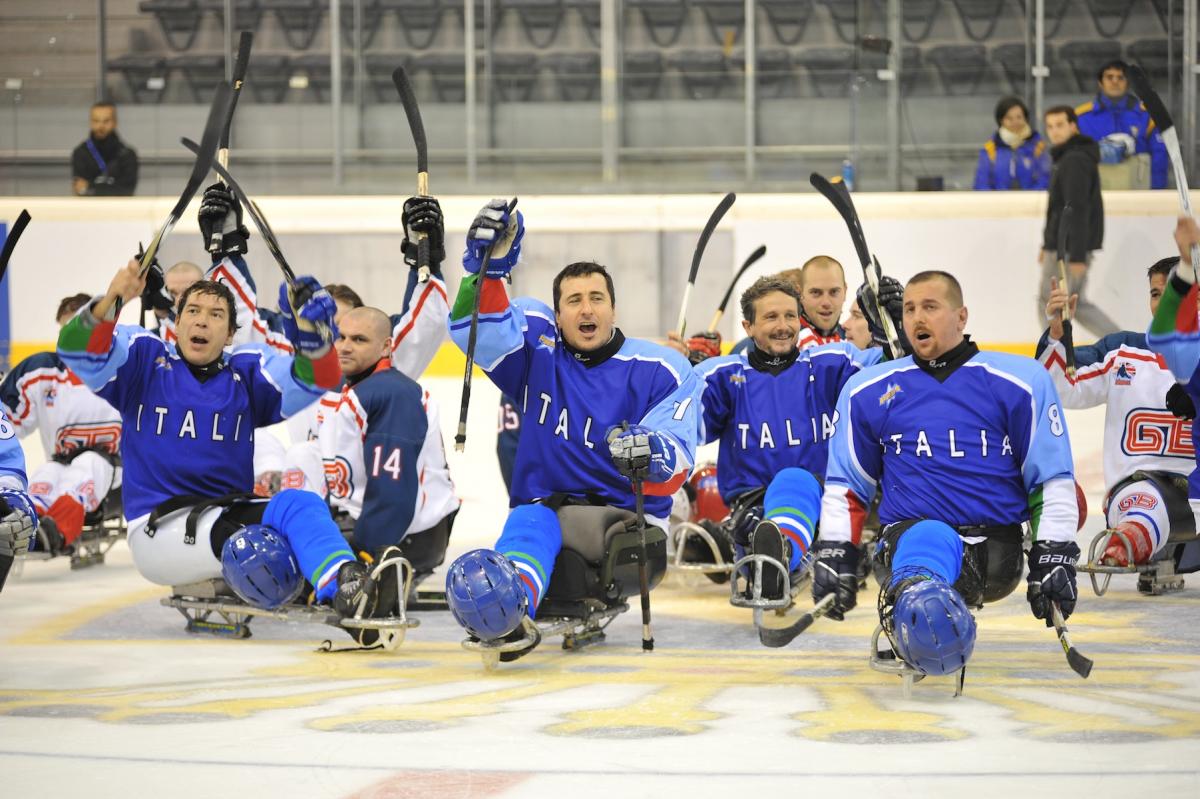 ⒸFrancesco A. Armillotta
By IPC
"Winning that first game was very important because we don't know the British team very well and we had a lot of pressure on us, as we were playing at home."
As the No. 1-seed and host nation, Italy came out roaring on Monday (21 October) to open the IPC Ice Sledge Hockey Qualification Tournament on their home ice in Torino with an 8-0 victory over sixth-seeded Great Britain.
The reigning European champions were led by their three star veteran forwards – Andrea Chiarotti, Greg Leperdi and Florian Planker – in front of hundreds of local Torino school children who came out to watch Italy try to qualify for their third consecutive Paralympics in ice sledge hockey.
Planker started the scoring surge just 2:44 into the game, assisted by Chiarotti. Then, up-and-coming defenceman Gianluigi Rosa scored unassisted less than a minute later to give Italy a 2-0 edge in the first period.
In the second frame, Leperdi found the net twice, Chiarotti scored off a pass from Planker and Gianluca Cavaliere added a score to put the Italians up 6-0.
Planker scored again in the third and Valerio Corvino slid one past the posts to make the final 8-0, as Gabriele Araudo had a perfect game in the net for Italy.
"Winning that first game was very important because we don't know the British team very well and we had a lot of pressure on us, as we were playing at home," Chiarotti said.
"Now for us, the toughest team to play will be Korea, which we play at the end of the tournament. Next for us is Japan, though, and one more victory would be another three points in the standings."
Karl Nicholson, Ian Warner and Darren Brown all had shots on goal for Great Britain, who also received strong play from up-and-coming Tyler Christopher, who lost both of his legs in an IED explosion in Afghanistan in 2009.
"We've got to get more shots on goal," Christopher said. "That's pretty much it. They were getting the goals and we weren't."
South Korea 1, Japan 0
In the second game of the day, South Korea squeaked past Japan, escaping with a tight 1-0 victory behind the shot of Jong-Kyung Lee, who scored the lone goal of the game just 5:46 into the contest.
Both teams went into the game saying it would be one of their toughest matchups of the tournament, and that showed throughout, with both sides going at each other around the boards.
Man-Gyun Yu recorded the shutout in the net for the winning team, having to only stop the puck once, with Mitsuru Nagase stopping 22 shots for Japan.
"The first game for us was the most important in the tournament," said South Korean team captain Min-Su Han.
"We went in having the attitude that this was the final game on the final night to charge up each other and have the right mindset, and it worked."
Sweden 2, Germany 1
To close out the first day of action, Sweden escaped with a 2-1 victory in a tightly fought game against Germany, who are the defending B-Pool world champions.
Frank Rennhack opened up the scoring off an assist from Bernhard Hering just 3:04 in the game to give Germany a quick 1-0 lead, but they quickly lost that once Marcus Holm and Niklas Ingvarsson scored back-to-back goals in the second period to push Sweden ahead, 2-1.
Germany were unable to regain the lead the rest of the evening, despite outshooting Sweden 16-15.
Sweden's Holm appeared to be the biggest individual force on the ice with six shots on the net.
"We played Germany not too long ago as a tune-up for this tournament, so we are very happy to have won this game," Holm said.
"We didn't play well in the first period, but we came out in the second and third and got it done."
Next up, Italy will face Japan at 10:00 on Tuesday (22 October), followed by South Korea against Germany at 13:30 and Sweden against Great Britain at 17:00.
Teams in the tournament earn three points for a win, two for an overtime or shoot-out win, one for an overtime or shoot-out loss and no points for a loss.
The top three finishers from the tournament will qualify for the Sochi 2014 Paralympic Winter Games, where they will join Canada, USA, Russia, Czech Republic and Norway.
For more information on the IPC Ice Sledge Hockey Qualification Tournament, please visit the event website.
All games will be streamed live on the event website, and you can also follow the action on Facebook and on Twitter.
Related Images