IWRF Americas Championship: Previewing the field
World No. 1 USA and No. 3 Canada are favoured to make the gold-medal game at this week's Americas Championship in wheelchair rugby.
15 Oct 2013
Imagen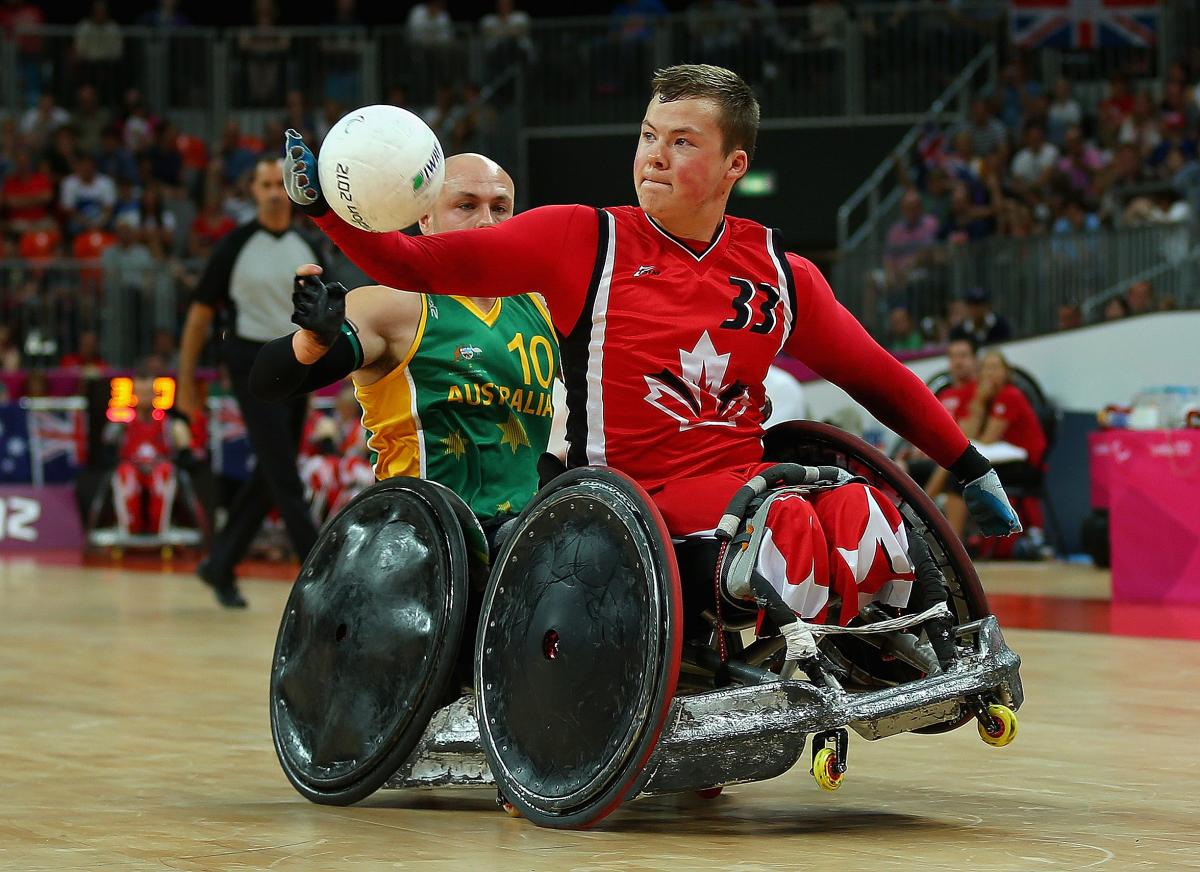 ⒸGetty Images
By Beau Greenway | For the IPC
This tournament serves as a qualification for the 2014 IWRF World Championships, which will be held in Denmark.
The 2013 IWRF Americas Championship gets underway on Wednesday (16 October) at the Lakeshore Foundation in Birmingham, Alabama in the USA.
This year marks the third edition of the event and features five national teams, including the host nation USA, Canada, Argentina, Brazil and Colombia. USA are the two-time defending champions after winning in the title 2009 and 2011.
This tournament serves as a qualification for the 2014 IWRF World Championships, which will be held in Denmark.
The event will be streamed live on the IWRF's website.
Argentina
Argentina currently sit between Brazil and Colombia in the IWRF world rankings at No. 21. The Americas Championship gives them a golden opportunity to leapfrog Brazil and earn the right to be No. 1 in South America. Argentina placed fourth behind Brazil in 2011 and will be looking to be on the other end of that ledger.
Argentina will kick off the tournament against USA in the opening game.
Championship medals: Bronze (2009)
Paralympic medals: None
Head coach: Mariano Hurtado
Squad: Alejandro Lopez, Cesar Sosa, Juan Foa, Ignacio Rizzi, Mariano Gastaldi, Fernando Pantin Colombo, Matias Cardozo, Fernando Canumil, Gustavo Mariano Santoro, Juan Herrera, Daniel Viegas, Ignacio Arhancet.
Brazil
Brazil placed fourth in the inaugural Americas Championship in 2009 but went one better in 2011 by defeating Argentina for the bronze medal. The Brazilian team has become the highest-ranked South American nation in 2013, sitting 20th in the world. They will be hoping to keep their two nearest rivals Argentina and Colombia below them by defeating them both during the tournament.
Brazil is up against Canada in their first match.
Championship medals: Bronze (2011)
Paralympic medals: None
Head coach: Benoit Labrecque
Squad: Fabio Alves Ferreira, Gilson Dias Wirzma Junior, Luis Fernando Cavalli, Jose Raul Scholler Guenter, Guilherme Camargo, Jose Higino Oliveira Souza, Rafael Hoffmann, Davi Coimbra de Abreu, Alexandre Keji Taniguchi, Bruno Damaceno Ferreira, Alexandre Vitor Giuriato, Moises Domingues Batista.
Canada
The world's No. 3 team will be chasing their first Americas championship in 2013. After two consecutive silver medals at this tournament in 2009 and 2011, the vastly improved Canadian team will be the greatest challenge to USA.
Their first match is against Brazil on the opening day of the tournament.
Championship medals: Silver (2009, 2011)
Paralympic medals: Silver (1996, 2004, 2012) Bronze (2008)
Head coach: Kevin Orr
Squad: Byron Green, Trevor Hirschfield, Patrice Dagenais, Miranda Biletski, Patrice Simard, Cody Caldwell, David Willsie, Travis Murao, Ian Chan, Fabien Lavoie, Garett Hickling, Zak Madell.
Colombia
Colombia hosted the Americas Championship in 2011 and placed fifth out of six teams. They will be looking to improve on that performance by beating the two teams above them on the world rankings, Argentina and Brazil.
Colombia faces the tournament favourites USA in their opening game.
Championship medals: None
Paralympic medals: None
Head coach: Jhonattan Vargas Rojas
Squad: Juan Manual Ochoa, Carlos Armando Neme Montoya, John Jairo Segura Cuervo, Faber Alonso Saldarriaga Perez, Cristian Camilo Amaya Fajardo, Cristian Eduardo Torres, Cristian Heiner Narvaez Giraldo, Moises Alonso Alvarez, Edgard Giovanny Vanegas Cardona, Jaime Moreno Moreno.
USA
The host nation will be looking to keep their dominant 2013 season rolling with yet another win in the Americas Championship. The USA carry in good form after defeating Australia on their home turf in a tri-nations series with New Zealand last month. After defeating Canada in the 2011 final, USA will looking to make it three titles in a row this year.
They will be after the perfect start when they open their campaign against Argentina on the opening night.
Championship medals: Gold (2009, 2011)
Paralympic medals: Gold (1996, 2000, 2008) Bronze (2004, 2012)
Head coach: James Gumbert
Squad: Clayton Braun, Jeromy Brown, Chad Cohn, Eric Chase, Ernie Chun, Andy Cohn, Joe Delagrave, Derrick Helton, Chuck Melton, Eric Newby, Josh Wheeler, Chuck Aoki.