Jacobsson speaks on evolution of shooting on eve of Suhl
Multiple Paralympic and world champion Jonas Jacobsson has been shooting for over thirty years and gives his reflections on the progress of the sport ahead of the start of competition at the biggest ever IPC Shooting World Championships.
18 Jul 2014
Imagen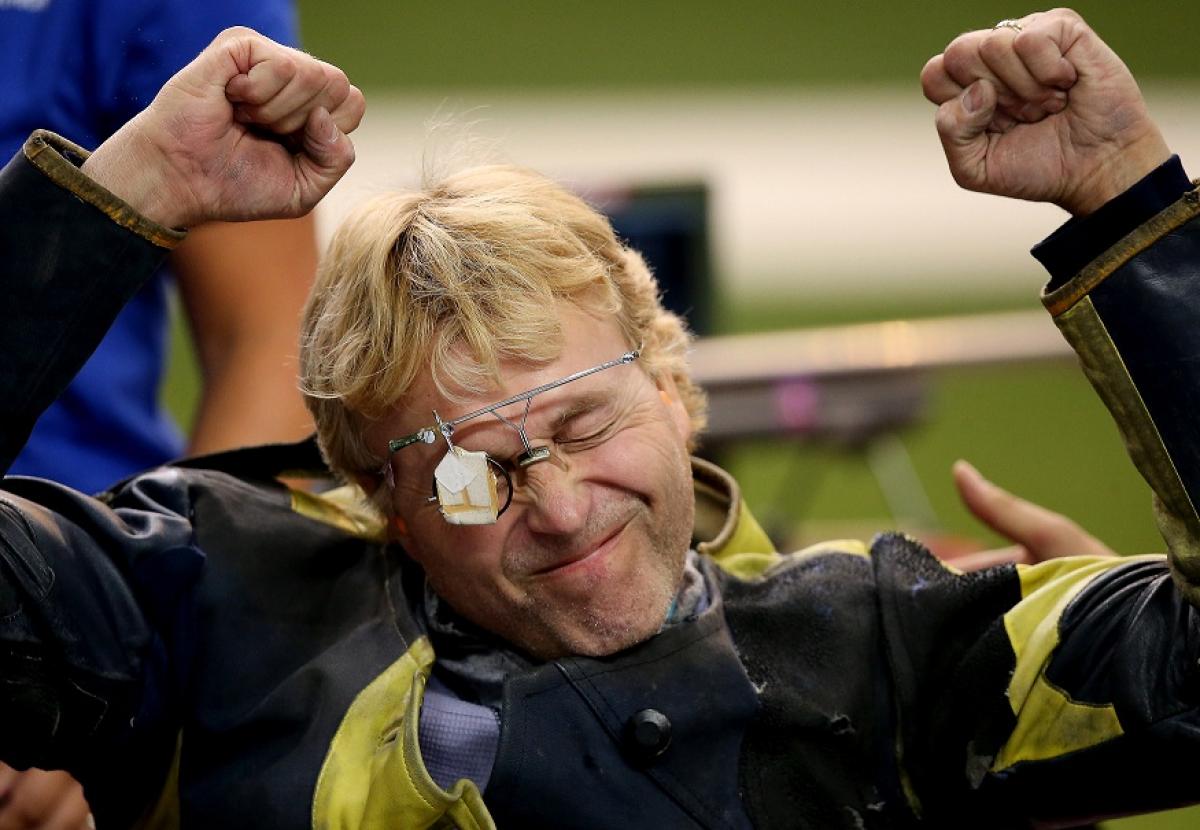 ⒸGetty Images
By IPC
"It has got more competitive over the years as more shooters have come in to the sport, but that is also the same on the able bodied side."
Sweden's Jonas Jacobsson, one of the most decorated para-athletes of all time, has reflected on the evolution of shooting ahead of the 2014 IPC Shooting World Championships in Suhl, Germany.
The competition, which runs from 18-26 July, will break all participation records and feature over ten new countries competing for the first time. Fittingly Jacobsson will be lining up once again having been part of the sport since the early days.
Now 49, he entered his first international competition in 1979 at the birthplace of the Paralympic Movement in Stoke Mandeville Hospital, Great Britain, at just 14-years-of-age.
"I remember the targets being paper and them being pinned to the walls," the 17-time Paralympic champion said. "Then someone would move in between rounds and change the targets so we could continue to shoot. So it's very different to today."
The Swede will enter his fifth successive World Championships since IPC Shooting took over stewardship of the sport in the early 90s and held the first Worlds in Linz, Austria. In that time he has matched his gold medals from Paralympic Games with world titles.
His impression is that shooting para-sport has progressed at the same rate as able-bodied shooting.
"I think it's more of the case that it has grown up at broadly the same rate as able-bodied shooting and the para-sport side has managed to keep pace with the advances," he said.
"It has got more competitive over the years as more shooters have come in to the sport, but that is also the same on the able bodied side."
Jacobsson began shooting as a family past time. He entered his first Paralympic Games at the age of 15, even before the International Paralympic Committee (IPC), which in 2014 celebrates its 25 year anniversary, was formally established.
At the 1980 Games in Arnhem, the Netherlands, he debuted with a gold and bronze medal. Since then he has medalled at every single Paralympic Games making him one of the only athletes to have done so.
In Suhl he will be aiming to add yet more silverware to his collection but takes each competition as it comes, and is not yet thinking about Rio 2016 in just over two year's time.
"There is pressure on me to keep winning medals, but I don't have any particular targets in mind for what I would like to win at Suhl," he said.
"I don't think about my competitors. I shoot my own events and focus on myself. As for Rio, I haven't quite decided yet whether I will compete or not. I would like to compete in Suhl and then go from there."
Despite his reluctance to be drawn on his appearance at Rio 2016, Jacobsson's legacy will be shown through the rest of Swedish team in both Olympic and Paralympic and winter and summer sports.
He trains the national teams in shooting and has recently coached the biathlon team, with a lifetime of experience ensuring that the legend of one of the world's greatest sportspeople lives on.
Jacobsson will be aiming to retain his R6 (50m rifle prone SH1) and R7 (50m rifle three positions SH1) World titles in Suhl.
He will compete alongside 265 other shooters from 53 countries from 18-26 July, the most ever athletes and countries to compete at an IPC Shooting World Championships.
Live results will be available from Suhl 2014.
High quality pictures are available to download free at the IPC's Flickr account.