Japan not wasting time as Asia-Oceania Championships approaches
Following a fourth-place finish at the wheelchair rugby World Championships, Japan eyes another shot for Rio 2016.
08 May 2015
Imagen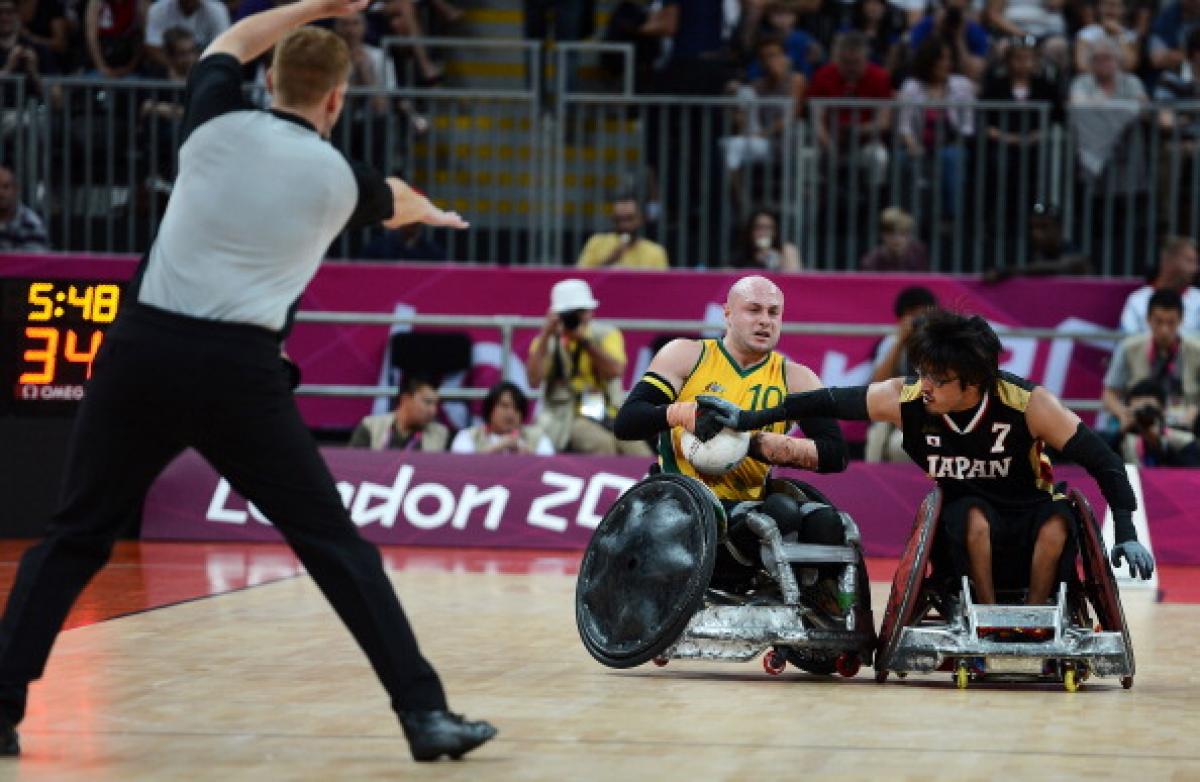 ⒸGetty Images
By Beau Greenway | For the IPC
"My goal is to be a player that motivates the rest of the team, as well as myself."
The 2015 International Wheelchair Rugby Federation (IWRF) Asia-Oceania Championship is about five months away, just enough time for Japan veteran Daisuke Ikezaki and his team to prepare for a chance to qualify for the Rio 2016 Paralympic Games.
They will have an advantage, given the event will be held in Chiba, Japan, beginning on 26 October.
Japan, ranked No. 1 in Asia, have been in regular training camps since their fourth place finish at the World Championships in Odense, Denmark last August.
"We were not satisfied by (our World Championship) results, but we evaluated that our level of performance was reflected," Ikezaki said.
While the Asia-Oceania Championship will be the primary focus, as the highest ranked team directly qualifies for Rio 2016 Paralympics, Japan has other events between now and then to help them prepare.
This month, the Japan Wheelchair Rugby games are also held in Chiba as a test run before the Asia-Oceania Championships. The competition will give Japan matches against top-10 ranked nations Great Britain, Denmark and New Zealand.
Ikezaki said Japan will then go on a tour of the USA in July, before the two big events in October, including the World Wheelchair Rugby Challenge in London, Great Britain.
"It is very important to get that ticket to go to Rio 2016," Ikezaki said. "We need to play well, and defeat must not be realised."
Japan's main rivals at the event will be Australia, who automatically qualified for Rio 2016 after winning the World Championships.
"In order to compete with such a high quality team, we need to brush up on our communication skills to improve our team strength," Ikezaki said.
"We need to reinforce our team organisation, which we have been executing at the training camps to increase the lineups and the efficiency of the first line."
"We are feeling more pressure, because no win means no Rio," he added.
"The Paralympic Games is the highest peak and there is a special atmosphere, but we can't be influenced by it."
The 37-year-old added that he hopes to continue as an elite athlete for as long as possible and work with the new players.
"My goal is to be a player that motivates the rest of the team, as well as myself," Ikezaki said.
The 2015 IWRF Asia-Oceania Championships will feature World No.1 Australia, Japan, New Zealand, South Korea and South Africa.
For more information on the event, visit the IWRF website.