Japanese sports stars highlight Paralympic Torch Relay
The Tokyo 2020 Paralympic Torch Relay will be held from 12- 24 August 2021, during the transition period from the Olympic Games to the Paralympic Games
16 Aug 2021
Imagen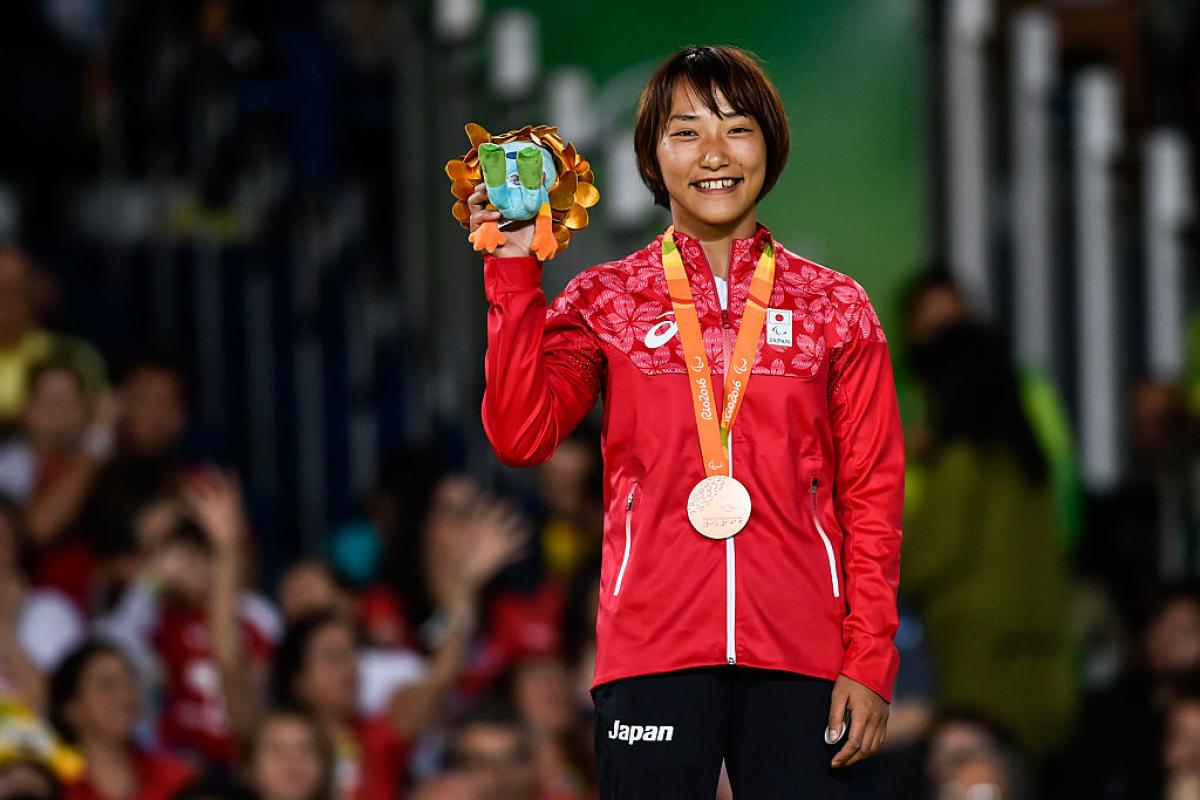 ⒸGetty
By Tokyo 2020
Swimmer Narita Mayumi and judoka Hirose Junko are among the most famous Japanese sports stars from these 43 prefectures who hosted the first segment of the Paralympic Torch Relay from 12-16 August
The Paralympic Torch Relay starts on Monday (16 August) with flame festival celebrations happening Japan for the next several days. But how much do you know about Japan's Paralympic sports stars who have hailed from these prefectures?
Let us take a look at some of these athletes who have graced the sporting stage as well as those who are out to become breakout stars in their home Games.
KIMURA Kazuhei
Hometown: Hokkaido
Sport: Cycling Road
Claim to fame: When Kazuhei began to lose his sight, he dabbled in football 5-a-side but little did he know that his destiny lied in Para cycling. Just a year after taking up the sport, Kazuhei won the 2018 Asian Para Games together with his partner KURABAYASHI Takuto. The duo are now preparing for their debut at Tokyo 2020, hoping to bring home a medal for Japan fans.
FURUKAWA Kanami
Hometown: Fukuoka
Sport: Table tennis
Claim to fame: Since starting the sport in 2012, Furukawa's career has reached considerable heights. In 2018, she won bronze in women's singles at the ITTF World Para Table tennis followed by another bronze medal in the women's team event during the ITTF Asian Para Championships in Taiwan. At Tokyo 2020, she only has one goal in mind: to win gold at the home court and show her signature moves.
KOMIYA Masae
Hometown: Fukuoka
Sport: Goalball
Claim to fame: Komiya is a veteran player and helped steer the Japan women's team to success on two occasions. In her Paralympic debut at Athens 2004 the team won bronze followed by gold at London 2012 when Komiya was at the helm as a team captain. She retired from the sport in 2013 but came back to compete at Rio 2016 where Japan lost to People's Republic of China in the quarter-finals. Whilst Komiya will be appearing at Tokyo 2020 = her fifth Games - as a substitute player, she still hopes to contribute to the team to reclaim their Paralympic glory.
©Getty

YANO Shigeki
Hometown: Ehime
Sport: Athletics
Claim to fame: YANO Shigeki, who has a vision impairment, represented Japan at three Paralympic Games (Atlanta 1996, Sydney 2000, Athens 2004). At Sydney he won a silver medal in the 4x100m relay in T11. Earlier this year, Yano participated as a torchbearer in the Olympic Torch Relay in his hometown Ehime.
HOSHINA Kiyoshi
Hometown: Nagano
Sport: Athletics
Claim to fame: Hishina competed at the men's marathon (T12) at Sydney 2000 Games but stumbled from the track and did not finish the race. Two years later, he regained his form and came in fourth at the 2002 IPC Athletics World Championships in Villeneuve d'Ascq, France followed by a fifth at Athens 2004. This year Hoshina was able to run once again as a torchbearer for the Olympic Torch Relay in his hometown.
©Getty

HIROSE Junko
Hometown: Yamaguchi
Sport: Judo
Claim to fame: Hirose won bronze in the women's 57kg at the Rio 2016 Games. She is also married to HIROSE Haruka, another Para judoka vying for Tokyo 2020 who is also her coach. Whilst Junko is excited to compete at her home Games this year as she tried to deliver Japan's first gold in the sport, she also hopes these Games can help build a more inclusive society for Japan.
NARITA Mayumi
Hometown: Kanagawa
Sport: Swimming
Claim to fame: Known as the 'Queen of the water', Narita is the most successful Japanese Paralympian and one of the best in the world. She has won 15 Paralympic gold medals between Atlanta 1996 and Athens 2004. While she retired after Beijing 2008, she returned to the pool for Rio 2016. This year, Narita will compete at will be her sixth and last Paralympic Games as she guns for her 16th gold medal.
©Getty

UEYAMA Tomohiro
Hometown: Osaka
Sport: Archery
Claim to fame: Ueyama is one of Japan's top Para archers and placed seventh in the recurve event during his Paralympic debut in Rio 2016. Now qualified for Tokyo 2020, Ueyama is not only looking to drive victory in both individual recurve and team events, he is also aiming to elevate the sport of Para archery in Japan and make it a popular sport.
MASAKI Kento
Hometown: Hyogo
Sport: Judo
Claim to fame: Masaki is a two-time Paralympic judo champion in the super heavyweight category. In his debut at London 2012, he delivered his first Paralympic title by beating WANG Song from People's Republic of China. Coming into Rio 2016 as the reigning champion, he suffered defeat in the semi-final against eventual gold winner Adiljan Tuledibaev from Uzbekistan. While it was a disappointing loss, Masaki still finished the competition on the podium with a bronze medal.