Jarryd Wallace determined to defend his 100m T44 Parapan title
The US sprinter will line-up against two world record holders in Toronto – the USA's Richard Browne who holds the T44 best time and Brazil's T43 speedster Alan Oliveira.
06 Aug 2015
Imagen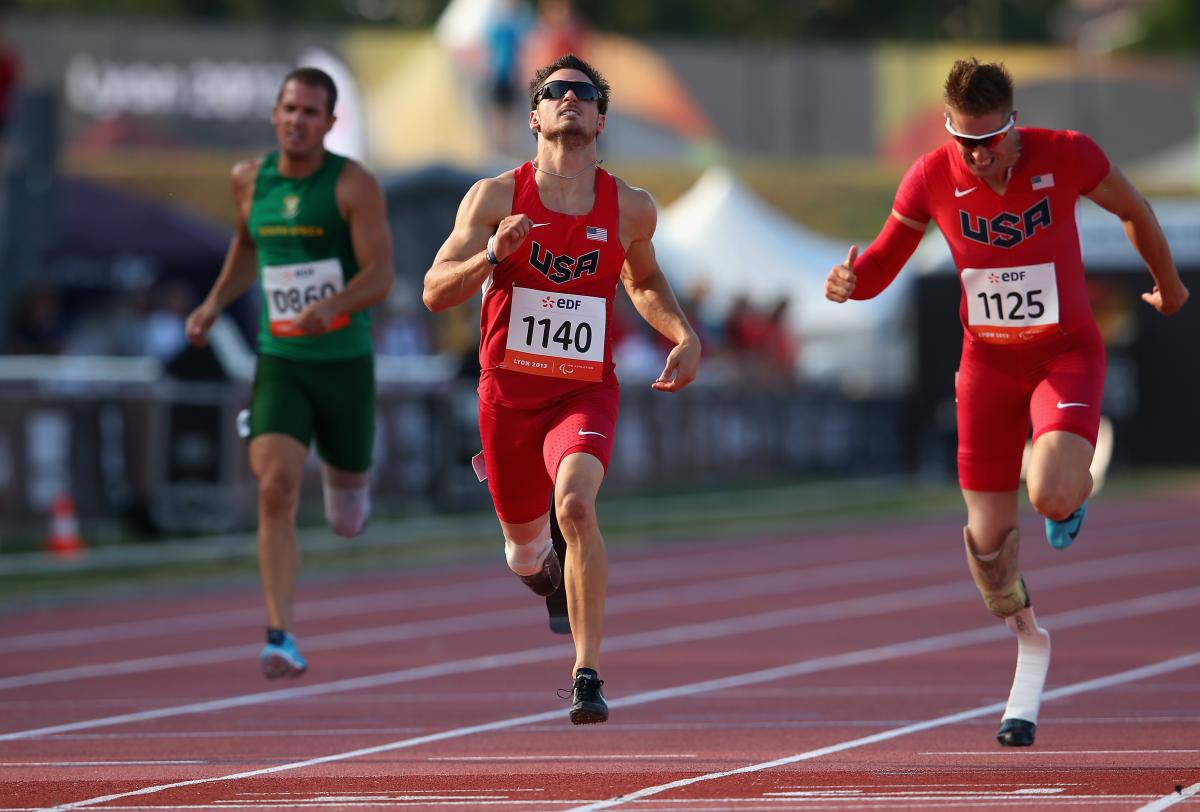 ⒸGetty
By IPC
Monday 14 November, 2011. Guadalajara, Mexico. The date and venue will be etched in Jarryd Wallace's memory for ever.
That was when, in only his third ever race as a para-athlete, he won gold in the 100m T44 at the Parapan American Games. But it is also a reminder of how his event has moved on in four short years.
Back then, Wallace clinched gold in a season's best 11.31 seconds. Already this year four T44 athletes – the American included - have broken the 11 second mark in the 100m; Wallace knows that to successfully defend his Parapan title at the Games which open in Toronto, Canada, on Friday (7 August) he will need to be at his best.
That mind set – a self-belief and confidence in his own abilities - fortunately sits comfortably with the 25-year-old who will line-up in four days' time against the likes of compatriot Richard Browne, the 100m T44 world record holder, and Brazil's Alan Oliveira, the 200m T44 Paralympic champion and top ranked T43 sprinter.
"I go in to every race knowing and expecting that I can win it," says Wallace. "Mentally that's an attitude every great athlete has to have if they want to be at the top of their game. Knowing that Richard's in the field, Alan's in the field, makes it even more fun.
"I don't put added pressure in those situations, I actually would rather have that because I know it will bring out the best in me, and vice versa. So I'm very excited to have an opportunity to race those guys again."
Browne recently ran a world's best time of 10.72 at a meeting in Finland (at a non-IPC sanctioned event so it is not a world record), and remains unbeaten since 2013. But while the world and Paralympic silver medallist may start the race in Toronto as favourite, Wallace does not feel any added pressure.
"My expectation isn't to beat Richard, my expectation is to execute a great race as I can only control what I can do in my lane.
"I know Richard's going to be thinking the same thing, he's not worried about me or what I'm doing - as he shouldn't be - so my focus isn't beating Richard. If I execute the race plan that I know I'm capable of running, then the end result will be a 'W' (win).
"We are all fast, and we all run around the same top speed. That's the fun part – it's who executes the best race that gets to the line first."
Of course for Wallace, it is not just about executing the best race. Victory in 2011 was a landmark moment not least because it meant a major championship gold medal. The event was his first ever international competition – he had begun the year training hard, hoping to secure a place on the US national team for the Parapan Games, if only to gain some much needed experience.
"I wasn't even thinking on an international scale - the second meet of my career as an amputee was the nationals that year," he explains. "To be able to qualify for the Parapan team was a huge boost of confidence and it inspired me to work harder. It was definitely a confidence booster and got my name on the map in para-sport."
Wallace is aware that the memories of that win – and the boost it gave to his developing par-athletics career – can unleash many emotions.
"That's the one thing that I'm having to mentally prepare myself for. When you get into any of the big races that's the key indicator – if you can get your mind right and ready to perform, you've already done all the training; your body is primed and ready to go.
"It's having your head in the right place to deal with it. For me it's definitely letting that emotion be real, because emotion is a good drive for performance but also not letting it overwhelm.
"I'm really excited to use that drive. I'm defending a medal – there's no pressure with that, there's excitement and I think that's going to be a great advantage to have."
And for Wallace, the events in Mexico four years ago triggered the emotions and feelings that achieving at a world-class level can bring.
"As soon as I won that medal it was like 'Oh my gosh this is so much fun, this is crazy, this is cool,' and I just came back with a craving and a desire to learn more and more. And it hasn't stopped yet."
The track and field competition at the Toronto 2015 Parapan American Games will feature 377 athletes competing in 145 medal events between 10-14 August.
To buy tickets, please visit ticketmaster.