Jason Smyth, the Usain Bolt of the Paralympic Games, out to win sixth gold at Rio 2016
Irishman, the fastest para-athlete of all time, in Brazil to help celebrate one year until the Games.
03 Sep 2015
Imagen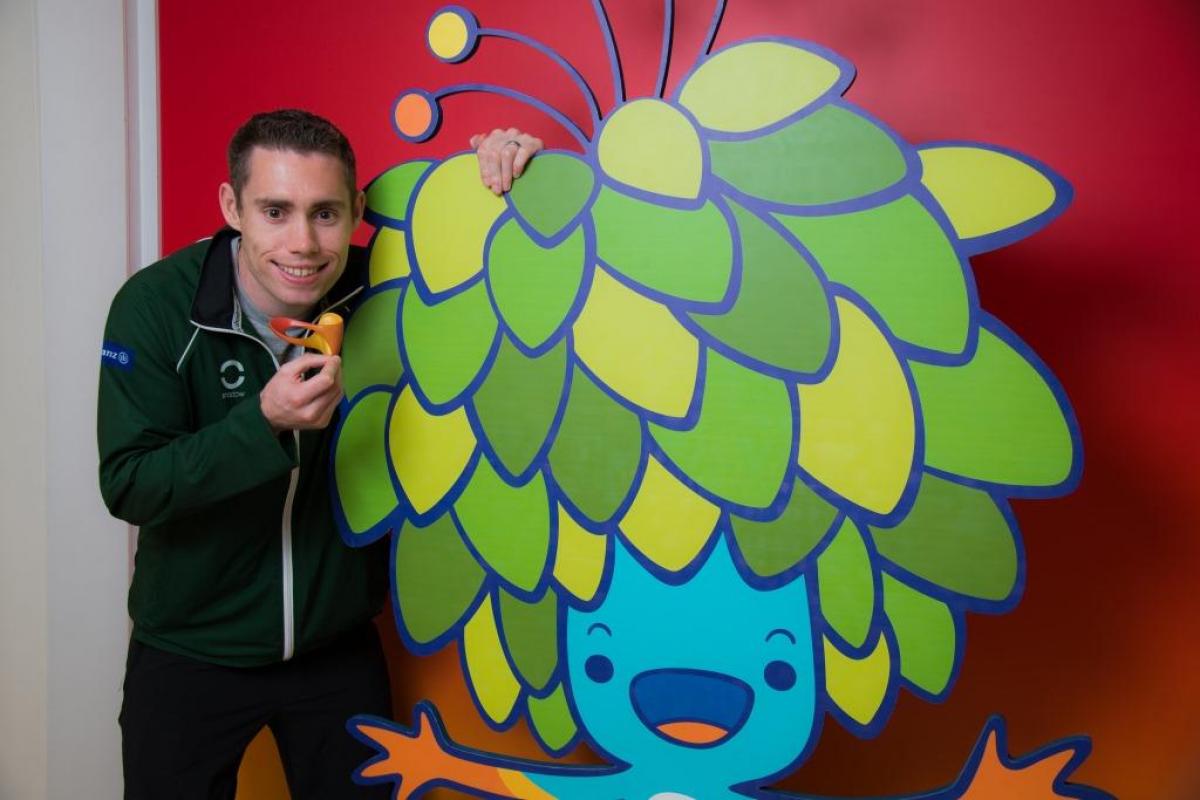 ⒸAlex Ferro / Rio 2016
By Rio 2016
"It's so exciting to be only one year away, we're getting close. It's going to be an incredible Games here in Rio."
Usain Bolt will not be the only sprint superstar aiming to defend his 100m and 200m titles from the Beijing 2008 and London 2012 Games in Rio next year. Ireland's Jason Smyth, the fastest Paralympic athlete on the planet, will also be out to etch his name into history at the first edition of the Games to be held in South America.
"Comparisons have been made between me and Bolt," admitted Smyth, whose world record of 10.46 seconds in the visually impaired T13 class is the fastest time ever posted by a para-athlete, across all classifications.
"For me it's a privilege to be compared to such an incredible athlete both on and off the track, it's an honour. But Bolt's got the relay titles too – I need to put together an Irish relay team."
Relays aside, Smyth confirmed his aim is to come back from Brazil next year with another two gold medals around his neck, saying: "It's definitely my target, so let's hope good things happen here in Rio."
Smyth, 28, was speaking at the Rio 2016 headquarters on Tuesday (1 September) two days after arriving in the city to take part in the one year to the Paralympic Games celebrations this weekend. These include a 100m challenge that aims to define the fastest para-athlete on the planet across all classes, which will take place on the second day of a Paralympic Festival alongside Lagoa Rodrigo de Freitas on Monday 7 September, the same day tickets for the Games go on sale.
Among his rivals will be Australian Evan O'Hanlon, another athlete who will be aiming to defend his 100m and 200m titles from Beijing and London in Rio. O'Hanlon's world record in the T38 cerebral palsy class of 10.79 seconds is marginally slower than Smyth's, but the Irishman was keen to play down talk of being the favourite, instead focusing on what the event means for the Paralympic Movement.
"It's a great idea and the moment I heard about it I thought, 'this is a unique opportunity'," said Smyth. "I've been competing in Paralympic sports for 10 years and not once have I had the chance to race against people with different disabilities. It's all about getting people from all different backgrounds together in a celebration of what Paralympic sports is about."
Smyth started in athletics at the age of 16 after a school teacher recommended him to a local club. Over time it became apparent that he was suffering from a hereditary, degenerative eye condition that left him able to see only the outlines of shapes, rather than detail, and he entered the Paralympic world.
Last year he was reclassified from T13 to T12, reflecting a higher level of impairment, and now, as one of the biggest stars of the Paralympic world, Smyth is looking forward to a new experience in Brazil.
"It's so exciting to be only one year away, we're getting close," he said. "It's going to be an incredible Games here in Rio. I've only been here two days and I love the city already. The weather, for winter, is incredible. I've never been anywhere that is so naturally beautiful and the people have been very friendly, so I think Brazil is going to do a very good job of hosting the Games."
In addition to the 100m race, the Paralympic Festival will also showcase wheelchair basketball, football 5-a-side, sitting volleyball and much more.
There will also be a photography exhibition celebrating Paralympic athletes and an installation displaying technological innovations that have helped improve quality of life for people with impairments.
Tickets for the Rio 2016 Paralympic Games will go on-sale on Monday (7 September), with 94 per cent of them costing less than USD 23.