Josh George prepares for biggest test in Boston
The T53 racer hopes to build on a fifth place finish last time out in Tokyo.
12 Apr 2017
Imagen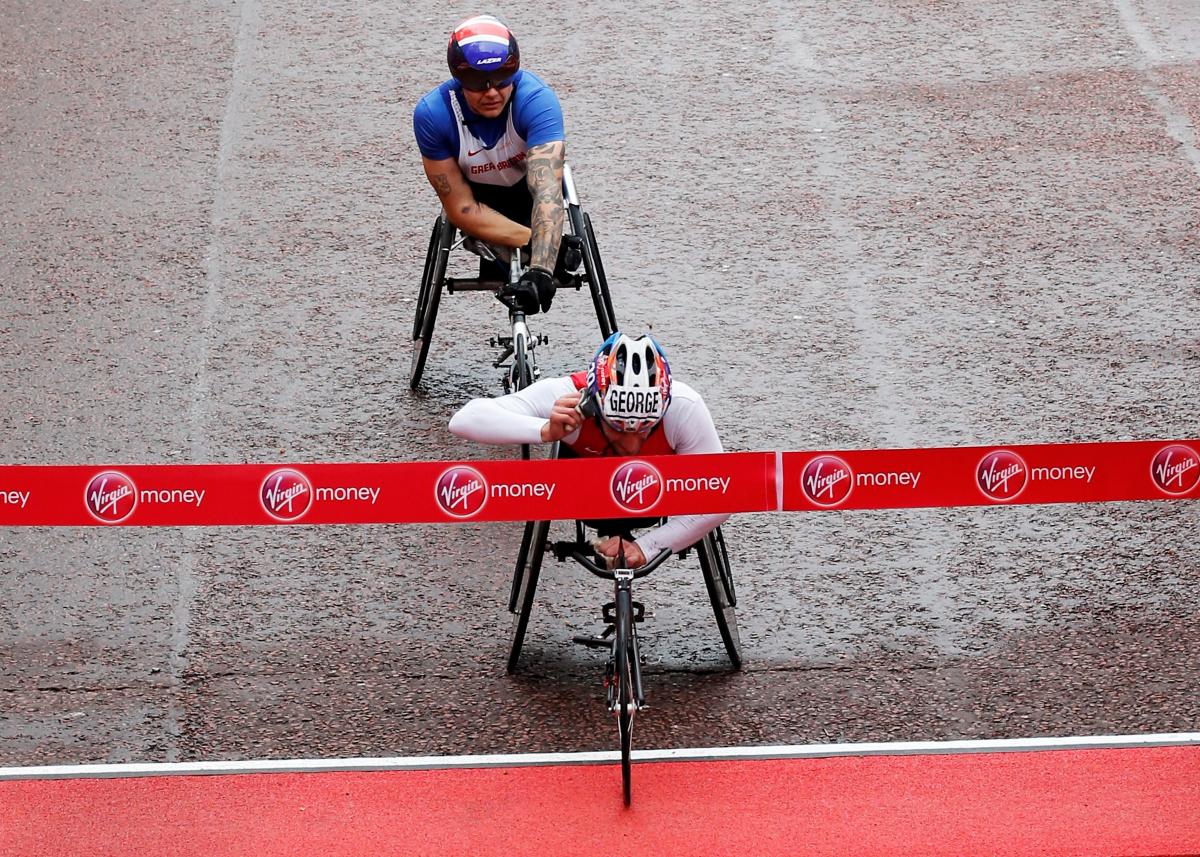 ⒸGetty Images
"It's a tough race to prepare for mentally because I have to get myself psyched up to work my butt off for 26 miles without help."
US wheelchair racer Josh George has a chance to face up to his biggest test when he competes in the Boston marathon in the USA on Monday (17 April).
"Boston is probably the most challenging race for me in the sense that it forces me to deal with my weaknesses for quite a large stretch of race," admitted George.
The course features many downhill sections which the T53 racer acknowledges don't play to his strengths - as one of the lighter racers in the field, he can't use his size and weight to help propel him downhill.
George explained: "It always turns in to a time trial for me because I always find myself off the lead pack within the first couple of miles of the race.
"The steepest downhill is at the very start and coming off that I more often than not find myself alone, so it's a tough race to prepare for mentally because I have to get myself psyched up to work my butt off for 26 miles without help.
"Mentally that makes it a bit difficult to prepare for, but it's a fun challenge. It's one of those ones where I have to adjust my goals a little bit."
Despite health issues this year which have kept George from performing at his best, he finished fifth in Tokyo in February, a result he was pleased with.
That result followed third place finishes at Chicago and New York towards the end of 2016, weeks after the 33-year-old pulled out of the marathon at the Rio 2016 Paralympic Games.
"I got sick I guess after my second race on the track, and Rio unfortunately became a meet where I was just trying to hang on and make it to the end.
"Unfortunately I wasn't even able to do that, I had to pull up in the marathon. For me it wasn't worth risking getting more ill just to finish."
However, he is able to put any disappointment from that time behind him.
"One of the things I learned early in my career, you can't let one poor competition affect your subsequent competitions, even if it's the Paralympic Games," he added.
"I had some rough races in 2016 but it's over. This is a new year and you have to start fresh and come in confident and optimistic about whatever your next race is – and that's Boston."
One man who has enjoyed great success in Boston is 10-time winner Ernst van Dyk – the South African will undoubtedly be one of the favourites once again.
"Ernst is a big guy, he carries a lot of speed down those hills and then he does a really good job being able to maintain that speed on the slight downhills," continued George.
"He has great chair control so he's able to take those hills at very high speeds. There is little I can do to get down a hill faster – I'm not really going to get that much heavier!"
Another man to watch out for will be Swiss Paralympic marathon champion Marcel Hug.
Winner of six major marathons last year – including the Boston event 12 months ago – Hug had already wrapped up the title in the current Abbott World Marathon Majors Series X, which concludes in Boston, by the time he won in Chicago, USA, last October.
"Marcel's performances were just incredible," acknowledged George.
"One of the things Marcel's been great at throughout his career is working really hard with his coach to minimise his weaknesses. With a lot of racers you know right from the get-go what their strengths and weaknesses are. It's hard to pick what Marcel's strength is because he does everything so well."
Hug may have dominated marathon racing over the last 12 months but George believes he's 'definitely not unbeatable,' explaining: "All the races that he won last year ended in sprints and a lot of those races he won by less than a second. So the margin isn't great and there are ways to beat him.
"Everyone knows that and that's the beauty of where wheelchair racing is right now. We have five, six or seven guys at the end of all of these races just busting it to the finish line.
"Marcel managed to pull out the victory in pretty much everything last year which was incredible, but it'll be tough to continue that stretch because guys are gunning for each other now."