Kosice 2016: Slovakia delight home crowd
World champions Helena Kasicka and Peter Vidasic drew plenty of cheers as they danced to double gold.
29 Oct 2016
Imagen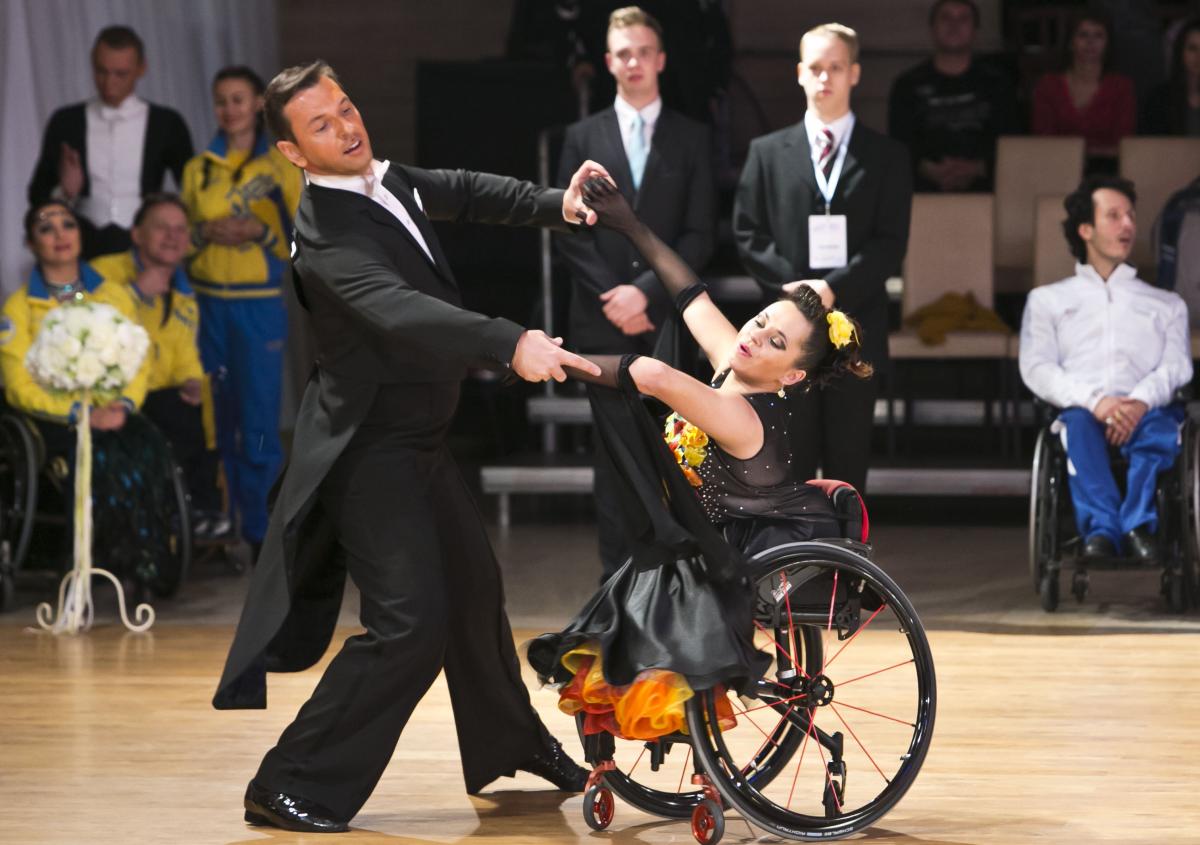 ⒸRoman Benicky
By IPC
"To be honest I am very surprised we are European champions. It's a dream"
Spectators entered the venue of the 2016 IPC Wheelchair Dance Sport European Championships decked out in Slovakian colours and equipped with all sorts of noise makers, all ready to cheer on Kosice natives Helena Kasicka and Peter Vidasic in their first dance on Saturday (29 October).
The world champion couple lived up to expectations, drawing drum rolls, roars and even flowers as they were crowned gold medallists in the combi standard and combi freestyle class 1.
Slovakian fans had plenty more reason to flock into day two of the European Championships, as they made it special for Maria Gazdikova and Maros Olejar, who won two medals: silver in the combi freestyle and bronze in the combi standard class 1.
"It's hard to describe our feelings to win at home," Kasicka said. "We had an ice hockey atmosphere in the venue. The crowd was amazing."
Her partner Vidasic added: "Tomorrow [Sunday] it will be totally different. The competition will be raised. We have to have a good night's sleep. We are not going to celebrate anything today."
Kasicka and Vidasic were the convincing winners in the combi standard class 1, winning the judges' top marks across the waltz, tango, valeik, slow fox and quick step. Belarus's Worlds bronze medallists Veranika Kasach and Aliaksei Zukhtsikau performed a memorable quick step to claim the silver medal. Gazdikova and Olejar delighted the home crowd as they completed the podium.
In the last dance category of the night, Kasicka and Vidasic put on strong, technically sound combi freestyle that clearly caught the attention of the judges to award them the gold. Second place was decided by small margins, but Slovakia's Gazdikova and Olejar were solid in the technical skills to draw more joy from the crowd. Israel's Vital Zinger and Ziv Sean Shabtay were awarded the bronze.
"We were really enjoying our dancing," Gazdikova said. "We did not expect the results today, so it was very emotional."
In the combi standard class 2, Belarus's No. 2 ranked Hanna Harchakova and Roman Usmanov graced the judges across four of the five styles to win the gold. Iryna Makeichyk and Yauhen Yarmoshka performed a winning waltz to join their fellow Belarusian teammates on the podium with the silver medal. Ukraine's Nataliya Kolesova and Andrii Tovstyi were a few marks off from second place; minor flaws in their quickstep earned them the bronze medal.
Poland's Joanna Reda and Pawel Karpinski exploded with emotion when Ukraine was announced the silver medallist in the duo Latin class 1 and 2 combined. That meant the No. 2 ranked Polish couple would take the European crown. The winning duo captured the judges' top grades in all five dances. Coming off a gold medal performance on Friday (28 October) in the duo standard class 2, Ukraine's Olena Chynka and Oleksandr Onishchenko still dazzled for their second medal together in Kosice; it is Chynka's third medal of the Championships so far, as she won gold in the women's single. Israel's Maytal Wax and Shlomo Dahan took home the bronze.
"To be honest I am very surprised we are European champions," Karpinski said. "It's a dream to be honest. When I am on the dance floor, I focus on myself. I didn't see any other couple on the floor. When I even leave the dance floor, I don't remember the music.
"Here, it was good that the competition started at 3pm So I had time to sleep. It makes a difference."
The 2016 IPC Wheelchair Dance Sport European Championships conclude on Sunday (30 October) with the women's single freestyle class 1 and 2; combi Latin class 2; and combi Latin class 1.
Competition will begin at 15:00 (CEST) on Sunday, and all events will be live streamed at the IPC Wheelchair Dance Sport website.
Live updates from Kosice 2016 can be followed on Facebook and Twitter @IPCWDS).
Pictures from each competition day will be available at Kosice 2016 website.