Kunieda: A new Shingo is coming
Japanese wheelchair tennis legend back to full form
28 Mar 2018
Imagen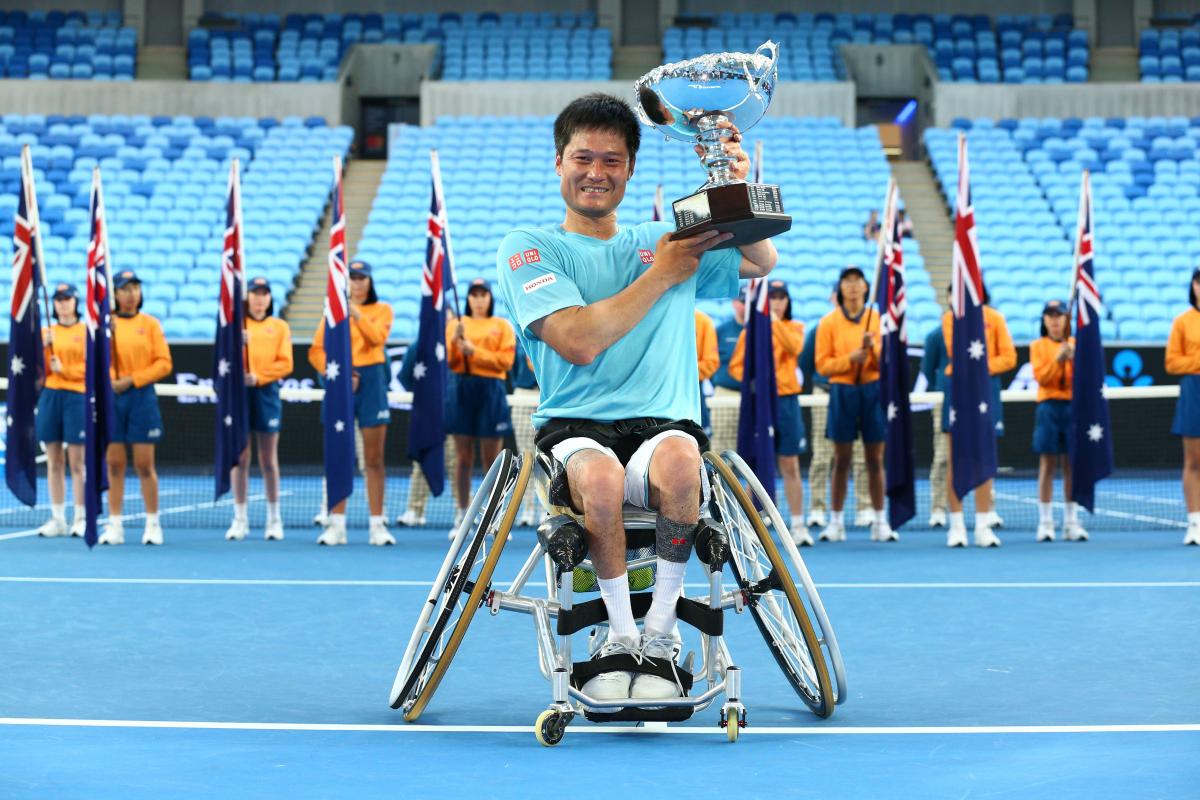 ⒸGetty Images
By ITF
If I won in Tokyo in front of the home crowd, it should be the best moment ever in my life. 'New Shingo' is not back to who I used to be at my best. I have to improve all aspects of tennis and I am still confident that 'New Shingo' is coming."
'What's next?'
Shingo Kunieda got asked this question at the end of his post-match press conference after winning January's Australian Open men's singles final.
His answer? "New Shingo is coming."
The 41st Grand Slam title of Kunieda's career came 11 years on from his first singles title at one of the sport's four majors, when winning the 2007 Australian Open. And he described his ninth Australian Open crown as the 'happiest one', coming after two seasons of injury, subsequent elbow surgery and rehabilitation and then a return to full time competition last year.
"Injury was really tough. I thought a little bit about retirement when I felt pain after surgery in 2016. But after taking the good rest to retain my 100 per cent physical (fitness), things were going in a positive way and it made me focus on the tennis and think how to evolve my tennis. That really gained my confidence again," world No. 4 said.
Diagnosed with spinal cancer at the age of nine, Kunieda began his journey to becoming the most successful men's player in wheelchair tennis history close to his family home, taking up the sport aged 11.
"There is the tennis centre called TTC (Tennis Training Centre) where the (Japanese) tennis programme has been based since 1990. My mother found it and it is just 30 minutes driving from home (in Kashiwa City, Chiba Prefecture)," he said.
Long journey
Kunieda won his first title in 2001 at the Kanagawa Open.
A little over five years later he became world No. 1 men's singles player for the first time and he'd won three Australian Open Grand Slam singles titles, three Roland Garros singles titles, the first of six US Open singles titles and the first of two Paralympic singles gold medals.
In 2011 Kunieda was joined on the roster of UNIQLO Global Brand Ambassadors by Kei Nishikori, with whom he has developed a close friendship.
"I don't get chance to spend too much time with Kei, but he is a very good friend of mine. Last year, we both went through injury and I couldn't meet him a lot, but I am hoping to see him again at Grand Slams (this season)," Kunieda said.
Kunieda also recognised that the standard and quality of wheelchair tennis is continually improving as he continues on a road that he hopes will see him regain the world No. 1 ranking.
"Every player has been trying to improve all aspects of tennis, the way to hit the ball, the way to play the game, the way to handle the chair. Yes, the quality has been rising and I have to keep up or be ahead of it," he says.
"(I would like) to have more people watch our games on site or on TV. At Grand Slams you can watch both the able-bodied and us. Some ATP tournaments have both. I wish more ATP tournaments would have wheelchair tennis.
"And in 10 years from now, I wish wheelchair tennis tournaments can draw a bigger audience and kids can dream of playing in front of the big crowds."
Future dreams
Whilst dreaming big for future generations of players, the seven-time ITF World Champion and five-time Paralympic medallist is in no doubt of his own career highlights to date and his own ultimate dream as a player.
"The proudest moment in my career has been winning all three Paralympics golds in Athens (doubles) and Beijing and London (singles). If I won in Tokyo in front of the home crowd, it should be the best moment ever in my life," Kunieda said.
"New Shingo is not back to who I used to be at my best. I have to improve all aspects of tennis and I am still confident that 'New Shingo' is coming."