Lightning quick Jung aims to strike harder
Widely credited as one the fastest skater on the ice, Seung-Hwan Jung has his eye on Canada and the US now that South Korea are back in the A-Pool.
26 Jun 2015
Imagen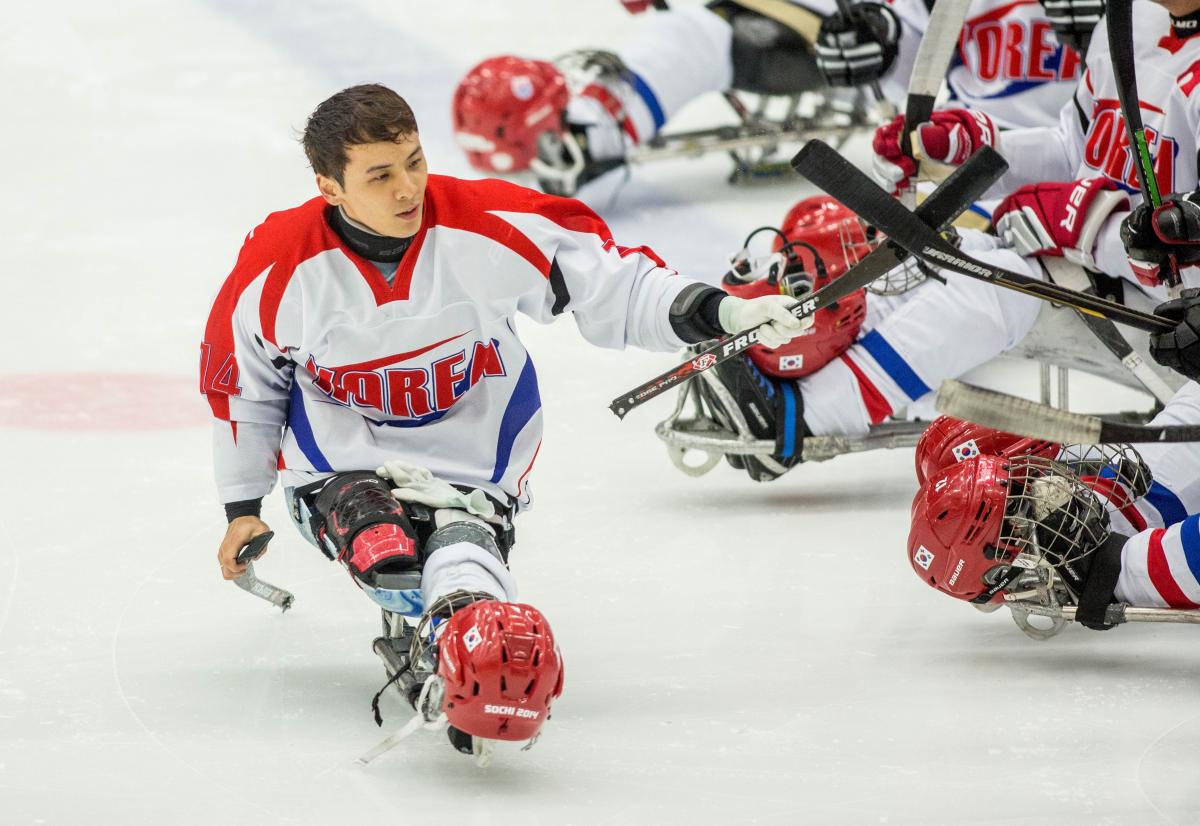 ⒸKarl Nilsson
By Kim McGreal | For the IPC
"I am sure that my team can help to promote awareness of Paralympic sports and draw many changes of circumstances by showing sporting excellence."
After his stunning performance at the 2015 IPC Ice Sledge Hockey World Championships B-Pool, you could be excused for thinking South Korea's Seung-Hwan Jung might want to take things easy.
But the lightning-fast skater is taking nothing for granted.
"There are a lot of fast athletes out there, but I think, for a fast movement, we need a variety of training and I am now working on improving my power to jump over my current physical limitation," Jung, who scored 13 goals at the tournament in Ostersund, Sweden, in March said. "Also I focus on basic training to control my skating skills."
Jung has been playing sledge hockey since 2004, when he was introduced to the sport at university, and is recognised by players and fans alike for his speed on the ice. At the Worlds Jung demonstrated his skill once more, consistently netting the puck over five games - almost double any other player in the tournament – and managed nine assists, to be named Best Forward.
The 29-year-old said: "Ice sledge hockey has many attractions, the most attractive thing is assisting itself, which is very important because it helps our team lead games and score goals."
South Korea's unbeaten run at Ostersund 2015 resulted in a promotion to the A-Pool and will give the team an opportunity to compete once more against teams like Russia, Canada and reigning world champions the USA.
"All teams in A-Pool are great, but there are two teams we could not beat so far, which are USA and Canada," reflected Jung. "I always watch their matches to learn better plays and one day I want to win over the two teams."
It will also give his team a chance to showcase themselves better in advance of their home Paralympic Winter Games in PyeongChang in 2018.
"Still there are not that many people who know about Paralympic Games and ice sledge hockey," he admits when asked about the profile of the sport in his country, adding: "Our athletes' pool is still not so big. That's one thing I feel sorry about."
Jung is also aware that the lack of existing facilities have not helped the team in the past, but with the Gangneung Hockey Centre is a new temporary rink being built especially for the Games, they are optimistic things will get better.
"Team Korea has made a lot of efforts to win a medal at the Paralympic Winter Games even though there had been many challenges. We tried to improve facilities, ice rinks and athletes' financial problems."
Despite being one of the most recognisable players on the team, Jung knows that improving the popularity of the sport is truly a team effort, both on and off the ice:
"I am sure that my team can help to promote awareness of Paralympic sports and draw many changes of circumstances by showing sporting excellence."
In 2017, the top five finishers from the World Championships A-Pool will directly qualify for the PyeongChang 2018 Paralympics. The bottom three teams from the A-Pool event and the top three teams from the B-Pool event will compete in a Qualification Tournament for PyeongChang 2018 that same year.