London 2017: Day 6 athlete reaction
Medallists from Wednesday evening's World Para Athletics Championships session.
19 Jul 2017
Imagen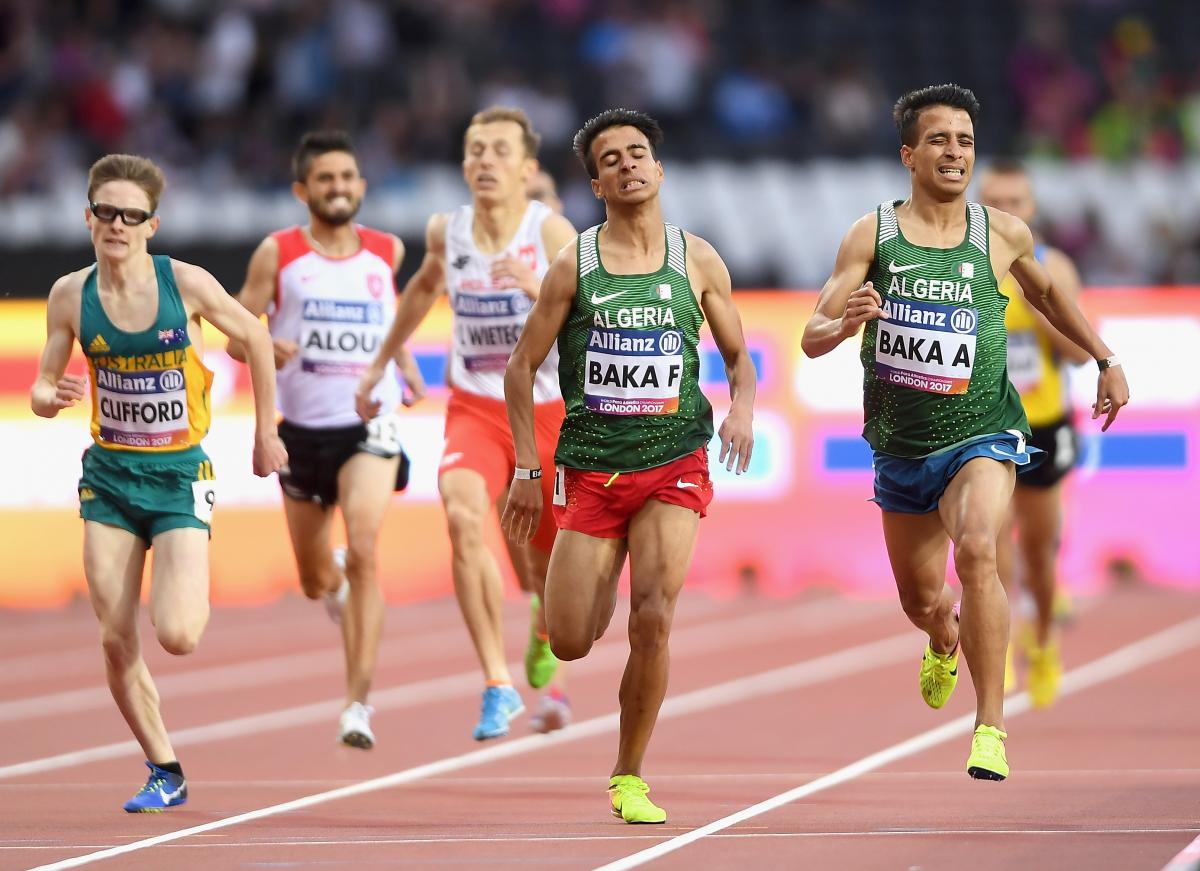 ⒸGetty Images
By IPC
This page will be updated with athletes' quotes throughout the eighth session of the World Para Athletics Championships London 2017 on Wednesday (19 July) evening.
Men's javelin F37
Dmitrijs Silovs (LAT) – Gold, CR
"Every competition is difficult and stressful but I try to improve with every event. It is a great feeling to become the world champion; it was not an easy way. When I was three, I had this injury and could hardly walk until I was 11. I did it all only thanks to my mother because there was only me and her. Standing on the podium, I will think of her and will dedicate this medal to her.
"Latvia is a country of good throwers. I think we have very good throwing coaches and that is the reason why we are successful in these throwing events."
Women's long jump T37
Jaleen Roberts (USA) - Silver, AR
"My goal is to medal in all my events, so it's two down, two to go.
"I PR'd today, and set an area record, so that was nice, and was only a few centimetres behind the winner. I'll get her next time.
"I saw her PR and it is pretty long, but I have high hopes so I know I'll get there in time now I have experience of these kinds of championships.
"There was a bit of headwind but that's fine for me because I live in Washington state so I'm used weather. I was like, whatever."
Women's shot put F41
Raoua Tlili (TUN) – Gold, CR
"I must admit the first gold was more emotional for me as I opened my competitions in London with the discus throw and it brings back all my memories from 2012. But I like the shot put more and I keep the title since 2007.
"When I saw my opponents, I was sure I was going to win the gold medal. We have very good support from the government in my country; our federation is very strong so we bring medals from major events. But the most important person who supported me in my career was my father. He passed away only six months before the Rio Games so I dedicated the two golds to him. He was only 62.
"My father had four daughters and he used to say: You are the man of this family. It was because I was so strong. He will always be the most influential person in my life."
Women's 100m T35
Isis Holt (AUS) - Gold, WR
"It's incredible coming here and running like that. To come out in front of such a crowd and run that fast is an amazing feeling. Something I've worked on since Rio is to stay calm and concentrate on my own race. I've been able to do that and it's made me stronger this year.
"I ran straight over to Nick (Wall, her coach) at the end because this is all down to him. We definitely didn't expect to run a world record. To look up and see that on the clock was such an amazing feeling.
"It is such an incredible idea to give coaches medals at these championships. It's an awesome idea because he has done so much for me.
"I'm privileged to be here and to be able to do stuff like this which people my age wouldn't normally be able to do."
Maria Lyle (GBR) – Bronze
"I've been injured coming into these championships so to come out with two bronze medals is a good thing for me. You don't get these opportunities often so I saw all the good physios at British Athletics to sort me out. I only started to sprint on Wednesday and before last week I couldn't walk."
Men's 1,500m T13
Abdellatif Baka (ALG) - Gold
"The most important thing in that race was to keep a good position. I have been training with my him (twin brother and silver medallist Fouad Baka) since we were 10 and we do have some tactics in races, depending on the level of the race. But it is no problem if he wins or I do."
Fouad Baka (ALG) - Silver
"Down that home straight, I was trying to win it, though."
Men's long jump T47
Hao Wang CHN – Gold
"I am so happy. I was injured two months ago and I have not fully recovered from that.
"It had a definite impact on my performance. Last year in Rio I was in the best shape but today the injury was having a big impact on my acceleration and take off. I have no choice but to push myself as my team give me a lot of support and expect me to do well. I don't know how I managed to make 7.18.
"I am proud to be in London. In Rio I finished with a silver medal and I am now going to work hard to ensure I win the gold in Tokyo."
Women's 800m T54
Tatyana McFadden USA – Gold
"I am so proud of myself it's been a long journey this year and this is such a great way to finish these world championships. As it was my last race I just wanted to race well regardless of how I felt and how I did.
"Having a good start is such an advantage. I was a little nervous as I didn't know if I could trust my body to be able to do it. I had surgery three months ago and had to focus on my recovery. I would go to the track but just sit there crying as I didn't know if I'd be able to come back. All I wanted to do was to make it back to London because I love it here. My only goal was to come here and my recovery focussed around this, I had really strict nutrition regime and had to really follow this as well as easing back into training.
"I would be extremely happy if this event came back to London, everything is perfect. After 2012 I knew it would be a great event, the staff, the volunteers and the crowd really make it.
"Moving forward I'm concentrating on the marathon this Fall and looking towards the next world champs."
Men's javelin F13
Alexandr Svechnikov (UZB) – Gold, WR
"I have been preparing for this competition for a very long time. The most important thing is I did not injure myself so I was able to improve my personal maximum.
"I do not think about Tokyo 2020 yet as the life can bring many things, you can get injured or you never know what can happen. I just want to go home to see my family now and then I will prepare for the next event.
"The key to this result was evidently my coach who is my mother and also my whole family, my sister and my brother who are the top class athletes and my biggest inspiration, the whole team and the nation of Uzbekistan. I also have to say thank you to all the fans in the stadium and the people who support me.
"I have these icons like Jan Zelezny, or Tero Pitkamaki when it comes to the throwing technique but the real heroes and idols for me are my family members."
Men's 400m T47
Gunther Matzinger (AUT) – Gold
"It was a remarkable race. I was injured for a long time coming into these championships and I didn't know how good I was going to be, so to take a gold medal is just amazing.
"I won gold here five years ago and to run here again and win gold again is unbelievable.
"I think I just slowed a bit less than the Jamaican (Shane Hudson). We were both under big pressure at the end and it was a just a question of who held on the best."
Petrucio Ferreira dos Santos (BRA) – DQ
"I was really nervous and really anxious at the start and I think those two things combined resulted in what you all saw. I will try to keep my head up because I have the 200m on Friday. I need to keep on."
Women's 400m T53
Zhou Hongzhuan (CHN) - Gold
"It was very close and I could see the wheels were right up on me down the home straight. I did not expect to win this because I have only returned to full training after Rio in March.
"I knew I had to do everything to win it. "
Men's 200m T35
Ihor Tsvietov (UKR) – Gold
"It was a really hard run but I managed to win and that is the most important. Winning the race that is my biggest motivation. I am very satisfied I beat them tonight."
Women's 100m T12
Omara Durand (CUB) - Gold
"It's my first gold and I'm so happy This is such a great experience. I dedicate this to my daughter, Erica. She said, 'Mum, bring me back a medal.' So this is for her.
"We work so hard everyday and train hard to win gold. I am getting faster and stronger. But there is always pressure because I know my rivals are training harder to beat me. There is always pressure when you compete.
"The aim was to win. If records come, then fine. The world record will come in time. I just train hard for events like these and there is no limit to how fast I can go.
"I am proud to be a para athlete but I would love to compete against the able bodied athletes. They are on a different level."
Live coverage and results from the World Para Athletics Championships London 2017 can be found each day at www.worldparaathletics.org/London2017. Around 1,150 athletes from 90 countries will compete in 202 medal events between 14-23 July.