London 2017: Day 7 athlete reaction
Medallists from Thursday evening's World Para Athletics Championships session.
20 Jul 2017
Imagen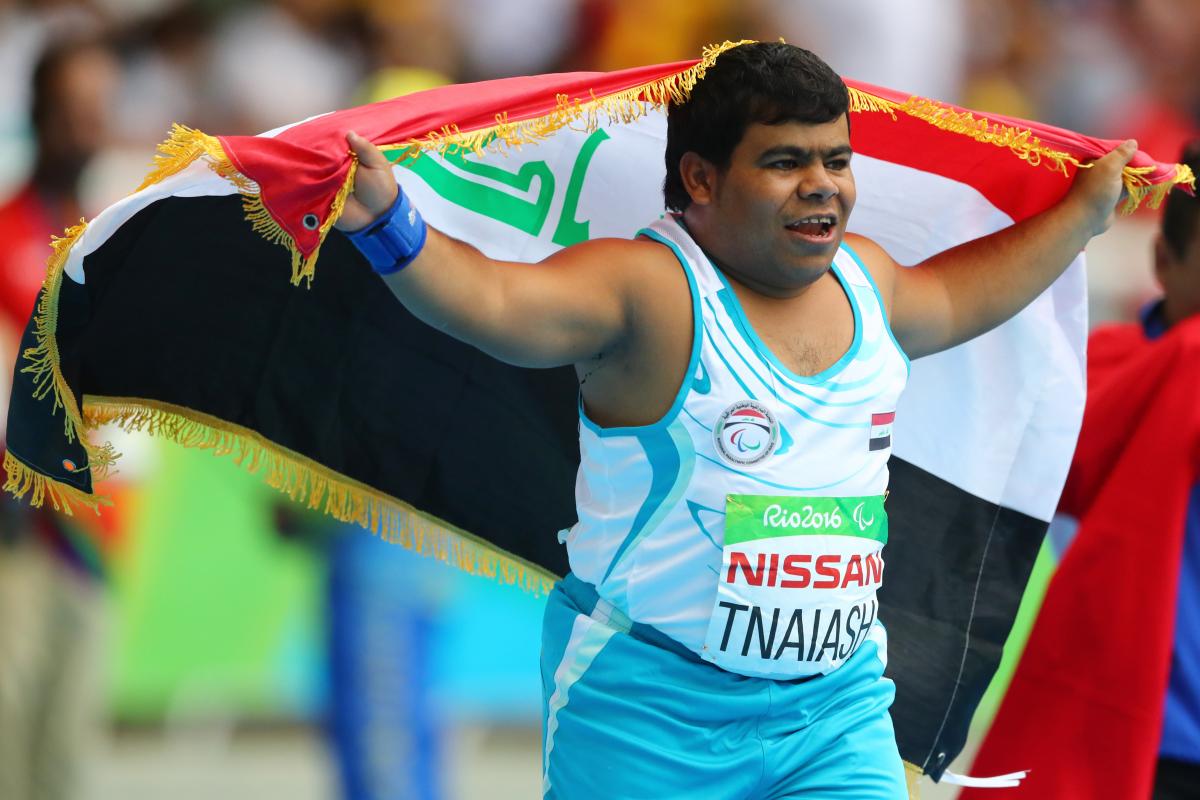 ⒸGetty Images
This page will be updated with athletes' quotes throughout the ninth session of the World Para Athletics Championships London 2017 on Thursday (19 July) evening.
Men's shot put F40
Garrah Tnaiash (IRQ) - Gold
"I threw over 10m, but I'm not really satisfied with my result today because I can throw a lot more than this. My best is 10.76m and I promised to beat it today.
"I want to dedicate this medal to all the Iraqi people at home. When I won in Rio they were so happy and forgot the sad things in our country. When I return home from London I am sure there will be a celebration. I hope my medal here can help bring some happiness to the people again.
"If everything goes well with my programme, I hope to bring back the gold medal from Tokyo and to break the world record."
Men's shot put F41
Niko Kappel (GER) - Gold
"This is simply fantastic. After my gold medal at the Paralympics, to win gold again here is just a dream. These are absolutely brilliant conditions in London -- the crowd, everything. I was really up for tonight's competition and my preparation has been spot on. It's all just unbelievable. That is why I was running about to celebrate. "
Men's shot put F55
Ruzhdi Ruzhdi (BUL) – Gold, WR
"The key moment in the competition was the third throw. But I still did not reach my limits. I still can improve the record.
"This result is definitely one of the most important moments of my career. But I can say the Paralympics were the key event as I became more known in my country. That helps our sport.
"During the competition, I was focusing on my technique but I was also thinking of my family and friends who support me in my sport."
Men's club throw F32
Lahouari Bahlaz (ALG) - Gold
"That went very well. Of course, I'm delighted and I want to thank my coach who has made me work so hard in training to get into a position to win the gold. "
Women's discus F38
Noelle Lenihan (IRL) – Silver, CR
"I absolutely loved it out there. I have one world championships in the bag so to be out there after a tough year with a lot of study was great. I did hope to beat the Cinese girl (Mi Na), you know anything is possible, but you've got to look at yourself and better yourself.
"I was only 2cm off the world record so that's something to aim for in the future. It gives me a target. To me it doesn't matter who I'm against. I'm very chilled but I'm very competitive too. I love the sprt and I love throwing. I have that drive, especially in para sport, it's something that comes to me very easily.
"Jason (Smyth) and Michael (McKillop) are absolute role models for the rest of the team. They've done so much for sport and para sport."
Women's long jump T11
Arjola Dedaj (ITA) – Gold
"I was hoping to get my personal best. I didn't get it, but I won the gold medal instead, which is all that matters. I had trouble with my run-up at first but I made some changes and in the end it was OK.
"The absence of the Brazilian (Rio Paralympic champion, Silvania Costa de Oliveira) didn't mean anything. Every event speaks for itself, regardless of who is competing. You cannot take anything for granted, especially in the long jump for visually imparied because there are a lot of errors. Anyway, my first real opponent is myself. But I really can't wait to face her next time.
"My eye mask was made by an 11-year-old girl, Marta. I wore it to thank her. I'm a little bit chic, I like playing with my looks and enjoying myself, and she has similar taste to me.
"And the black ribbon on my arm is for two reasons. It's dedicated to the thrower (from UAE) who lost his life here, and to a friend of my guide, Marco, who died a few days ago. This is for him."
Men's 100m T37
Mateus Evangelista Cardoso (BRA) – Gold
"After the silver I won on Tuesday, I really longed for the gold medal. I was really motivated and forced myself to show the best possible result. It is very emotional moment to me now as I was fourth in Rio and was very sad I could not make it there on my home soil.
"This medal goes to the Rondonian people. I was born in Rondonia which is a very poor region on the North of Brazil, close to Amazonas, with almost no access to education and health system. My thoughts go to these people. I also need to thank my girlfriend Jessica back home and my family.
"In the finish, we all gathered together and Charl Du Toit said a prayer to all of us."
Charl Du Toit (RSA) – Silver
"It was a good race, I thought I had a good start but I just got beaten by the athlete of the day. Well done to Mateus. He is a brilliant athlete and it was just an honour to compete against this guy. I think he was just running a perfect race.
"There is still 400m to come so I am just happy to be still running. I am just thankful for the medal I have just won."
Women's 400m T34
Hannah Cockroft (GBR) - Gold, CR
"I'm feeling really emotional. I even had a little cry. I was confident until yesterday when I got full of cold. When I came to the start line I felt like I had nothing to put into the race.
"All the way round I was thinking 'I can hear the girls coming. I'm not going fast enough, I'm not going fast enough.' So to get that result when I was feeling like this is such a relief.
"This is my 10th world title but that hasn't really sunk in yet. I'm so used to taking each race as it comes. Every time I put on this top it's still a massive honour to come and represent Britain and British Athletics.
"But I'm not finished yet. My motivation was out there, those two young girls right at my back. They are the reason I train. I want to prove I can still go fast. I just want to keep going out there. I want to prove I can keep going a little while longer."
Alexa Halko (USA) – Silver
"It's my first time under one minute so I'm super happy. I did not expect that at all. It was such a nice surprise at the end.
"My aim was to get between the two British girls, so I'm glad I did that. I definitely hope to catch Hannah soon. I just have to keep working in training and see where it goes from there."
Kare Adenegan (GBR) – Bronze
"This is a huge experience for me. I've learned so much about tactics, I just need to work on my strength and come back fitter and better.
"I can go home now and enjoy the school holidays and have a nice break."
Women's 400m T37
Georgina Hermitage GBR – Gold WR
"I am so relieved. That feels like a really long straight out there and I was totally spent by the end. I wasn't sure at all about the time so was very surprised to see it was a world record.
It's so unbelievable, it's been such a difficult time for me this season so I just decided to go out there and give it my best shot. It just shows that with the right training and support you can improve. I knew I had to go out hard and felt I did that. I was back on the track for my first race of the championships and I just went in to autopilot.
I've been under a lot of pressure as everyone has been coming back to the team and they've been doing so well. We've had lots of success and I just wanted to be part of that but I wasn't sure how it would go for me. The main feeling is relief but I also feel so happy to have won and can't believe it was in a world record time."
Men's 800m T34
Mohamed Alhammadi (UAE) - Silver
"I have won three medals so far and I want to win a fourth and give them all to the children of Abdullah (Hayayei, his teammate who died in a training accident in London just before the championships started). Abdullah has five children. All the UAE team made this promise to bring medals to them.
"For me, this is just a stepping stone on the way to the Tokyo Paralympics. I have another world championships before the Games as well but Tokyo is my main goal."
Men's 800m T53
Brent Lakatos (CAN) – Gold
"It feels great. Now I have got two days to rest and then one more event. Everything is just going amazing in here. Before the start, I have been a little bit under the weather but it has been moving through my system so in fact it has not really affected my arms.
"To grow the Paralympic sport, you need to show people how interesting it is. And you need to have great events to come to. And this is special about London because it showed the world the way how to do it.
"Of course, I have to go for my fourth gold in the last event. The 100m used to be my strongest event for years. Now, I am doing well on the distances. But the 100 is still my most favourite so I am looking forward to it. It is gonna be a good race on Sunday.
"I know Payeo has a really good top speed so I knew I needed to take the top speed out of him before the finish."
Men's 400m T54
Yassine Gharbi (TUN) - Gold, CR
"I am very happy, it shows all my hard work was not for nothing. I had the determination and the dream to become a champion against such a strong field, and the patience."
Women's 400m T11
Women's 100m T36
Live coverage and results from the World Para Athletics Championships London 2017 can be found each day at www.worldparaathletics.org/London2017. Around 1,150 athletes from 90 countries will compete in 202 medal events between 14-23 July.