London 2017: Day 8 athlete reaction
Medallists from Friday evening's World Para Athletics Championships session.
21 Jul 2017
Imagen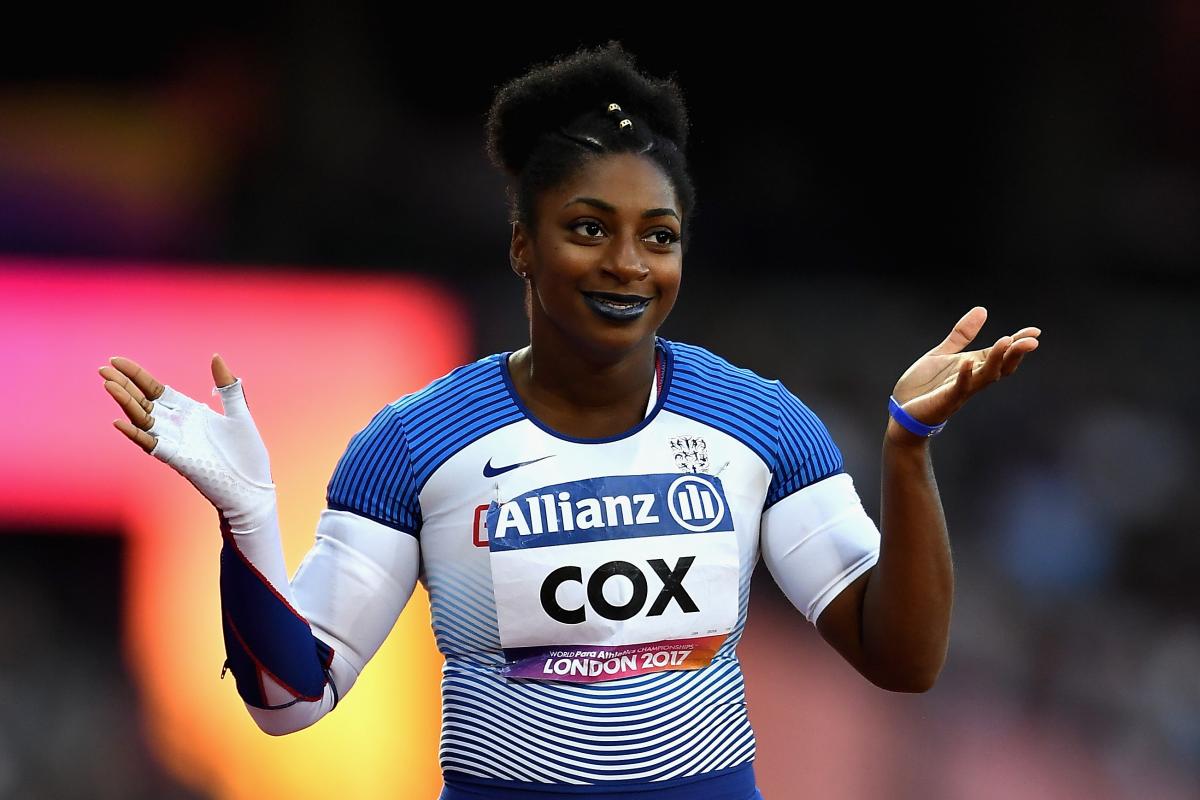 ⒸGetty Images
his page will be updated with athletes' quotes throughout the ninth session of the World Para Athletics Championships London 2017 on Friday (21 July) evening.
Men's 800m T54
Marcel Hug (SUI) - Gold
"It wasn't easy to race twice (after the result of the previous final was annulled because of a crash and a re-run was ordered). I am really happy that I won again. It was a decision of the jury and I respect and accept it. It's fair for the athletes who crashed. Now I feel a mixture of relief, happiness and pride.
"It was a really big challenge. But I felt great and was at top speed at the finish. I'm now looking forward to the 5,000m (heats) tomorrow."
Women's shot put F35
Mariia Pomazan (UKR) – Gold
"It was a tough competition. I have a headache now."
Men's 200m T11
David Brown (USA) - Silver
"I heard there was a disqualification. It's tough but those are the rules. Either way I guess we'll take the medal. Of course, everyone wants to get gold. The result is what it is. Congrats to the Chinese runner, but look out in years to come because I'm just going to get better."
Men's 200m T12
Mahdi Afri (MAR) - Gold
"Thank God for the victory. I cannot put into words how I feel. The end of the race was the most difficult but I was confident that I had the stamina to win it.
"I am the only athlete who has won two gold medals for Morocco. My first races for my country were in Rio (at the 2016 Paralympic Games) where I won a silver and bronze. Now I have got the golds."
Women's Long Jump T12
Oksana Zubkovska (UKR) – Gold
"I was looking forward to this competition because I did so well in London in 2012, still remembering my 6.60 jump. Therefore, I am very happy I managed to jump over 6 metres again tonight despite the fact that I was not 100% satisfied with the technique.
"The competition was not easy as it was very long and the most important thing was to stay focused and not to get cold. During the event, I only think of the technique and myself to show the best result.
"I do not have plans for the following season yet. For now, I am done this year and we will plan with my coach what will come next year. I do not think about the European championships yet. Zurich 2014 was a great experience but I really do not have the next events in my mind yet.
Women's Discus Throw F12 Final
Orysia Ilchyna (UKR) – Gold
"I cannot describe my feelings; there are no proper words for that. This is the most important moment in my career.
"The season was not perfect, we had to fight with an injury, had to work on the technique but everything just paid off tonight. There were still some reserves in the throws and we keep working on it."
Women's 400m T38
Kadeena Cox (GBR) - Gold
"I'm absolutely shattered. That was a very painful run but it meant a lot. This was for a lot of people.
"I may have got carried away in the first 200m. I knew the last 100 would kill me but I got through and a win is a win.
"This makes up a bit for the 200m. That was just lack of races. But when you don't do yourself justice it's disappointing. I was a little bit gutted but I worked out the next steps and it came together today.
"My hamstring has been touch and go but the British Athletics team have been very supportive.
"This is the 30th GB medal which is fantastic. I've got a thing for round numbers so I'm happy that it was me who got us there."
Torita Blake (AUS) – Bronze
"It was not the best race for me. I got a bit of a slow start but I wanted the bronze for my great grandfather who passed away a month ago. Charles Preston. He fought in World War Two and was my idol. I used to ring him up every weekend. He was the one who motivated me, so this is dedicated to him."
Men's 1500m T11
Samwel Kimani (KEN) – Gold
"I am so happy . I thank God for giving me the chance, and giving me the strength to run. This win makes me so happy because I have won two Gold medals at London 2017 World Para Athletics Championships. I am delighted."
Men's 200m T34
Walid Ktila (TUN) - Gold
"It's a great win because the conditions were difficult today. There was a strong wind. The final stage of the race was very tough. I think my speed at the end was very important. "
Mohamed Alhammad (UAE) - Silver
"I am happy to win my fourth medal and to give all of them to the children of Abdullah (Hayayei, his teammate who died in a training accident in London just before the championships started). I wish I could have won a fifth because he has five children.
"Abdullah was a very sociable person. He talked to everybody in the team and played cards and dominoes with us all. He is not just an athlete but also a friend -- of all of us. What you must also know is that, before the championships, Abdullah had renovated his house and he had had "Tokyo 2020" put on all of the windows. He wanted that to motivate him.
"Now I am going to go to Tokyo and represent Abdullah. If I win a medal, I will devote it to him."
Men's 100m T38
Evan O´Hanlon (AUS) – Gold
"The times are not amazing but with the conditions, it was a bit cold and a bit of the headwind so I am really happy to win. It means so much to me to come back after winning silver in Rio. To be back in London, where I won my three gold medals in the world record time and to beat the guy who broke my world record is amazing.
"It means so much to me to come back to London after Rio, where I had problems in the heats with my calf, had cramps - to come second in the final, it was really disappointing. So coming out of Rio, I was really disappointed with myself. Coming to these championships, I think I have been under the biggest pressure I have ever been.
"I think I did a kind of a long jump in the end but I think it was worth it. I did not think to rip the shirt off. It just came out of the feeling; I did not mean to do it. To be honest, I do not care if I get disqualified as long as I won the race.
"This is a great crowd and every athlete in the interview has said that London does it better than anybody else. This is my track, it is awesome.
Men's 100m T51
Peter Genyn (BEL) – Gold
"I knew it was going to be a very close race. Me and Toni had a really close race in Switzerland and I am just happy to come out on top.
"I think its only good because we push each other to the limit, so it's only good for the sport and us."
Toni Piispanen (FIN) - Silver
"In not 100% yet but I am really happy to be competing at this level. My dream was to get a medal here so I am very happy. I have only been training for five months so again I am really happy with the silver."
Men's 400m T36
James Turner (AUS) - Gold
"I was really knackered after the race and in a lot of pain, but I have recovered now.
"In last 50 meters I had nothing in my legs and I was stumbling towards the line but I always thought I was going to win.
"It's feels good to get another win under my belt. But its bitter sweet feeling because I am quite disappointed in the way I ran that race, I thought I was much more prepared mentally for that race but it's all a big learning curve and I shall learn from that."
"On Sunday I have a race but I'm deciding whether to pull out or not because I am quite tired and not sure I can complete an 800m. I would love to do it; it's just whether my body will allow it."
Men's 400m T13
Mohamed Amguoun (MAR) – Gold, WR
"I managed to break the world record already a couple of times so I believed I could improve it again. To be honest, I was ready to go even faster. But I felt a bit of headwind, especially in the curves so it slowed me down. I was hoping to go under 46 seconds.
"The key thing to break the world record is to have a good training. I have a dedicated coach and we prepare in Morocco. My biggest motivation is just to run fast times. Athletics is in our hearts; my older brother who brought me to athletics is also an athlete. My family supports me a lot and they are also my big motivation."
Women's Shot Put F44
Frederike Charlotte Koleiski (GER) - Gold
"It's unbelievable. It is the dream of my life to get first at a Worlds or a Paralympics. I can't believe my dream came true. It is so amazing.
"At first my throwing was horrible. I thought, 'What the hell is happening?' because in training I was so much better. My coach and team were screaming at me because they know I can do so much better.
"But then my last throw was amazing. At last I showed what I can do. It was so amazing to throw better than the two Chinese girls for the first time, and in the last round. That was perfect.
"In Germany I am a coach to young athletes and I was thinking all the time of the hard work I have done with them and that they would be watching me. I don't know what they will do for me to celebrate when I get home but it will be something."
Yao Juan (CHN) – Silver
"I wanted to break the world record and get gold in the shot put, so it is disappointing. But a few days ago I won the discus so I have to be satisfied."
Yang Yue (CHN) – Bronze
"I'm satisfied with my performance because I didn't prepare well. I did my best, but my rival form Germany is getting stronger. I am sure we will all get stronger together.
"It was a close competition. I had to adjust my throwing to perform my best. I gave it my best."
Women's discus F55
Diana Dadzite (LAT) - Gold
"It's crazy because before I attended the London 2017 World Para Athletics Championships I could not dream of getting three gold medals. I knew I was strong in the javelin because it's my favourite but my shot put and discus are not so good but I am happy.
"I can't describe how happy I am about this. It's something amazing.
"My next big goal is to do the same in Tokyo. I want to show them I at the same level or that I have improved."
Men's long jump T37
Shang Guangxu (CHN) - Gold
"When I came to London for the 2012 Paralympics, I got a silver, so I came here for revenge. I was really nervous beforehand and I was thinking 'what if I lose here?', but once I got going on the runway I felt more relaxed and it was okay.
Men's Shot Put F53
Alireza Hemami Mokhtari (IRI) – Gold
"This is an honour for me and all the Iranian people, especially for me to be on the podium with a war veteran (bronze medallist Asadollah Azimi) who is one of the oldest athletes taking part. To get two medals for Iran at these championships, we are very happy.
"I expected to win because in Tehran I threw 8.42m but since yesterday I have been so nervous I only slept about two hours. The stress of the competition was getting to me and I was anxious. Everyone expected me to win and the pressure was on. Even on social media, my friends and family were all saying they expected me to win.
"My parents recently passed away, so I dedicate this medal to them, especially my mother who was my biggest fan. She died two days after I went to Rio for the Paralympics and I could only finish fourth there because I was so upset. So this is for her."
Scot Severn (USA) – Silver
"I am pissed off. I feel slightly disappointed with myself, the equipment that was provided and several factors. I am always trying for gold, have been silver far too many times. Maybe I just need the motivation to keep me going. I just turned 49 yesterday so I am definitely not the youngest guy out there in the field anymore.
"I would really like a different colour medal. I guess I will keep going for a while longer, I just need some different training, technique or something, to try to figure out why I am not getting any further. The only peak this year was here. When you look at the medals – silver, silver, silver… I really would love to add a gold before my career is over. Maybe silver keeps me going."
Asadollah Azimi (IRI) – Bronze
"To win this for my people and my country is the most important thing. We wanted to win gold and silver but I couldn't beat my own record. I was the first thrower and that was difficult for me. Naturally, I'm a bit disappointed."
Live coverage and results from the World Para Athletics Championships London 2017 can be found each day at www.worldparaathletics.org/London2017. Around 1,150 athletes from 90 countries will compete in 202 medal events between 14-23 July.