London 2017 Head-to-Head: Daniel Wagner
Denmark's multi-discipline Paralympic medallist on T42 rivalries.
02 Jul 2017
Imagen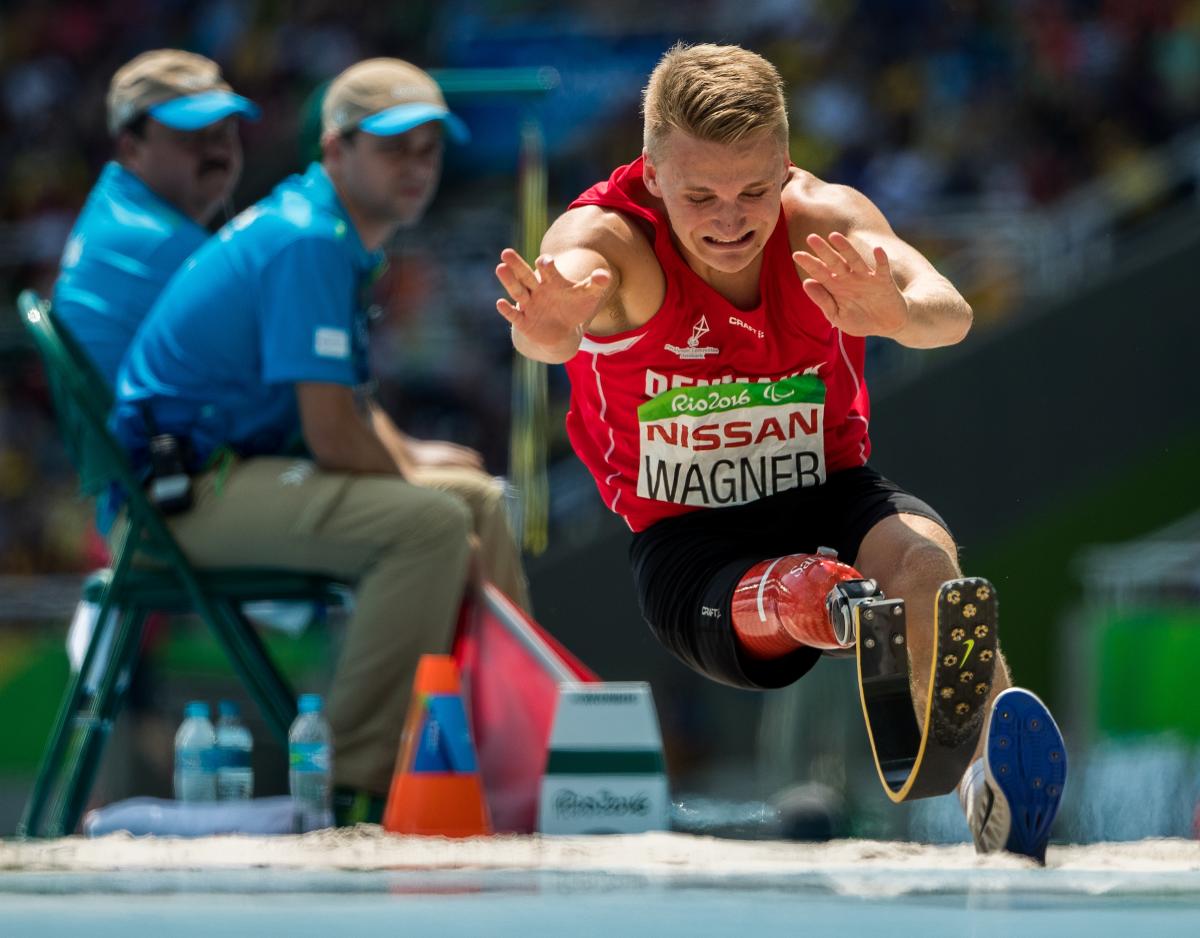 ⒸOIS/Al Tielemans
By IPC
"Sport is a part of my DNA"
2016 proved to be quite a year in the men's T42 class. First there was the long jump: Denmark's Daniel Wagner began the year as the world record holder, but by the time the season came to an end the record had fallen not once, or even twice – but a remarkable five times, changing hands on three occasions. Germany's Heinrich Popow won Paralympic gold ahead of reigning world champion Atsushi Yamamoto of Japan; Wagner clinched bronze.
As for the 100m – second and third place could not be separated at Rio 2016 as Wagner shared the silver medal position with Briton Richard Whitehead. Amazingly, it was a situation the T42 class had witnessed before – at the 2013 World Championships Popow and Australian Scott Reardon shared the top of the podium.
We spoke to Daniel Wagner, European long jump champion, to find out more about the T42 class rivalries. The 24-year-old began doing gymnastics at age two; it was during a gymnastics show as a teenager that he landed badly, dislocating his knee. Doctors had to amputate his leg.
"Sport is a part of my DNA," says Wagner. That was the biggest goal for me after my accident – getting back to sports."
Each time the record fell last year what went through your head?
I thought it was amazing because Yamamoto and Popow have been in the game for so many years. They'd always been jumping about 6.30m and now they're jumping 6.70m so that is a big improvement. I can see that they've been taking notice of me and what technique and equipment I'm using. I take that as a compliment that I am doing the right thing but I have to stay on top of my game. I tried not to let it stress me out that they' d broken the world record – I used it as motivation.
What's the camaraderie like?
It has changed a lot. When I started doing track and field Popow and all the guys were very helpful to me and taught me a lot. I remember at the 2011 World Championships in New Zealand - it was my first big competition. I was looking forward to it so much. I had my blade and it was a small, stiff foot called the 'flex sprint' and I thought: "This foot is going to be amazing, it's going to be the best foot. It's hard, it's stiff, it's small and it has 'sprint' in the name."
I met Popow and I said "I'm going to beat you guys." They just looked at the foot and laughed at me, saying I needed a soft big foot. I thought are they crazy? I need a small stiff foot for sprinting, but it was completely the opposite. They taught me a lot. I wasn't competition for them then at all – they could beat me backwards. But now I've upped my game and beaten them, it's different.
What will it take to win in London?
It's going to take everything – you have to prepare as well as you can, you have to stay fit, and stay fit in the mind as well. It's so close in the T42 class. I've been trying really hard to prepare myself – I've been on a new diet – I've never been on a diet before, it's a no sugar diet which is very hard for me as I have a sweet tooth. But it's been working out really well. I'm doing everything; I'm sacrificing my cakes.
As for the 100m, you tied for silver at Rio 2016. What was that like and can you get the better of gold medallist Scott Reardon this time?
I knew I just had to get out the blocks super-fast and try to catch Yamamoto and Scott as they have a very good start, and I just had to use my force for the last part of the run and try to hold Richard back. It was like running in a nightmare when you just see them both getting further away but it was amazing.
Scott's strengths are particularly in the start and I know he's training super hard as well. He has really done a great job but I think he is reaching his limit. He doesn't have the longest legs so he has a problem with a maximum speed. So if I can get my start right and improve on that, I think I have a great chance to beat him and improve the world record as well.
The crowd will be behind home favourite Whitehead – how do you prepare for that?
I love it. When I went to the Games in London my first competition was the long jump and at that time I was the underdog. When we got presented to the crowd I felt like a gladiator in the colosseum going in to fight for my life, but I wasn't nervous - I was excited. I will use it to my advantage that they will shout for Richard – I will take all that energy and put it in to my run.