London 2017: Marcel Hug singing in the rain
The Swiss Silver Bullet wins the 5,000m T54 in torrential rain to complete a hat-trick of world title.
23 Jul 2017
Imagen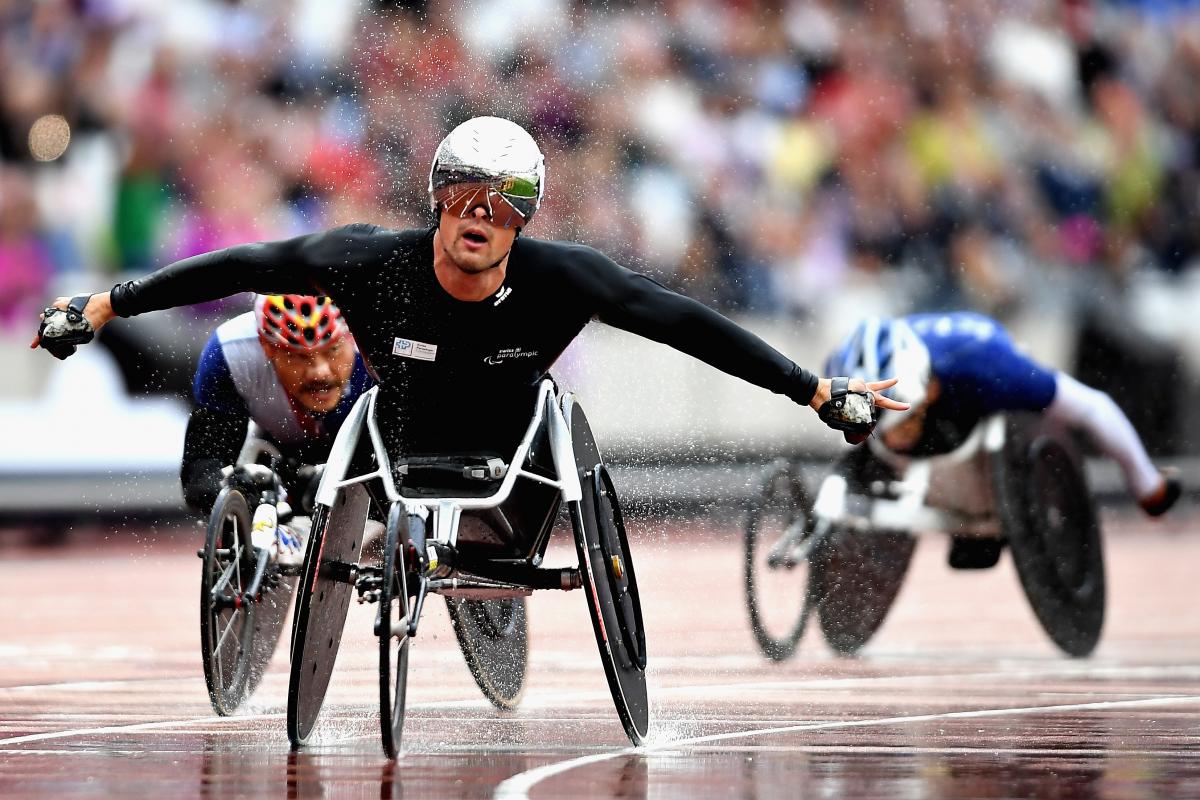 ⒸGetty Images
By By Ipc
Swiss star Marcel Hug completed a hat trick of medals on Sunday (23 July), as the World Para Athletics Championships London 2017 came to a close, following 10 days of electrifying and awe-inspiring action.
Hug, 31, has been in terrific form all championships, winning the 800m and 1,500m T54, and there was no doubt he was the man to beat in the 5,000m – although Thailand's defending champion Rawat Tana might have had other ideas.
Indeed it was Hug and Tana who led the pack through the first few laps as the heavens opened overhead and the rain poured down.
With two laps to go Japan's Masayuki Higuchi hit the front, but Hug responded quickly and tucked neatly in behind, with Tana in third.
When the bell rang to indicate the final lap, Hug moved to the outside, ready to pounce; and so he did, hitting the front with 200m to go and racing home to secure his 10th world gold from six World Championships in 11:10.72.
"To win my third gold medal is a great way to end a great week and I am proud of what I did. I was prepared for the rain and I had my rain gloves and I had a good grip. I was happy to take the lead and it was quite a tactical race. In the end it was all about being in the right position. I was in a good position for the final lap," said Hug.
"I am very happy with these championships. On the one hand, I won three gold medals and, on the other, we have raced in a great atmosphere."
Turner hat-trick
Like Hug, Australia's James Turner (2:08.78) also clinched his third gold in London, adding the 800m T36 to his 200m and 400m victories.
New Zealand's William Stedman took the lead at the gun but in-form Turner, who broke the 200m world record in his heat and again in the final, was just waiting for the right moment to fly.
With 80m to go he took off and left Stedman and fellow Kiwi Keegan Pitcher to claim silver and bronze – a podium sweep for Oceania.
"I feel amazing, I am so pumped and there is so much adrenaline running through my body right now. I wasn't sure if I could make this race but I wanted at least one last crack here. The conditions were difficult but I wore my long tights so I could keep warm and it worked in my favour," said Turner.
The Netherlands' Marlou van Rhijn (26.02) sprinted through the rain to her third consecutive 200m T44 world title, making light of the soaking conditions as she set a new championship record on the same track where she won Paralympic gold in 2012.
"It's amazing to win the 200m again and especially to do it here in this stadium where I won my first ever title. I would have liked to have won the 100m but it wasn't to be. Now I have to go away and work on running faster times," said van Rhijn, who lost out on winning a third 100m T44 title when she finished second behind Briton Sophie Kamlish earlier in the championships.
South Africa's Charl du Toit (51.00) made a name for himself when he won his first Paralympic gold at the Rio Paralympicss last year and the 24-year-old tore apart the field once again winning the men's 400m T37 with a new African record.
"I'm so surprised and really thankful. Eight years after my first season I'm here with double gold," said du Toit, who won 200m gold and 100m silver earlier in the championships.
"I had an injury at the start of the year, and if someone had said then I'd get two golds I wouldn't have believed them. I've done three events and it takes a lot of your body but in the future, who knows, I may go for the 100m too. For now, I'm a 200m and 400m runner, and this final was my favourite race of the championships."
Hongzhuan Zhou won 800m T53 gold ahead of Australia's Madison de Rozario at last year's Paralympic Games, and the Chinese wheelchair racer made sure she finished in front once again, pushing hard round the final lap as defending champion de Rozario tried her best to attack round the outside. Hongzhuan was too strong though and held on for gold in 1:54.72.
Kotaja first to the finish
Amanda Kotaja (16.62) powered home to take gold in the women's 100m T54, joining her Finnish teammate Leo-Pekka Tahti, who won the men's equivalent on the opening day of competition more than one week ago.
"That was amazing. I was just hoping to enjoy the race and maybe win a medal of some kind. But I didn't expect the gold. It will feel unbelievable to have the medal around my neck. I had no idea the others were closing on me at the end. I didn't see anything except the track, but I knew I had won when I crossed the line," said Kotaja.
"It was my aim to emulate Leo Pekka Tahti. He is a hero and an idol. I'm so proud to have won the same event."
Hungary's Bernadett Biacsi (2:20.51) clinched her first ever world title at her third championships – and her country's first gold at London 2017 - with an impressive win in the women's 800m T20, catching up with Japan's early leader Anju Furuya round the bend and tearing home to clock a new championship record.
Algeria's Lahouari Bahlaz came in to the World Championships ranked number one in the world in the men's shot put F32, and he showed just why, adding 69cm on to the world record set by Greek Athanasios Konstantinidis at Rio 2016.
"I'm very happy to win. I didn't expect to break the world record, not at all. But I was confident in myself all the time, I knew I could do it. The medal is for Algeria, not for me. It is for all Algeria's people," said Bahlaz, who threw 11.08m in the fifth round to secure the gold medal – his second of London 2017 having won the club throw F32 three days earlier.
"I hope I can throw further in the future. I have a distance in mind but I'm not going to share it. It's a secret."
Italy clinched two gold medals out in the field thanks to Martina Caironi and Assunta Legnante.
Caironi added the long jump T42 to her 100m gold with a personal best of 4.72m – a feat all the more remarkable given the driving rain that soaked the track and the athletes during the first few rounds of the competition.
World and Paralympic champion Legnante finished more than one metre clear of her rivals in the women's shot put F12, sealing gold with a best of 15.82m in the second round.
China's Paralympic champion Lijuan Zou safely retained her javelin F34 world title with a season's best of 20.67m.
"I have performed so much better than I expected and I'm very happy," said Zou. "I love London, especially the weather as it is really hot in China at the moment. The people here have been very friendly and I hope that I will come back here very soon."
The day's relay races brought inevitable drama and multiple disqualifications – Germany's 4x100m T42-47 quartet of Johannes Floors, Tom Malutedi, Markus Rehm and Leon Schaefer were awarded gold after the US were disqualified for a lane infringement. Floors, running the final leg, stopped the clock at 42.81.
The USA had no luck either in the 4x100m T11-13, failing to get the baton round - although they weren't the only ones. Brazil dropped the baton at the last exchange and Spain, who crossed the line first, were later disqualified. China had dropped the baton at the final handover but picked it up and finished the race - they proved to be the eventual winners with a time of 48.56.
After 202 medal events and 32 world records the World Para Athletics Championships came to an end. China finished top of the medals table with 30 gold, 17 silver and 18 bronze; the USA were second with 20 gold, 19 silver and 20 bronze and hosts Great Britain finished in third place with 18 gold, eight silver and 13 bronze.
The World Para Athletics Championships closes on Sunday (23 July). More than 1,150 athletes from 90 countries are competing in 202 medal events.
For footage requests from London 2017, please e-mail alexis.vapaille@paralympic.org