London Calling – the USA's David Brown
The 100m T11 world and Paralympic champion talks about how London 2012 acted as motivation for him to become a better athlete.
24 Apr 2017
Imagen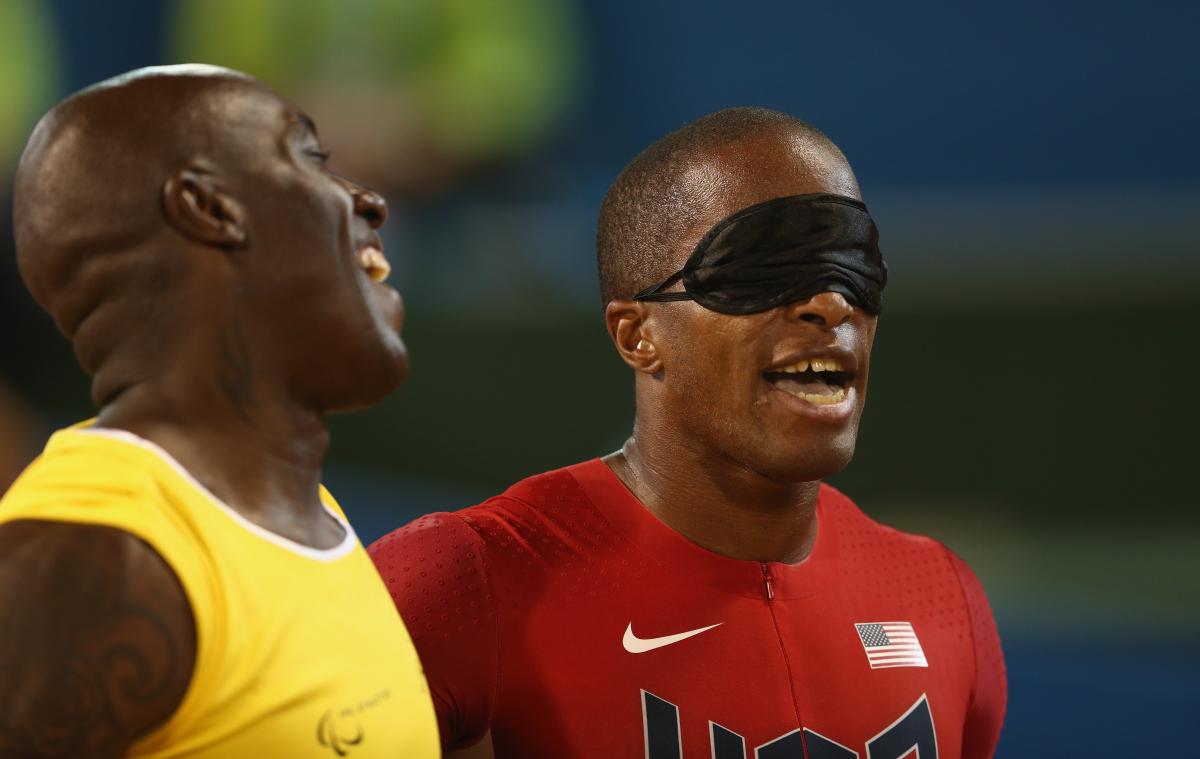 ⒸGetty Images
Visually impaired sprinter David Brown first pulled on the US vest in late 2011, when he represented his country at the Parapan Am Games in Guadalajara, Mexico.
Less than a year later, he was on the start line of the 100m T11 semi-final at the London 2012 Paralympic Games, up against the likes of Brazilian Lucas Prado and China's Lei Xue.
Xue went on to win the Paralympic title, Prado took silver. Brown meanwhile failed to reach the final in either the 100m or 200m T11.
But that was only the beginning. The memories from that time in the British capital still drive him forward five years on.
"It was a shocker for me, I was like 'Oh man, this is awesome,' but it also made me even more hungry to be like 'Okay, you guys better look at my tail – I can do it too,' said Brown.
"It was a dream come true. I always wanted to be a 2012 Paralympian. Being on that line it was a little nerve wrecking - I remember looking to my right and having Lucas Prado right there – at the time he was the world record holder.
"I'm like 'Oh man, I'm going to race with him?' But at the same time I'm thinking to myself, 'You know what, I'm going to beat you and give you the race of your life.'"
Going back to London for this summer's World Para Athletics Championships, which take place 14-23 July, will be an altogether different experience for the American.
The 24-year-old is now the reigning world and Paralympic champion and world record holder; he is the man everyone wants to beat.
"To step on the line and have everyone know who I am is pretty cool," added Brown, who also holds the world record in the 200m T11.
"Of course that puts a target on my back, and everyone is shooting towards that target. But you know, I want people to shoot towards that target because that means that they're behind me - just watching the target move further and further away."
Brown, who competes with a blindfold and runs with his guide Jerome Avery, became the first Para athlete in his class to dip below the 11 second mark when he clocked 10.92 in 2014.
The track star credits that time in London as key to his progression.
"It opened my eyes to realise these guys are here to compete, and they are fast but then at the same time it opened my eyes to realise okay, there's something that needs to be done with this.
"I was looking over the progression of the four years prior to that and I'm like 'These guys are running the same times that they did in Beijing (2008), and then the next year and the following year after that the same thing.
"There needed to be a game changer, and I was that factor to come in and run below 11 seconds and break the world record and of course continue to get faster."
There is no doubt Brown's rivals are hot on his heels – both Brazil's Felipe Gomes and Namibia's Ananias Shikongo set new personal bests when they finished second and third respectively at Rio 2016.
But Brown is ready, fired up by the very prospect of yet another unforgettable competition this summer.
"Now we have people looking at the visually impaired class as a competitive force and this is what needs to be done.
"It's no time to sit around – I've got to get up, because these guys are shooting towards me."
To buy tickets for London 2017, please click here.