Low smashes world record twice on her way to world title
The German T42 long jumper set one of six world records on the first day of the 2015 IPC Athletics World Championships.
23 Oct 2015
Imagen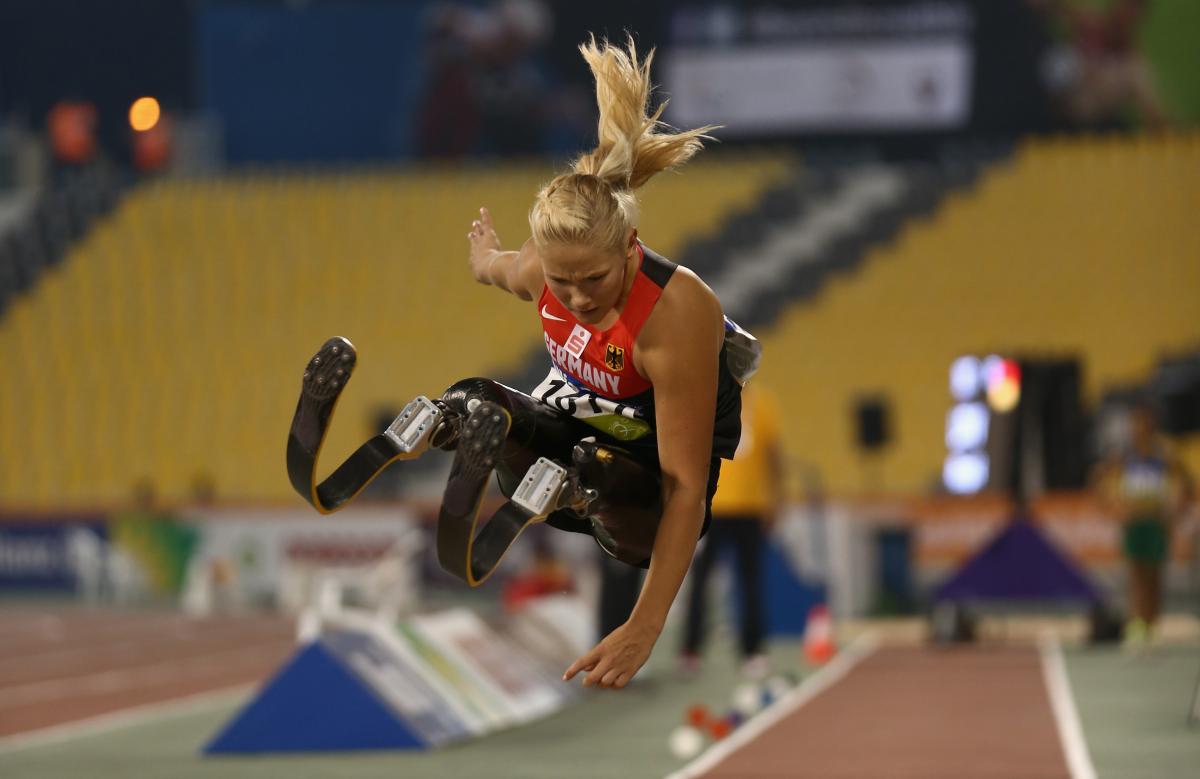 ⒸLOC Doha 2015 | Getty Images
"When I came out I did some test jumping and did not hit the board once. Then from the second round of the competition everything went well and I think I showed what I train for. I knew I could jump far but for me it was all about consistency."
Germany's Vanessa Low was in scintillating form as she got the better of her great rival Martina Caironi to take gold in the women's long jump T42 on Thursday (22 October), the first day of competition at the 2015 IPC Athletics World Championships in Doha, Qatar.
Low, who beat the Italian to the European title last year, bettered the world record two times on her way to gold in the city's Suhaim Bin Hamam stadium – a record that she had previously shared with the 2013 world champion Caironi.
Low's phenomenal third round leap of 4.79m added 19 centimetres on to her previous best and the 25-year-old was suitably delighted with her performance, which included three jumps over the 4.70m mark.
"I'm over the moon. It was a great competition for me, I was so nervous," said Low, who won bronze at Lyon 2013.
"When I came out I did some test jumping and did not hit the board once. Then from the second round of the competition everything went well and I think I showed what I train for. I knew I could jump far but for me it was all about consistency."
Silver went to Caironi with a best of 4.59m while Germany's Jana Schmidt had to settle for bronze (3.73m).
Not to be outdone, Frenchwoman Marie-Amelie Le Fur extended her world record in the women's long jump T44, leaping a stunning 5.84m to seal gold in her final attempt.
World silver medallist two years ago, Le Fur made her intentions clear from the start as she consistently bettered her previous world record mark of 5.48m set in June.
"I knew I could jump very far because I did it in the past. But to do it in a World Championships is very good. Today we had all the girls who wanted to win and break the world record," said Le Fur, who regards this victory as her greatest ever win.
"I think it was the very best performance by all the girls and we hope to go beyond six metres next year."
The Netherlands' Marlene van Gansewinkel took silver (5.27m) and Japan's Saki Takakuwa won bronze (5.09m).
There was a new world record too for Ukraine's Roman Danyliuk in the men's shot put F12. The 22-year-old showed just why he tops the rankings this year with a winning throw of 16.64m in his final attempt – adding two centimetres on to the previous record that had stood since 2004.
Silver went to Iran's Saman Pakbaz (15.19m) and bronze to Spain's Kim Lopez Gonzalez (15.03m).
World records fell on the track too as Great Britain's Sophie Hahn stormed home to win the women's 100m T38.
The defending champion got the better of Russia's Paralympic champion Margarita Goncharova, holding her form well to cross the line in 12.60 to take a remarkable 0.4 seconds off the world record she set just three months ago at the IPC Athletics Grand Prix Final.
China's Junfei Chen took silver with a new Asian record (12.97) while Goncharova had to settle for bronze and a new personal best (13.01).
Russia's Andrey Vdovin made winning look easy as he broke his own world record on his way to victory in the men's 200m T37.
A triple gold medallist in Lyon two years ago, Vdovin looked in fine form yet again as he crossed the line in 22.59. China's Guangxu Shang took silver (22.70) and Fanie van der Merwe secured bronze for South Africa (22.99).
Great Britain's Kadeena Cox broke the 100m T37 world record in the heats earlier on Thursday and she continued to shine in the afternoon, storming home to victory in the final.
The 24-year-old pulled clear of the field as defending champion Mandy Francois-Elie stumbled and fell out of the blocks. Cox crossed the line in 13.60 as her teammate Georgina Hermitage took silver (13.87) with Russia's Anna Sapozhnikova claiming bronze (14.30).
"I knew I was in good shape - I ran the world lead just before I came out here and I was pretty ill that day," said Cox.
"I knew I had something left in there but I didn't know it was going to be this great. I told my teammates that I didn't want to be on the podium by myself, so I am so glad Georgina came second."
There was further joy for the British team as Hannah Cockroft followed up with a win in the women's 100m T34. The world, Paralympic and European champion never looked in doubt as she powered home ahead of the USA's young star Alexa Halko (18.55) with a new championship record (17.73). The Netherlands' Amy Siemons took bronze (18.99).
There was a championship record too for Canada's Brent Lakatos who continued his domination of the 100m T53 sprint, taking the tape in 14.38 to add to his Parapan Am gold two months ago. China's Huzhao Li took silver (14.84) and Frenchman Pierre Fairbank won bronze (15.21).
"I am so happy with my performance. I didn't come here expecting to get a fast time like that. The conditions are perfect; it was just great to be out there," said Lakatos, who will also compete in the 200m, 400m, 800m and 4x400m relay over the next ten days.
Australian Angela Ballard enjoyed a convincing win in the women's 200m T53, powering home as she also set a new championship record (29.33) with Switzerland's Catherine Debrunner second (30.64) and Great Britain's Sammi Kinghorn third (30.72).
Victory in the women's 200m T54 went to Finland's Amanda Kotaja, who sped off at the gun and held on for the win in 29.82 ahead of the USA's Cheri Madsen (29.96) and Hannah McFadden (29.96).
Dutchman Kenny van Weeghel retained the title he won two years ago in the men's 200m T54, pushing hard down the home straight to seal the win in 25.14. Thailand's Saichon Konjen finished second (25.42) with Russia's Alexey Bychenok third (25.64).
A terrific bend by China's Jianwen Hu in the men's 200m T38 gave him an unassailable lead as he sprinted home to gold in 22.22. South Africa's Dyan Buis took silver (22.75) and Hu's countryman Wenjun Zhou clinched third place (22.94).
Algeria's Samir Nouioua took gold in the opening event of the afternoon, the men's 1,500m T46. The defending champion clocked a new championship record 3:53.36 to take gold ahead of Alex Pires da Silva (3:54.43) with Australia's Michael Roeger winning bronze (3:57.91).
Out in the field there was an American one-two in the men's discus F44 as the experienced Jeremy Campbell held off his compatriot David Blair to retain his world crown.
Campbell's first throw of 61.21m – a new championship record – was enough for gold as Blair managed a new personal best of 60.46m. Trinidad and Tobago's F43 thrower Akeem Stewart took bronze (59.13m).
China's Yanzhang Wang added to his silver medal from two years ago with gold this time around, throwing 38.05m in the second round of the men's javelin F34 to take the title ahead of Colombia's Mauricio Valencia (34.38m) and 2013 champion Mohsen Kaedi of Iran, who had to make do with bronze (32.26m).
This is such an excellent competition, the stadium is unbelievable and it is so great to be here in Doha," said Wang.
"I am now the world champion and hopefully that will help my mum and girlfriend back home watching in China get some sleep tonight, they have been so nervous for me!"
There was another gold for China as Huimin Zhong clinched the women's javelin F11 title with a throw of 25.31m. Canada's Ness Murby (22.74m) and China's Liangmin Zhang (20.86m) won silver and bronze.
Tunisia secured their first gold of the championships courtesy of Maroua Ibrahmi who won the women's club throw F32 with a best of 22.58m. Algeria's Mounia Gasmi took silver (22.54m) and Great Britain's Abbie Hunnisett won bronze (21.09m).
Australia's Todd Hodgett's improved on his 2013 bronze to take gold with a new championship record throw of 15.83m in the men's shot put F20. Greece's Dimitrios Senikidis and Malaysia's Muhammad Zolkefli took silver and bronze respectively.
The men's high jump T42 rounded off a spectacular day of action as the USA's Sam Grewe cleared 1.81m to take gold ahead of Egypt's Hamada Hassan (1.78m) and Poland's Lukask Mamczarz (1.78m).
The IPC Athletics World Championships has attracted around 1,300 athletes from nearly 100 countries and will continue until 31 October.
For broadcast footage from Doha 2015, please email IPC broadcast manager jose.dominguez@paralympic.org