Lyon 2013 - day six athlete quotes
Read what the athletes had to say after they came off the track and field
25 Jul 2013
Imagen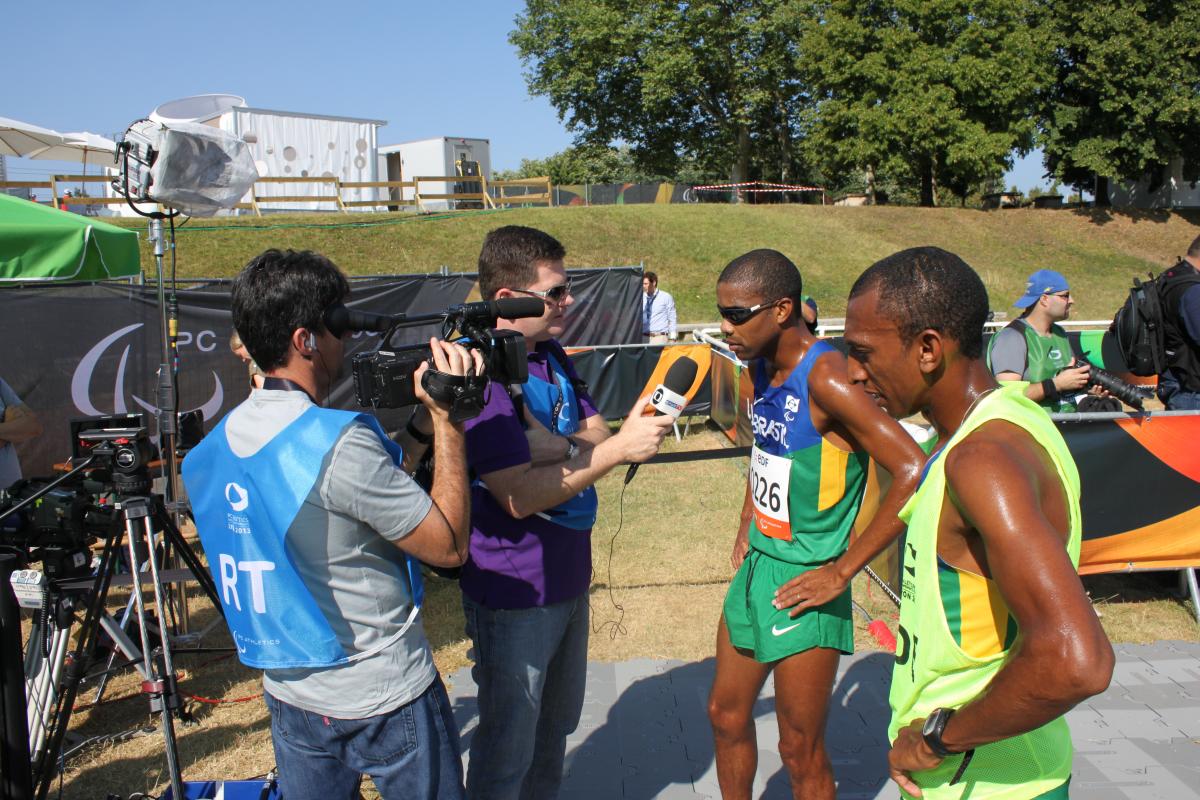 IPC
Women's 100m and 1,500m T54
Gold medallist - Tatyana McFadden (USA)
"It is unbelievable! Today was my toughest day with the 100m and the 1,500m which are two very different races requiring different focuses. I knew the 1,500m would be hard and exhausting. I was feeling really tired today, it is really tough. The 100m is the hardest race for me. My start was just ok and I still need to work on it. I give credit to my coach, teammates, family and friends for sticking in there with me through all the training I have to face. All this support from the media and the fans is amazing."
Women's 100m T43/44
Gold medallist - Marlou van Rhijn (NED)
"I am blessed. I felt very nervous before the start because I really wanted this gold medal. It is such a good feeling right now. The 200m is my favourite event so hopefully I will be fast."
Men's 100m T13
Gold medallist - Jason Smyth
"It is another gold so I am satisfied. My aim is to reach my potential, an athlete always want to do better and I want to run faster. The 100m is my favourite race, it is explosive, intense and there is no room for mistake."
Men' 800m - T34
Gold medallist - Walid KTILA (TUN)
"I am quite happy! I was training so hard to win the 800m and it paid off! I won 3 gold medals since the competition started and I hope to break world records again!"
Women's 400m - T11
Gold medallist - Terezinha GUILHERMINA (BRA)
"I am very happy and extremely proud of what we did. Another Gold Medal is wonderful today because it was a very special day for Brazil. I love France!"
Men's 1,500m - T11
Gold medallist - Odair Santos (BRA)
"As we couldn't rest correctly because of the heat, we had some difficulties to manage the race. It was quite slow, the japanese attacked me but I've been stronger in the finish"
Men's shot put - F11
Gold medallist - David Casinos Sierra (ESP)
"I'm really moved to earn my second medal within two shots. It has been more painful this time, but it also tastes better. Looking forward for the European championships."
Men's 200m T51
Gold medallist - Toni PIISPANEN (FIN)
"I felt bad in the call room before starting the race because of the heat and missed a little bit my start because of that. Hopefully I manage and I finally won. I am quite happy to gather 2 gold medals".
Men's 200m T52
Gold medallist - Raymond MARTIN (USA)
"This race went really well, this event is my favourite. I perfectly get off the blocks and after 90m I knew I would win. I was feeling confident before the race now it is one more to go so I have to refocus and I am looking forward for tomorrow. I wish I could go for the marathon and hopefully the IPC will bring it back but for now I will do anything they offer me."
Men's 1,500m T13
Gold medallist - Abdellatif BAKA (ALG)
"I am really moved, two gold out of two races I went for! I was at 100%. I did not come here to break the world record, the aim is already reached."
Men's 1,500m T12
Gold medallist - Abderrahim ZHIOU (TUN)
"It was not such a hard race. Tactically talking I knew exactly how to run because I am used to compete against my Brazilian rival. Everything went as planned, I knew I would beat him in the last 300m."
Men's 1,500m T46
Gold medallist - Samir NOUIOUA (ALG)
"It's been a very tactical race, the other athletes are really fast. I stayed on the back at accelerated at the right time with a very fast sprint to cross the line first. Winning this gold medal is a considerable exploit. Now I am going to keep on training in order to break world records."
Women's 800m T52
Gold medallist - Michelle Stilwell (CAN)
"Fantastic! I had so much pleasure while racing. I couldn't have dreamt better, world record and gold medal, This is a very good start to the day for Canada!"