Madeira 2022: Award winner Yip Pin Xiu defends her world title on day three
Spain's Marta Fernandez takes two golds in less than one hour and former refugee athlete Abbas Karimi helps Team USA to break relay world record
14 Jun 2022
Imagen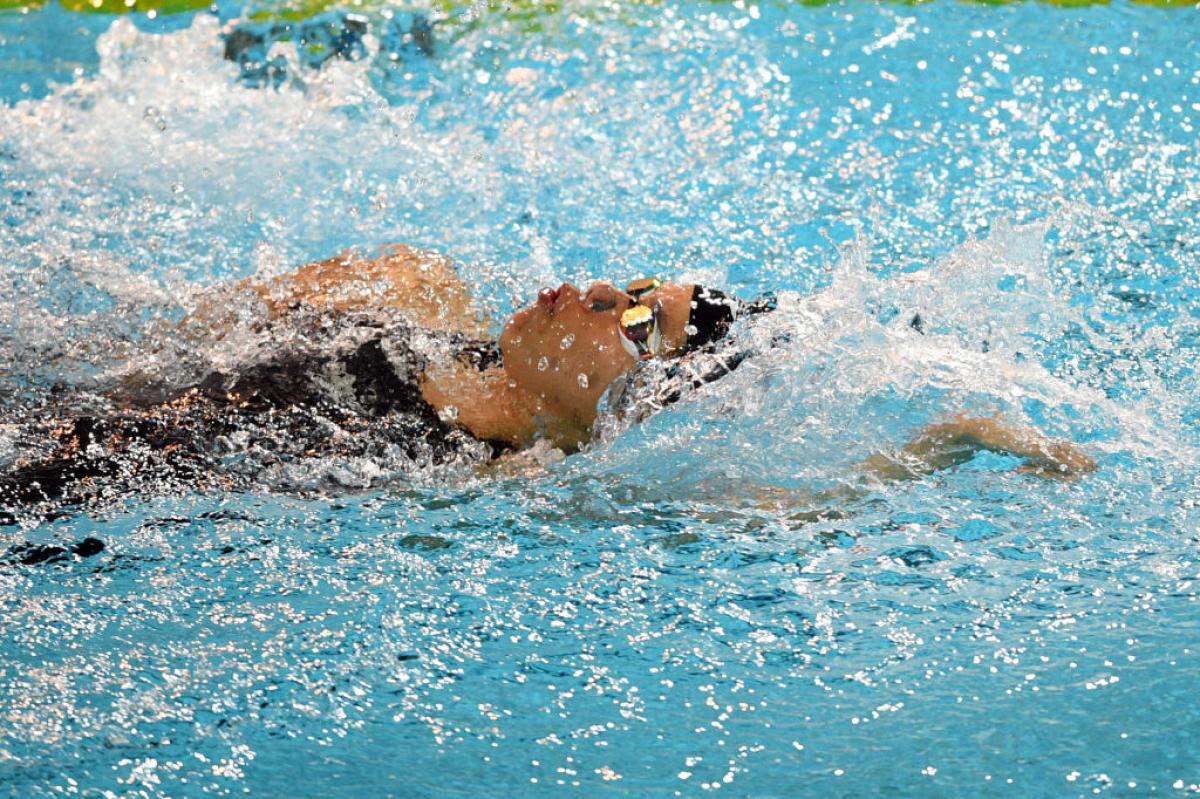 ⒸOctavio Passos/Getty Images
By World Para Swimming
Five-time Paralympic champion and activist Yip Pin Xiu picked her second award in three days when she defended her world title in the women's 100m backstroke S2 on Tuesday (14 June) at the Madeira 2022 World Para Swimming Championships.
It was Singapore's first medal in the competition in a day Brazil, Colombia and Spain visited the podium three times and USA broke a world record.
    
Pin Xiu had already been to the podium on day one (Sunday, 12) to receive the 2022 International Women's Day Recognition Awards in the Emerging Leader category from IPC President Andrew Parson.
"I am very honoured to be recognised as an emerging leader. I think it's really encouraging and it motivates me to continue raising awareness for Para sports and Para swimming," Pin Xiu said.
On day three, she dominated the race from the start and set a new championships record clocking 2:15.16.
"It is a really nice feeling to win my first competition after Tokyo," Pin Xiu said explaining how she keeps herself motivated after more than a decade in the pools. "I want to be the best version of myself. I wanted to be faster than I was last year, I wanted to be faster than two years ago. That is how I keep myself motivated."
Spain's Marta Infante Fernandez picked two gold medals in a space of 40 minutes on Tuesday. First in the women's 150m individual medley SM4 and later in the women's 50m butterfly S5 (41.91, new championships record).
Relay world record
One world record fell in the last event of the day with Team USA winning the mixed 4x50m medley relay 20pts in 2:32.49. 
It was the first world title for Abbas Karimi, who made his debut for USA after competing in the Refugee Paralympic Team at Tokyo 2020. Ellie Marks, Rudy Garcia-Tolson and Leanne Smith joined Abbas in the relay.
Gia Pergolini was the other USA winner of the evening session in the women's 100m freestyle S13 (1:00.10).
Colombia had its best day in Madeira so far with three victories. Carlos Serrano won the men's 100m breaststroke SB7, Nelson Crispin set a championships record in the men's 200m medley SM6 (2:41.16) and Laura Gonzalez Rodriguez bagged a gold in the women's 100m butterfly S8.
"It is a very demanding event and I gave it all. I am very happy for this result. Behind this there is a lot of sacrifice, a lot of strength and a lot of desire to win," Crispin said.
Brazil on fire again
Brazil's new generation pulled great performances once again winning the men's 100m backstroke S2 with Gabriel Araujo (1:57.69, new championships record) and Samuel Oliveira getting his third win at Madeira 2022 in the men's 50m butterfly S5 (33.23).
Maria Carolina Santiago was responsible for the other Brazilian gold on Tuesday also breaking the championships record in the women's 50m freestyle S12 (26.86).
Simone Barlaam started his World Championships campaign with a gold and a championships record in the men's 100m butterfly S9 (58.29). Stefano Raimondi won the men's 400m freestyle S10 with the two triumphs keeping Italy on top of the medals table (11 golds against nine of USA). 
Hungary and Ukraine also took two gold medals each with Azerbaijan, Canada, Cyprus, Great Britain, Israel, Japan and the Netherlands celebrating victories at the Funchal Swimming Pools Complex too.
Complete results, records and medallists are available here.
Madeira 2022 continues on Wednesday (15 June) and is being streamed live on World Para Swimming website and Facebook page.