Madrid 2018: Spain still in fight for fifth
Hosts beat England on penalties and will face Morocco or Colombia
15 Jun 2018
Imagen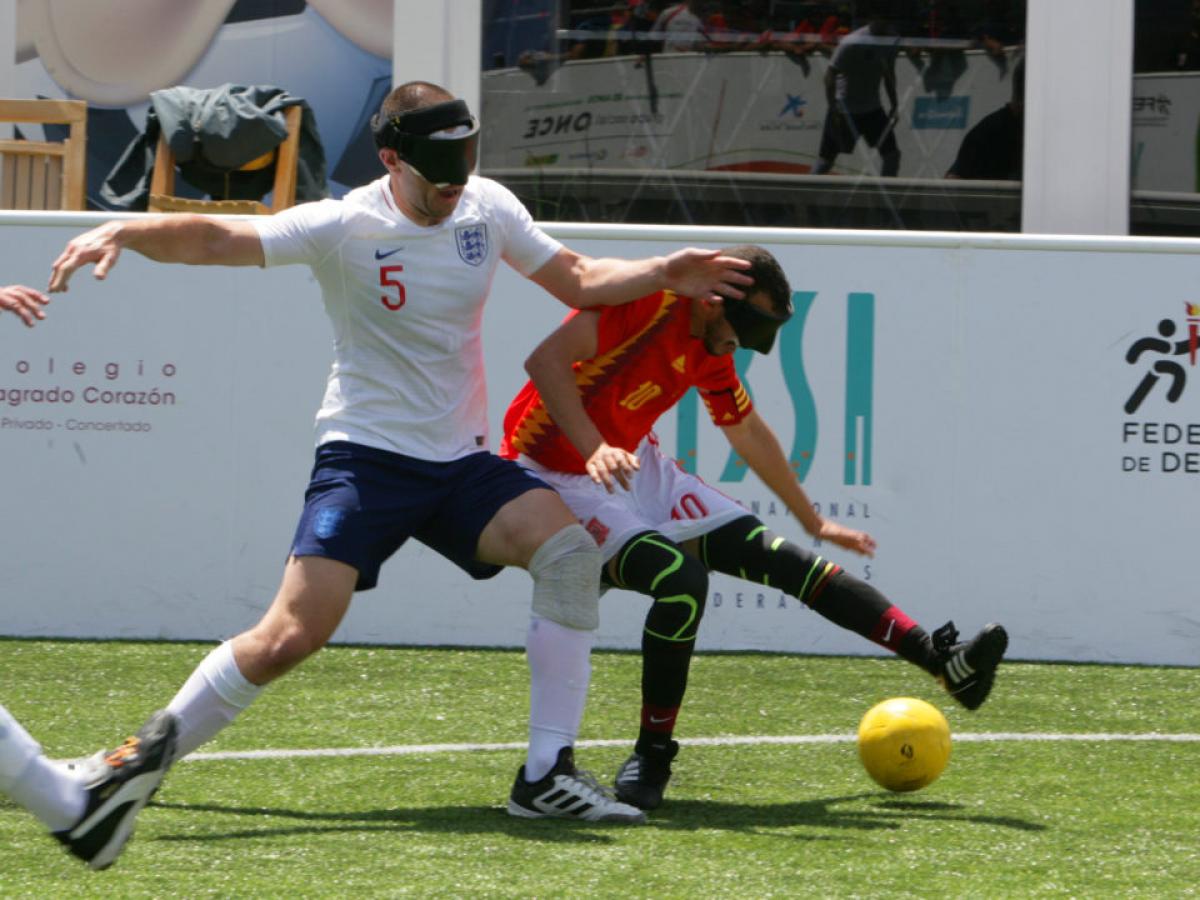 ⒸMadrid 2018
By IBSA
Best finishes were the target of teams playing at the 2018 International Blind Sports Federation (IBSA) Blind Football World Championships in Madrid, Spain, on Thursday (14 June), as a further five games took place to decide the ties for 5-16th place.
In the hunt for a top five finish, England had to endure their second penalty shoot-out in 24 hours after their match against Spain ended goalless at full-time.
When it came to penalties, Spain chose to shoot first. Antonio Gaitan, his country's longest serving player, was the first to slot the ball past Daniel James.
England followed with a successful shot of their own from Daniel English down the centre.
Youssef El Hadaoui Rabi was next for Spain, safely finding the back of the net.
But the curse of the England penalty shoot-out struck again as Brandon Coleman hit the post and the ball went skywards.
Hope was renewed for the English seconds later when Adolfo Acosta missed for Spain, leaving Keryn Seal with a crucial penalty.
As Seal lined-up his shot everyone in the packed stadium held their breath. The No.4 then struck the ball as hard as he could but Spain's goalkeeper Pedro Gutierrez Leon went the right way to seal the win at 2-1.
Gutierrez Leon said: "I would like to congratulate England, they were a very tough rival. After Russia* [the quarter final match which they lost 1-0] we were very sad and lost hope but we were very motivated to win today against England.
"When I knew we had penalties I knew I had to save at least one of the shots. It was a very tough match because we felt pressured by England; we have played them before so we know each other."
Spain will play for 5th place on Saturday (16 June). Their opponents will be decided on Friday (15 June) when Morocco play Colombia.
Iran hammer Thailand
Paralympic silver medallists Iran put in an excellent performance to dispatch their Asian rivals Thailand 4-0 with two goals each for Ahmadreza Shahhosseini and Sadegh Rahimighasr.
Iran's 4-0 win means they will face Mali on Saturday for 9th place.
Mali win battle with Mexico
Mexico struck first as Jorge Lanzargota completed on a magnificent run down the left-hand side to take the score 1-0 at the first whistle.
Mali came out fighting in the second half. Fresh life was injected into their attack when Mamadou Thiam nut-megged Mexican goalkeeper Javier Amozorrutia to draw level.
Moments later Thiam received a great pass from his captain Bandiougou Traore in the box. A clinical finish brought the score to 2-1.
Mexico tried to come back, including a shot on goal from Lazargorta, but they could not capitalise.
Traore said: "In the first half we were not really into our game but in the second half, after the talk of our coach, we could get into our game and here we are with our second victory. This World Cup has been a great experience. We are really appreciating it and we will make our best."
Lucky 13th for Turkey
Hasan Satay found the bottom corner of the net first for Turkey in the match against France, but just a few minutes later his team scored an own goal.
Satay, determined to come back from the set-back, added two more goals before the end of the match to see his team take a 3-1 victory.
Turkey will play against Costa Rica on 15 June for 13th place.
Costa Rica achieve first win
Central American champions and debutants Costa Rica came back against South Korea to register their first win of the tournament.
Yuncheol Sin gave South Korea the lead in the first half. Goalkeeper Junmin Ji threw Sin the ball and within one turn it was in the back of the net.
The break seemed to do Costa Rica some good and they soon pulled level. Daniel Contreras Verela finished an impressive solo run from within his own half to even the score.
Angel Flores Guardado then dribbled the ball round two South Korean defenders to take the lead and conclude the scoring.
After the match, No.6 Michael Mora Solis was delighted with Costa Rica's performance: "We would have liked to have progressed beyond the group stage but it is already a victory for us to represent our country. We are grateful to our fans and people in Costa Rica.
"For us this is a very big win – it's like a trophy for us. I hope to be back in four years."
The 2018 IBSA Blind Football World Championships, featuring 16 teams, are the biggest in history. The competition has seen debuts for Mexico, Central American champions Costa Rica, Mali, European champions Russia, Thailand and Iran.
The semi-finals between Brazil vs. China and Argentina vs. Russia will take place on Friday.
As well as the title, the winners of the sixteen-team tournament will qualify for the Tokyo 2020 Paralympics.
A full schedule is available on Madrid 2018's website.
*Editor's note: The International Paralympic Committee suspended the Russian Paralympic Committee on 7 August 2016 for its inability to fulfil its IPC membership responsibilities and obligations, in particular its obligation to comply with the IPC Anti-Doping Code and the World Anti-Doping Code (to which it is also a signatory). As a result of the suspension, Russian athletes cannot enter IPC sanctioned events or competitions, including the Paralympic Games.
For further information please click here.