Maniago 2018: Andrea Eskau takes Germany´s second gold
Paralympic champion secures win on the road months after shining on the snow
05 Aug 2018
Imagen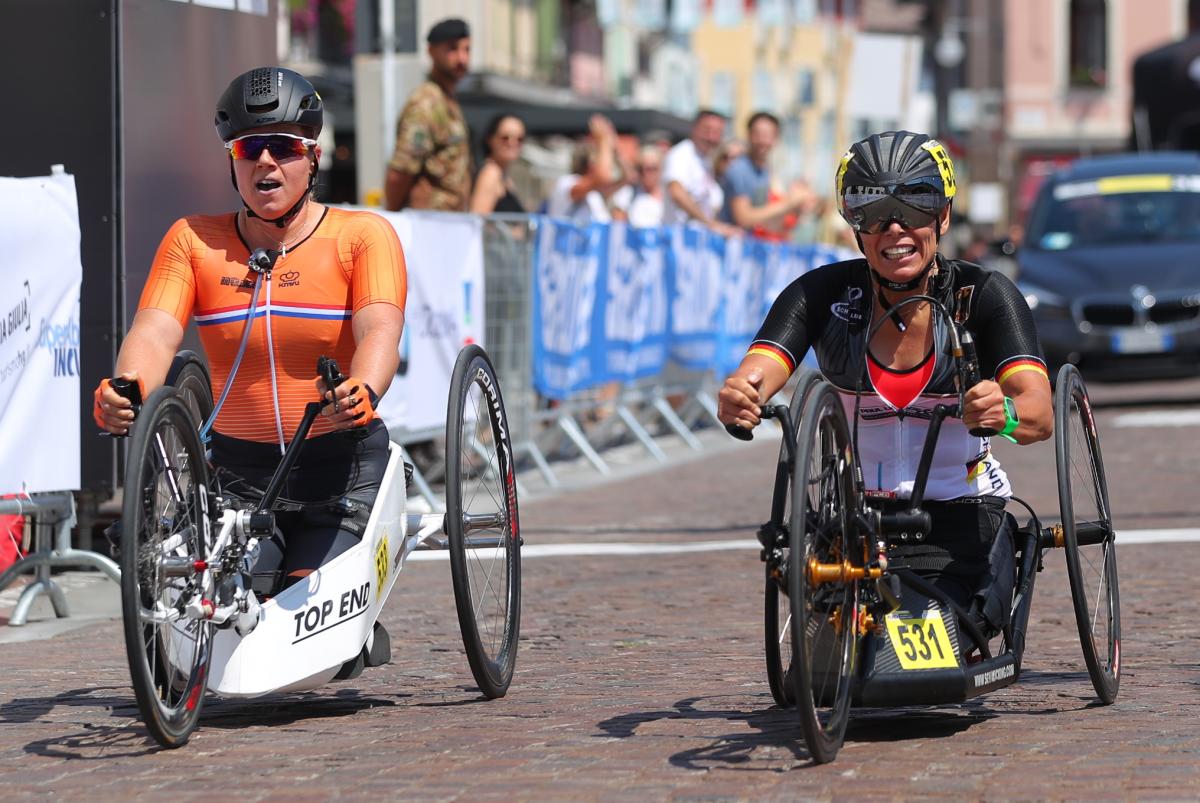 ⒸSWPix
By IPC
Andrea Eskau took Germany´s second cycling gold at the Road World Championships only five months after winning three biathlon Paralympic golds at PyeongChang 2018.
The 47-year-old won the women´s road race H5 with a time of 1:43:44 on the third day of competition (4 August) in Maniago, Italy. She finished slightly ahead of Netherlands´ Laura De Vaan, who clocked the same time. Italy´s Ana Maria Vitelaru (2:03:05) collected bronze.
Netherlands continue leading the standings
Dutch cyclists claimed four golds in the first day of road race events.
Carmen Koedood (1:20:47) sealed a second title on Italian soil in the women´s H2, ahead of South Korea´s Mikyoung Jeon (1:29:51).
Jennette Jansen (1:40:48) also added a second gold to her individual tally as she won the women´s H4. Russia´s* Svetlana Moshkovich (1:41:22) and Germany´s Sandra Graf (1:43:55) followed her into the podium.
Two days after winning in the time trial, Rio 2016 triathlon champion Jetze Plat (1:40:35) finished first in the men´s road race H4. Poland´s Rafal Wilk (1:40:40) and Germany´s Vico Merklein (1:45:15) completed the top three.
Tim de Vries (1:46:17) won Netherlands´ fourth gold in the men´s H5. USA´s Oscar Sanchez (1:47:43) claimed silver and de Vries´ compatriot Mitch Valize (1:48:01) bronze.
Hosts Italy and USA seal three golds each
Fabrizio Cornegliani (1:41:10) won his second gold in the men´s H1 ahead of South Africa's Nicolas Du Preez (1:42:59) and Finland´s Harri Sopanen (1:46:22).
The hosts also landed gold through Francesca Porcellato (1:40:45) in the women´s H3. She was followed by USA´s Alicia Dana (1:40:45) and Brazil´s Jady Malavazzi (1:41:22).
The third title was claimed by Giorgio Farroni (57.04) in the men´s T1, with China´s Jianxin Chen (57.04) and Spain´s Gonzalo Garcia Abella (57.09) coming in second and third respectively.
USA celebrated thanks to Rio 2016 gold medallist William Groulx (1:40:43) in the men´s H2. Italy´s two-time Paralympic champion Luca Mazzone (1:40:43) and Spain´s Sergio Garrote Munoz (1:41:37) completed the podium.
The second gold for the USA came courtesy of Jill Walsh (56:10) in the women´s T2, ahead of Australian Carol Cooke (56:12) and Germany´s Jana Majunke (57:07).
Ryan Boyle (1:13:35) won the third in the men´s T2. He was followed by Spain´s Joan Reinoso Figuerola (1:14:24) and Colombia´s Nestor Ayala Ayala (1:14:41).
Netherlands now lead the standings with nine golds, three silvers and bronze. Italy (8-2-3) are second and USA (7-4-1) third.
Full results are available on UCI's website.
*Editor's note: The International Paralympic Committee suspended the Russian Paralympic Committee on 7 August 2016 for its inability to fulfil its IPC membership responsibilities and obligations, in particular its obligation to comply with the IPC Anti-Doping Code and the World Anti-Doping Code (to which it is also a signatory). As a result of the suspension, Russian athletes cannot enter IPC sanctioned events or competitions, including the Paralympic Games.