Marcel Hug inspires youth world champion
Miguel Jimenez-Vergara out for title defence at Youth World Games
29 Jun 2018
Imagen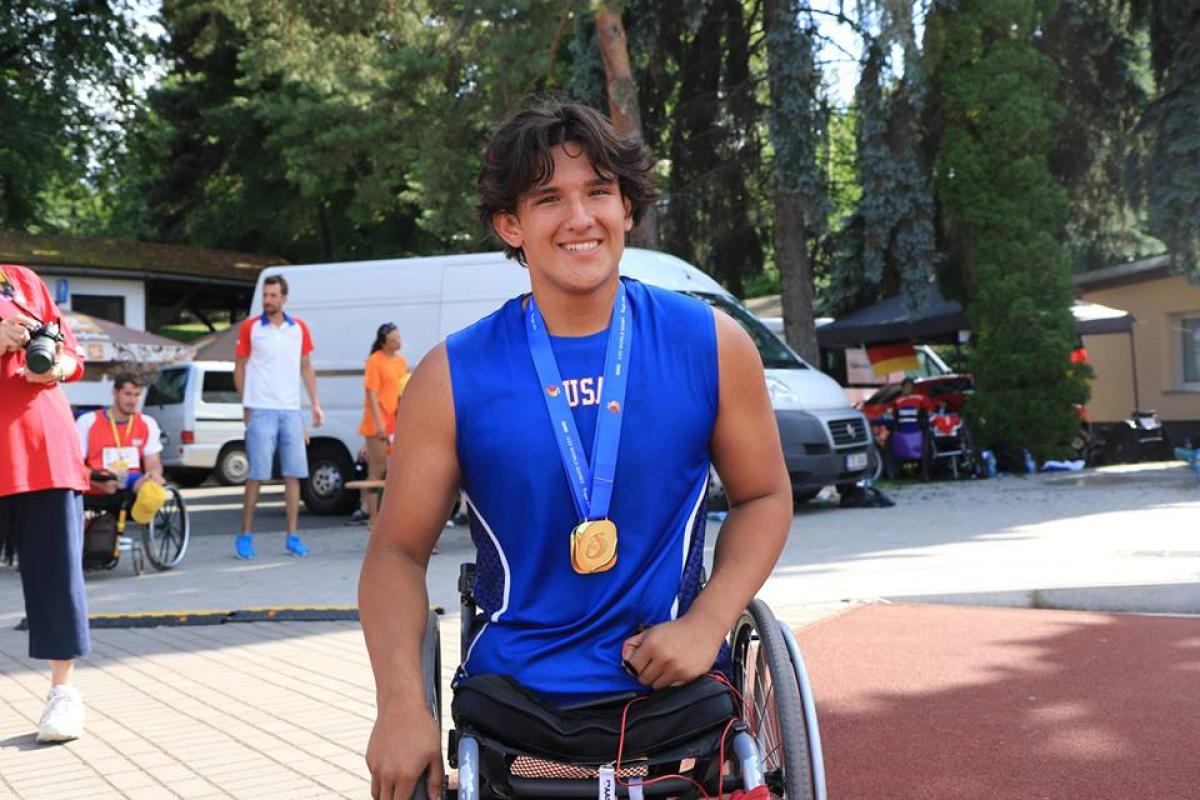 ⒸIWAS
By IWAS
"It's hard and there is always going to be someone faster, we all just have good and bad days. It takes a lot of work to be successful in this sport but you have to have a certain amount of patience with it to get anywhere."
The USA's T54 wheelchair racer Miguel Jimenez-Vergara is looking towards Swiss 'Silver Bullet' Marcel Hug for inspiration as he tries to defend four gold medals at the 2018 IWAS Youth World Games in Athlone, Ireland, from 2-5 July.
Jimenez-Vergara first came across Paralympic champion Hug in 2008 when they were both competing in New Jersey, USA.
"When I started the IWAS games were held in New Jersey and a Swiss athlete, Marcel Hug, had come to compete that week and he absolutely dominated. Since then I have followed his achievements and to this day he is one of my favourite racers."
A serial medallist himself at national competitions in swimming, athletics and archery, Jimenez-Vergara successfully converted his performances into IWAS Youth World Games medals for the first time in 2015. He won one gold, four silver and two bronze medals from the track and field in Staadskanal, the Netherlands.
In 2016 he was named Best Male after claiming four golds in the 100m, 200m, 400m and 800m wheelchair races in Prague, Czech Republic.
Born without legs, Jimenez-Vergara was adopted by his mother Tulia from Colombia when he was three years old. He began athletics when he was six.
For this year's edition of the IWAS Youth World Games, Jimenez-Vergara stopped short of saying he wanted to retain his titles.
"I will be shooting for good times but I know for sure a personal best is not going to come easily this season."
True to his form of competing in different sports, for around eight months of the past year the US athlete was training to make the national Para ice hockey team. This has meant his focus has been elsewhere.
"I've definitely gotten back up to where I was before I took the hiatus but I doubt there will be a personal best this season," he said.
While Jimenez-Vergara has been away, other young competitors and teammates have been gaining ground.
Fellow US athlete Jason Robinson is one athlete in particular who Jimenez-Vergara cites as a threat:
"I have been racing with [him] since he was 10 and this year he has shown a lot of improvement on the track and I'm really excited to see how he does at these Games."
Knowing that there are lots of other aspiring Para athletes out there who may be thinking about taking up track and field, Jimenez-Vergara offered them this advice:
"Don't get frustrated, it's hard and there is always going to be someone faster, we all just have good and bad days. It takes a lot of work to be successful in this sport but you have to have a certain amount of patience with it to get anywhere."
The 2018 IWAS World Youth Games will feature 165 athletes from 16 countries competing in athletics, swimming and table tennis from 2-5 July.