Markus Rehm ready to make his biggest leap
Ahead of the F44 long jump, the German star says: "Let me go out there and show what I can do."
16 Sep 2016
Imagen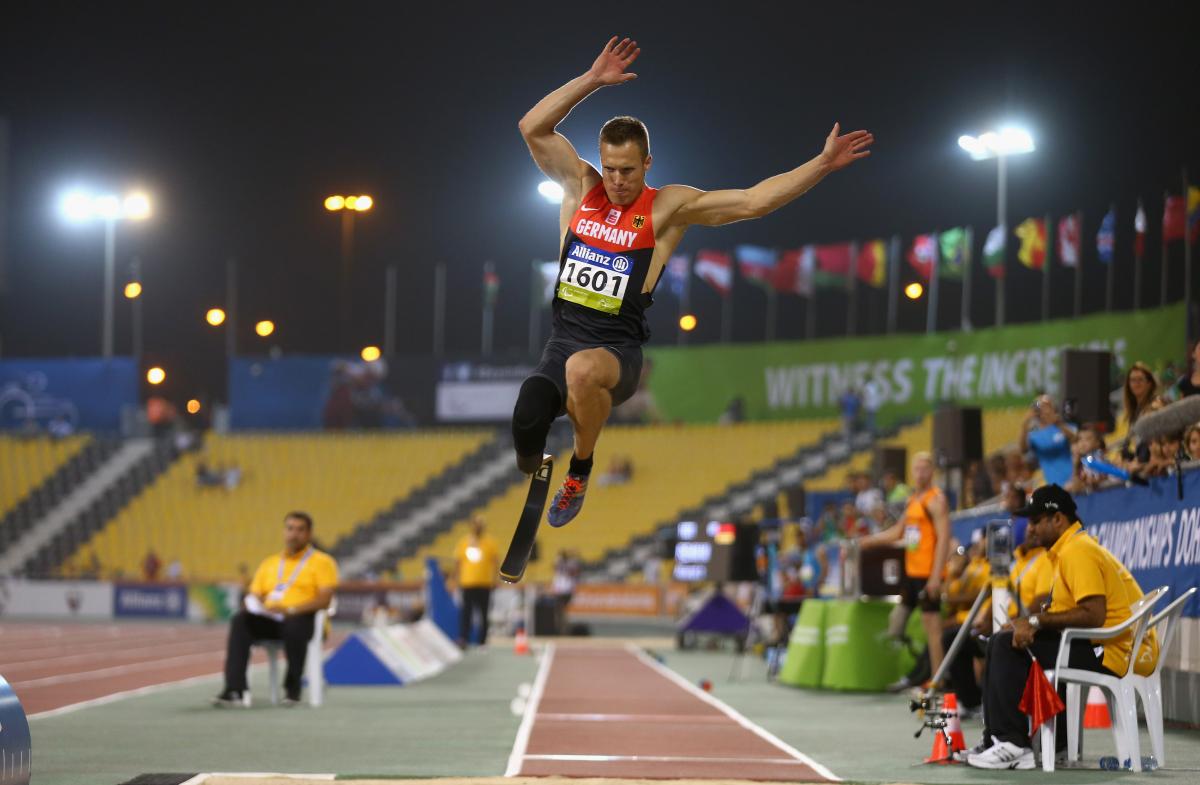 ⒸLOC Doha 2015 | Getty Images
By Rio 2016
The centimetres keep adding up for Markus Rehm, the German long jumper who flies as far as the best in the world and begins the defence of his Paralympic title on Saturday (17 September) at the Olympic Stadium in Rio de Janeiro.
Five years ago he won his first world championship with a leap of 7.09 metres. Two years later, he improved that mark by nearly 90 centimetres. "I was jumping consistently – 7.80m, 7.87m, in Grosetto 7.96m," he said in 2014. "I knew I could do 8.00m, but in the end I did 8.24m."
Then, in 2015, came the performance that would catapult him firmly onto the global stage. Rehm jumped 8.40m, the fifth furthest distance in the world that year, including able-bodied and para athletes like himself. It was farther than the Olympic gold medallist jumped at London 2012. It would prove further than the Olympic champion at Rio 2016, too.
"It changed a lot in my life," he said. "I was looking forward to making something big and showing all the people in the whole world that Paralympic athletes can achieve so much."
Rehm competes in the F44 class. The London 2012 Paralympic Games were when spectators started to sit up and pay attention.
"People didn't take our sport very seriously and now they do have to take it seriously because we are great athletes. We can achieve really good results, which are close or even better than Olympic athletes. We want to show that we do serious sports. We have to show what we can achieve."
Rehm, 28, talks to everyone in the Athletes' Village. There is no life story he does not want to hear, no calamity or heartbreak that fails to move him, no successes that do not impress him.
"All the athletes have huge stories behind them. They are full of emotion and power. They tell you they lost a leg, had a crazy accident, had an organ transplant, fought difficult illness – you think, what a character they have. It motivates me. I am always interested."
To sports fans who want to hear those stories, too, Rehm offers this advice. "Be relaxed. Just be open."
And behave as the kids do. "They say, 'Whoa, what a cool leg. Why do you need this leg?'"
"We want to be recognised," said Rehm, who is employed by Germany's military as a medical specialist in the area of prosthetics and orthotics. "Hopefully with this Paralympic movement we can help more people get access to better parts and better prosthesis. This is a great target for our sport to achieve."
Rehm was 14 when his leg was shredded by the outboard motor of a speedboat. He had been wakeboarding and later won a silver medal against able-bodied athletes in the junior national wakeboarding championships.
He is Germany's national champion in the long jump and is making a bid to compete at the Olympic Games. To be eligible, he must prove his blade does not give him an advantage over the bone and sinew of his competition. He's been studying the science for months.
"I always said I want a fair competition," he said. "I don't want to have any advantage out of a prosthesis, I just want to do what I love and train really hard for outstanding performances. I don't want to say sorry for it."
In the lead-up to Rio 2016, Rehm took a break from his research to focus on training but will resume the work afterwards and is attempting to compete at the 2017 World Championship in London.
"I win my medals at the Paralympic Games. I am a Para athlete and that is not going to change at any time and I'm really proud of it," he said. "But I would like a bigger platform to show to a bigger crowd that it is really worth it to watch our sport and it is really interesting what we are doing. It is the main reason I want to compete in able-bodied competition."
In more than one way, his is a case worth studying. For the past eight years, the blade jumper has trained under the guidance of a javelin thrower.
"She knows me by heart," Rehm said of his club coach, Steffi Nerius, an Olympic silver medallist and world champion in her sport. "Everyone said it was never working out that a javelin thrower can train a long jumper. And that is exactly what we've done."
That is indeed what they achieved – to the initial discontent of the establishment.
"It was so fun when we started to jump farther than some able-bodied athletes. So many professional long jump coaches, they were quite... let's say they were quite annoyed," said Rehm, his dimples deepening with a big smile.
Since Nerius did not have a fixed approach in training jumps, together the athlete and coach figured out what worked for them.
"She never said, 'You have to do it like this, that is the way it should be.' Instead, she said, 'Can you do it like this?' We found a good way together and we have grown together."
When Rehm hit the board for that record-setting jump in Doha at the end of last year, he felt as if he took flight. Now, on the eve of his moment at Rio 2016, he feels as good as ever and believes he is on the cusp of taking off again. He always takes a break from jumping in the 10 days before competition, but what he has now is a village and hundreds of people's stories to hear.
"Here in the Paralympic Village, for me it is emotional. I love to see all the people together, to have dinner with them, spend time together. This is the last motivation I need to jump really far again," he said.
"Let me go out there and show what I can do."